If you happen to live in a colder climate and don't have access to an indoor arena, you're probably counting down the days to "riding weather" like me! I do like the idea of giving my horse the winter off, and to be honest I don't mind the break either, but by the beginning of March you can find me pacing by my door in my breeches and boots! While getting back in shape looks a bit different for everyone, I wanted to share what works best for my horse and me.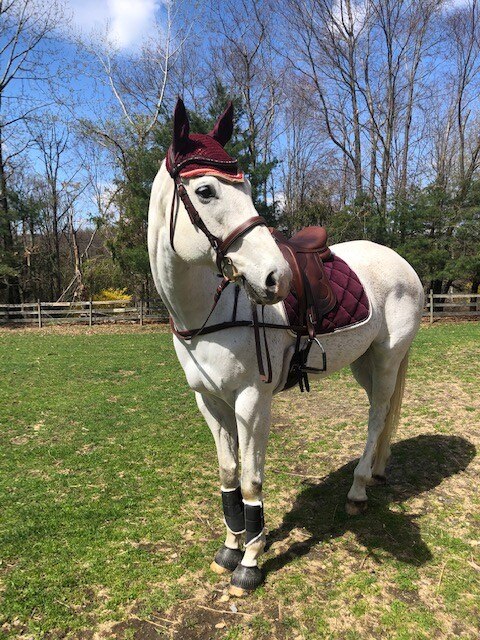 First, I find it works best if I set a "start date." Sometimes, it's hard to start the routine back up again and make time in your busy day to ride. It's easy to keep postponing, and hard to take that first leap. I usually set a goal based on daylight and temperatures, since footing will factor into the equation too. Since I usually ride after work, waiting until we start Daylight Savings Time again is a must, so that's usually my first parameter. I try to ride at least four days a week, weather permitting, so I start mapping out my spring schedule in advance (making the riding a priority, of course!). My horse also goes barefoot in the winter, so I try to get his shoes on before getting back to work.
On that first ride on my start date, I'm always convinced that my horse has somehow forgotten everything I've ever taught him. I always brace for the worst, but he's pretty good and usually just a bit "up." If I have any concerns, I'll lunge him first just to be sure there's not a rodeo brewing. I always just do a short walk on this day to get him used to the routine again and give us both a chance to feel comfortable in the saddle. There is no need to rush anything, and I want to make sure he's feeling relaxed and sound. I'll be sure to use a quarter sheet on cooler days since he runs a bit "cold-backed" and has some arthritis in his SI joint and hips.
The first week is usually spent mostly walking "long and low" on a loose rein to let him stretch, with a little bit of trotting gradually added in. It's always a rude awakening when both he and I lose our breath easily and feel so out of shape! I try to build up our trotting slowly to more and more time in that gait, until we can easily catch our breath and aren't sweating terribly. I spend at least 15 minutes warming up and cooling down during this time, and I try to cross train with walking, hiking, and using the elliptical when possible.
Once we are comfortable with at least a half hour to 45 minutes of walking and trotting, we slowly start adding short canters in. The first time we canter can sometimes involve a little bit of "porpoising" as we call it, so I just aim to go once around in each direction on a looser rein, sitting nice and deep in my seat. We again gradually build the cantering time up, and start adding in lots of transitions to really kick his hind end into gear. We also slowly start to add in some pole, cavaletti, and gymnastics to strengthen his back and topline muscles. After we feel like we are in pretty good shape, we start going on field trips to our favorite local farm for lessons and cross-country schooling, and our horse-friendly nature preserve for some relaxing trail riding.
Every year, the summer seems to go by too quickly, but we look forward to our winter down-time to reflect on all the fun we had during the warmer months! I'm wishing all the seasonal riders out there safe and happy adventures this year, from me and my horse, to yours. Happy riding!