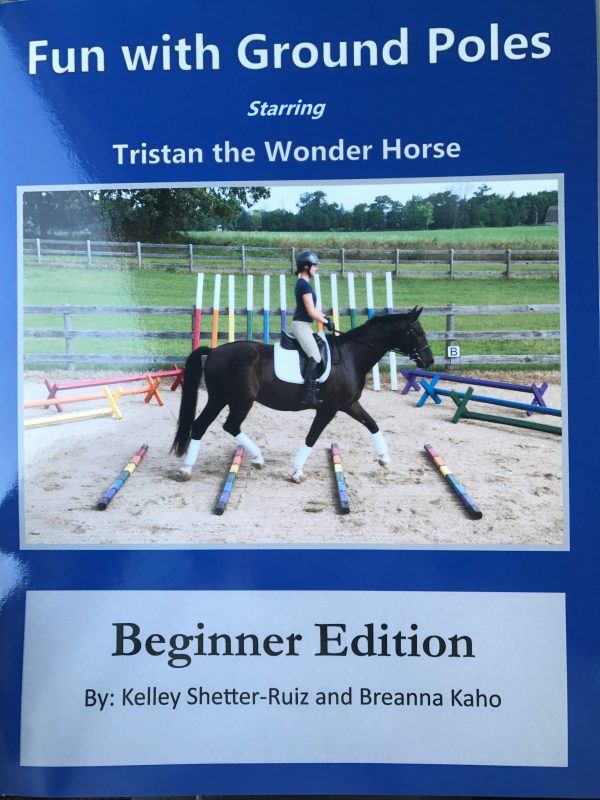 How many poles have you and your horse gone over at one time? 4? 6? 10? At the end of each 90-minute group session in the recent "Fun with Ground Poles" clinic with Kelley Shetter-Ruiz, participants were coached through a course of 80 poles!
Kelley (also known for her Yoga for Equestrians workshops, but that's a different blog), doesn't start with 80 poles though. In the clinic I audited, each session of 3-4 riders – grouped by horse size/stride length – went through the same three-step process to achieve this Big Hairy Audacious Goal:
Step 1: Warm up
Step 2: Putting it Together
Step 3: The Whole Course
Step 1: Warm up
Riders began by warming their horses up on their own at the walk, trot, and canter in both directions with Kelley observing the horse's way of going, the rider's seat and position, and the pair's connection and harmony. Then a few ground poles at the walk were introduced, emphasizing obedience, straightness, and forward energy.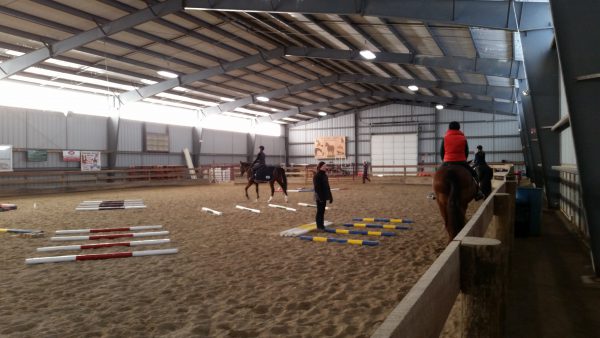 Trot poles were added next, starting with three poles set at two strides with the focus on obedience, straightness, rhythm, and impulsion, applying the "gas" or "brakes" as needed. During this phase, horses and riders were introduced to all the different types of pole arrangements they would see later, including straight poles, curved poles, skinny poles, elevated poles, offset poles, and what Kelley calls "the wacky W" poles.
Step 2: Putting it Together
Having put everyone through all the elements singly, Kelley now put together combinations that challenged the riders to plan ahead and the horses to settle, listen, and focus. For example, there were four poles on the diagonal followed by a three-stride space (the "get-it-together" space) then four more poles. Another example was a 45 degree turn from a set of poles on centerline to set of poles on a diagonal. Even more difficult was a 90 degree turn from poles on one diagonal to poles on the other diagonal.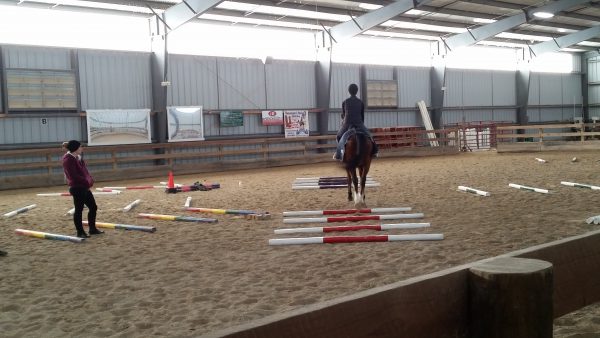 Step 3: The Whole Course
Once all the pairs in a group could confidently and consistently go through each combination, Kelley walked them through the entire course, which added up to 80 poles when all was said and done. Because there was a lot to think about while "on course," she coached them from pole set to pole set during their turn with clear descriptions like: "centerline rainbow then left to purple" and "skinny yellow to wacky pink."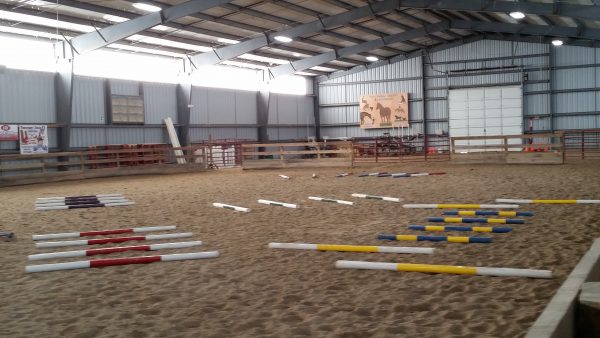 From off-the-track thoroughbreds to ponies, and from a Friesian to a Clydesdale, every horse and rider was able to successfully navigate the complete maze, much to their own surprise. Here is some of the advice Kelley gave throughout the day which led to this success:
"The two 'apps' your horse needs for this are straightness and half halts."
"Half-halt can be defined as a rebalancing, preparing for what's coming up, a pause in motion."
"When baby half halts ask: where did I come from? The answer is: from the corners."
"The RELEASE of the half halt is what slows the horse, not the take."
"This is just dressage with poles in the way."
"They're not HIS shoulders, they're YOUR shoulders."
"Turn the grocery cart"
"Sit back, lead with your belly button. Push your belly button at the poles."
"Speed is the enemy of impulsion, bundle it, package it."
"Tell the front end to wait for the back end."
"Push your hands forward."
'Soften' is not throwing away but simply relaxing the muscles of the forearm."
"Sometimes you get a crummy distance to poles and that's just life, no need to be dramatic about it."
Several riders and auditors wanted to know how Kelley got the idea for a ground poles clinic. Turns out that in the winter of 2015, she was looking for a way to keep her gelding entertained while being stuck in the indoor arena day after day (such is life in Wisconsin). So she set up a complex pattern of 20 plus ground poles and Tristan (a Trakehner) not only did remarkably well, he clearly relished the challenge. Her husband videotaped them, she put the video on Facebook for her friends and clients, and the rest is history. The video went viral overnight, with people friending her and contacting her from around the world. There were articles written about "Tristan the Wonder Horse," there were radio interviews, there were requests for different patterns, more videos, and even diagrams, so people could set the patterns up themselves at home. Together with one of her students who's a writer, they put together an eBook called "Fun with Ground Poles: Beginner Edition Starring Tristan the Wonder Horse." She was an invited clinician at the 2017 Midwest Horse Fair and was so popular they're bringing her back in 2018!