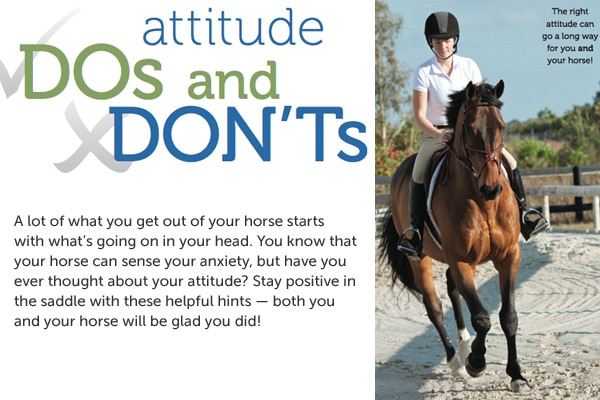 DO | focus on the ride
DON'T | focus on the result
Horse shows have enough pressure and stress — give yourself a break! Remember it's not always about winning or losing, how fast you were or how many rails you knocked down. What's important is how your horse felt and whether you made progress as a team.
Try to focus on the good parts of the ride. Maybe your horse got all the correct leads or really nailed his extended trot…or maybe simply staying on was an accomplishment to be proud of! If you stay in good spirits, your horse will feel your positive attitude and you'll both feel better about the experience.
DO | challenge yourself
DON'T | get discouraged
We've all heard the saying, "if it were easy, everybody would do it." As riders, we've all been through plenty of situations that are far from easy. But challenging yourself is the best, fastest and most rewarding way to improve.
DO | plan ahead
DON'T | worry if things change
Whether you're thinking about a year-end goal or packing for a horse show, it's always best to plan ahead. Life with horses can often be as unpredictable as it is rewarding, so being prepared for the things you can expect will make you more able to cope when the unexpected happens. And don't be upset if everything doesn't go according to plan — what seems like a disaster might actually be an opportunity.
So next time things get tough, don't get discouraged. Instead, recognize how brave you are for trying something difficult in the first place and give yourself (and your horse) a pat on the back. And keep in mind, the next time you try it, it'll be that much easier, and you'll be that much closer to moving on to bigger, better challenges.