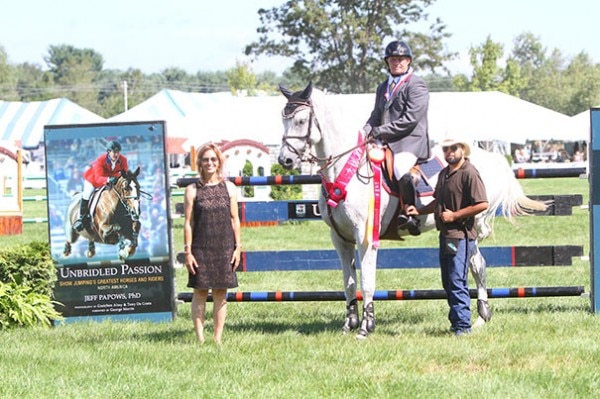 When a great SmartPak customer (who is now a good friend), Dr. Jeff Papows, mentioned he was taking over the management responsibilities of one of my favorite horse shows, which just so happens to be sponsored by SmartPak, I said "let me know how I can help." When he replied immediately "you can do the awards," I agreed quickly without really knowing what I had volunteered to do.
As Director of Awards and Presentations at the Silver Oak Jumper Tournament that took place recently in Hampton Falls, NH, I learned:
Start early! This responsibility may end with showing up at the ring and handing out a pretty blue, red, yellow (you get the idea) ribbon and smiling for the photo. But it starts with ordering ribbons and prizes weeks before then taking inventory and sorting by day, by ring, and by class.


Here's what the media and awards tent looks like at birth:


Got storage? If not – find it. You absolutely need a trailer on site – there's a lot of STUFF involved with handing out awards. This is the trailer on the property used to store ribbons, trophies, table linens, prizes from sponsors, catalogs from key sponsors like us (and there may be a case or two of beer in there if you look closely enough).

Get to know your Show Manager and his team – FAST! Fess up early if you've never done this before and ask for guidance. Mike Belisle, Show Manager, and his posse of horse show management professionals including Rich Herrera and Lee Hughes were fantastic to work with. And all it cost me was an occasional hot cup of coffee or errand run for one of them stuck at the in-gate booths!



Be organized! Get up early, get all the ribbons and prizes to the ring BEFORE the classes begin. With only two rings running you'd think that would be easy. So glad I got a golf cart that didn't quit.


Have chap stick handy! Get ready to smile and smile some more, then keep smiling. Wednesday, day 1 of the show, let the photos and prizes begin and be grateful for super weather (until Friday). Photos courtesy of Ken Kraus, Phelps Sports.



Get excited! So much fun to be able to hand over such gorgeous ribbons, trophies and prizes such as those awarded at the Silver Oak Jumper Tournament. Yup – even that scooter was donated by a local car dealership and if you were a Division winner you could get a key that could start the scooter and ride it back to the barn!


Be ready to get up close to some seriously accomplished riders such as Peter Leone (a Team SmartPak rider), Darren Graziano, Leslie Burr Howard, Candice King, Kevin Babington, Paul O'Shea, and even international course designer Olaf Peterson, Jr. at the Meet & Greet panel where you could ask the riders any burning questions you may have had. Many young riders came asked who their favorite horse was, when they started riding, and why they still love to ride. Great fun and a lot of laughs!

In between running between rings, enjoy the great riding. From the schooling area to the ring, amateurs to professionals, I so enjoyed watching the competition. Of course I'd rather be competing myself but this was just as much fun. This is Jeff Papows riding his beloved Eurostar, aka Merlin, in the Masters.


Appreciate the comradery. What other sport can competitors share insights about their rounds to help each other ride the best course they can (and sometimes help find the right spurs for the round as well). Here's a shot of Allen Griffin helping out Kevin McCarthy before entering the Grand Prix ring.

Enjoy the ride! Photo of SmartPak's CEO Paal Gisholt, Show Chairman Jeff Papows, and Team SmartPak rider Peter Leone enjoying the gorgeous day on Sunday before the Grand Prix.


Team Silver Oak included the fabulously talented Sharon Ricci, Jeff's right and left hands, who helped pull off a spectacular debut for the Silver Oak Jumper Tournament.


And being present in the ring to watch a recipient of the Children's Wish Foundation, one of the charities supported by the Silver Oak Jumper Tournament, being honored for her fight against a debilitating illness.


This is Ken Kraus of Phelps Sports handling the media that came on Sunday to cover the event.


Myself and Frank Waters, a talented announcer from Great Britain invited to the show to orchestrate and announce the exciting events on Sunday.


And bonus tip #11 – tic tacs – yup – perfect for shaking in the air, behind your back, down on the ground to get an excited horse to pay attention, with ears pricked, for a beautiful photo. Have 'em plentiful and handy at every ring!

It was an honor to be part of such a fabulous team of management and organizers from the Silver Oak Jumper Tournament. I worked so much harder than I ever expected, but felt exhausted, gleeful and so very proud of the experience. With thanks to Jeff Papows, Sharon Ricci, and the entire Silver Oak team, I so hope to get invited back next year.