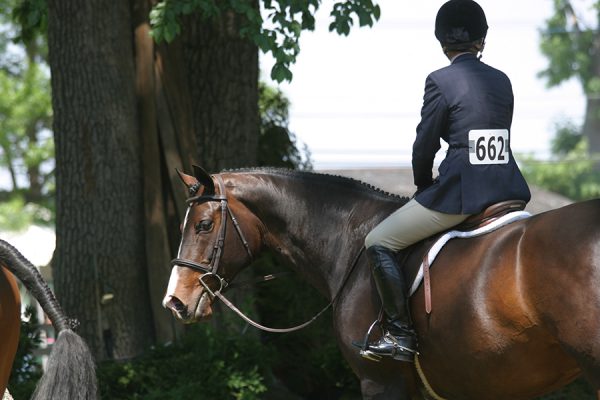 Whether you're attending your first schooling show or competing at the national level, you want to shine in the show ring. But with the weeks of schooling, days of packing, and hours of traveling, where will you find time to give your horse a winning look? We can't add hours to the day, but we can help you develop a quick, easy, and effective horse show grooming routine so you'll shine like a pro at your next show.
What's the real secret? Not time, but timing. Make a thorough plan for how you'll spend the weeks, days, and hours leading up to the show, stick to your plan, and you and your horse will arrive at the in-gate looking great.
3 (or more!) months to show time
Add a skin & coat supplement to your horse's diet
Support your horse's shine from the inside with a supplement rich in omega 3 fatty acids. Omega 3s from sources like flaxseed or chia seed support healthy, resilient skin and a shiny coat. You won't see results overnight, so it's best to start several months before show season for optimum shine in the ring.
Start and maintain a regular daily grooming routine
There's no substitute for regular grooming. It gives you a head start on prepping for a specific event. Your horse will start cleaner and shinier, meaning less work for you when show stress sets in. You can also use daily grooming as time to deal with fungus or bare spots. Regular use of topical treatments will help clear up issues and promote hair re-growth in time for show day.
Need tips for your daily routine? Read our Secrets to Creating an Effective Daily Grooming Routine.
Practice braiding or banding and clipping
If you plan to braid your own horse, practice regularly throughout the off season. That way you'll know what tools you like to work with, how long it takes, and whether your horse will rub them out if you leave them in overnight. Nice, even, tight braids or bands can really elevate your overall look, so it's worth taking the time to get them right.
Establish a regular schedule for clipping touch-ups like ears, fetlocks, and bridle path. That way, you can get practice with different blades, and your show clipping will be less stressful for your horse if it's part of his routine.
1 week to show time
Set your plan in motion
The weekend before (not the day before) the show is the absolute best time to prep. This blog is focused specifically on your show grooming routine, but remember the myriad other tasks (cleaning tack, prepping the trailer, finding your ride times, cleaning show clothes, etc), that you can do ahead. The more you get done now, the less stressed you'll be on show day.
Horse Show Pro Tip #1: Make a master list of everything you need to do and pack for the show, and use the same list all season, modifying it if you need to. Keeping the same list and routine will help make it easier (and faster!) every time.
Knock out the time-consuming tasks
Body clipping and mane pulling are great tasks to do in advance. Not only will you have more time, but you'll feel less pressure and won't be easily frustrated if your horse gets antsy standing on cross ties. You can always put him away and finish up the next day. And don't forget to talk to your trainer for dos and don'ts for your discipline.
If your horse is very clean, you can body clip before you bathe. If not, bathe first but make sure his is completely dry before clipping.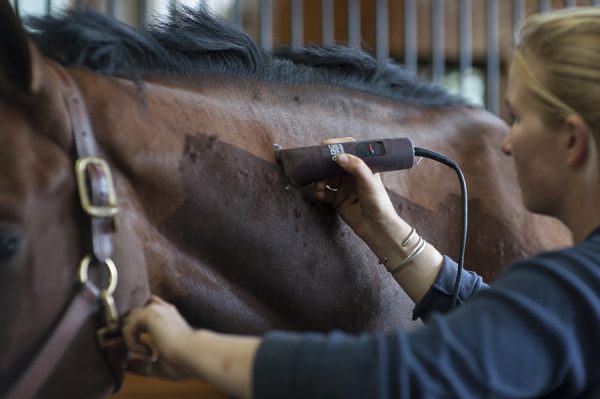 Use new blades to help prevent unsightly clipper tracks, and make sure you're using the right length for the job. A T-84 blade or a #10 blade are common lengths for body clipping. Use a shorter blade such as #15 or #30 for the bridle path, ears, muzzle, and legs; a #40 blade will provide the absolute closest shave. You'll want to touch up those areas the day before the show if you want a super-clean look.
Want to know more about clipping? We've got the Ultimate Guide!
If your discipline calls for braiding or banding, you'll want to pull your horse's mane to keep it the right length, typically about 4-5 inches. For horse's that don't tolerate pulling, try the SoloComb, which thins and shortens the mane without tugging.
The weekend before the show is also a great time to pull together your show grooming kit. That way if you need anything, you'll have time to order from SmartPak!
Horse Show Pro Tip #2: Keep a separate show grooming kit stocked with everything you need, from a hoof pick and to extra rubber bands to fly spray. That way you're pre-packed and ready to go, and you've got super-clean show brushes all the time.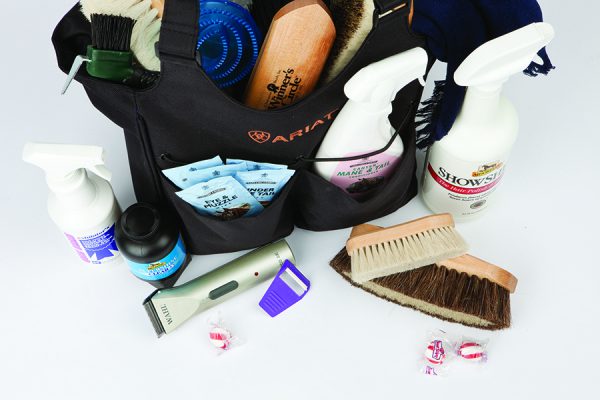 What should you put in your horse show grooming kit?
– Clean rags or grooming towels
– Baby wipes
– Curry comb or mitt
– Hoof pick
– Hard brush
– Soft brush
– Body brush
– Pulling comb
– Tail comb
– Fly spray
– Grooming spray, like ShowSheen
– Hoof polish
– Baby powder
– Color touch-up spray like Shapley's Show Touch-Up
– Spot/stain remover
– Baby oil or Silverado Face Glo
– Scissors
– Small, battery-operated clippers for touch-ups
– Duct tape
– Braiding supplies (thread or yarn, rubber bands, hair clips, Quic Braid)
– Braid/band cutter or seam ripper
– Bucket
– Sponge
– Sweat scraper
1 or 2 days to show time
Bath time
Make sure it's warm enough to bathe your horse and that he'll have enough time to dry.
Gather all the tools you need ready before you get your horse out (he's going to spend enough time on cross ties as it is; you don't need him pawing at the ground while you run and search for a jelly scrubber). Get your bucket, sponges, curry mitt, shampoo, whitening shampoo, conditioner, scraper, and towels and pull the hose out and make sure the nozzle works.
Overbathing can dry out your horse's coat, so it's best to use equine shampoo and to dilute it in a bucket of water. Get your horse's body as wet as you can–a thorough hosing can get rid of a lot of the dirt and sweat trapped in your horse's coat so you need less shampoo. Leave his head and face dry to start. Focus on the areas where dust and dirt collect—deep in the mane, the top of the rump, and the kegs. Use your curry to really lift dirt out. Shampoo from poll to legs, doing one part at a time and then rinsing thoroughly to keep the shampoo from drying and leaving his coat dull.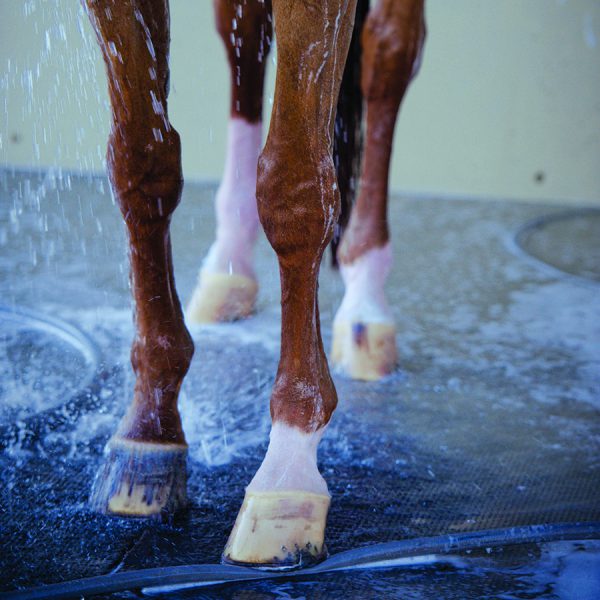 If you have a gray horse or one with chrome, use a whitening shampoo to brighten the coat and markings. Most whitening shampoos are blue or purple, and they work by cancelling yellow tones and optically brightening the whites. Be careful to dilute them partly and not to leave them on too long, or you'll end up with a purple horse. Scrub white markings twice if needed.
Horse Show Pro Tip #3: To clean the tail, fill a bucket with soapy water and dunk the whole tail into it. That way you won't end up with globs of shampoo that you can't rinse out. It also keeps your horse from swishing his wet tail in your face.
Once your horse's body is rinsed, apply conditioner to the body and tail. You can dilute it in a bucket of water to make it easier to apply. Skip the mane if you'll be braiding or banding. Rinse well.
Last, bathe the head and face. If he tolerates the hose on his face, you can wet it that way; otherwise, use a damp sponge or towel to wipe his face. You can use a small amount of baby shampoo if you'll be able to rinse it well; otherwise stick to wiping with the towel until you've cleaned his face, muzzle, and ears thoroughly.
Get your horse as dry as possible with the sweat scraper and dry towels (don't forget his hooves, too!). Spray his tail with ShowSheen. Hand walk or graze him until he's completely dry, brushing occasionally to keep his coat soft. Wait until his tail is completely dry to brush it out.
Do touch-up clipping as needed on his ears, bridle path, and muzzle. If your horse will keep his braids in overnight, you can braid ahead of time and put a Stretchies Hood on to protect them. If he's going to try to rub them out, don't bother.
Throw a sheet on him to keep him as clean as possible (a fly sheet will work if the weather is warm.) To keep a gray or paint clean, you might need more coverage, such as a Stretchies Hood and Stretchies Full Sheet.
Horse Show Pro Tip #4: Balance you and (your horse's!) stress level with the desire to look perfect. If your horse is going to be calmer at the show because he's had turnout, don't force him to stay in his stall just to stay clean. Giving him a last-minute grooming is easier than trying to force him to relax after he's been cooped up.
Make sure absolutely everything you and your horse need is packed and ready to go. The only thing you want to worry about in the morning is a touch-up grooming, braiding, and loading the horses on the trailer.
The morning of the show
Ready, set, go!
Arrive at the barn as early as possible, especially if you think you may need to spot touch-up
white markings. There are many equine spot removers that you can spray on, allow to soak, and rub with a towel to remove stains. Blast spots with the hose if absolutely necessary.
If your class is early, you should braid or band before you leave. If your class is later in the day, you can do it at the horse show, provided your horse will stand tied to the trailer or there will be someone to hold him. Give your horse a thorough brushing and spray his tail with ShowSheen before you load him on the trailer. A sheet or cooler will keep him dust-free in the trailer.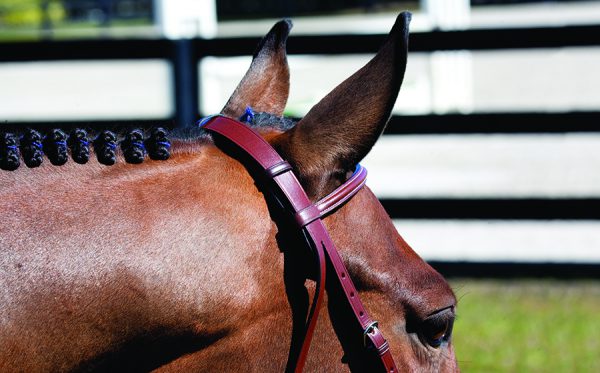 Horse Show Pro Tip #5: If possible, close any trailer windows that are directly in line with hay inside the trailer. You don't want to arrive at the show and have to pick out bits of hay that have blown into your horse's braids.
At the show
Finishing touches
Get organized while your horse is still on the trailer. Once he's unloaded, you won't be able to do as much (unless you have a stall at the show or follow Pro Tip #6!). Check in, get your number and class times, and make sure your grooming kit, tack, and show clothes are easily accessible. If you haven't braided, make sure you start with enough time to finish before you need to warm up.
Horse Show Pro Tip #6: Have a show buddy dedicated to helping you. It can be almost anyone—a friend, a parent, a barn mate, a co-worker—as long as they are comfortable holding your horse. (But, you get bonus points if your show buddy can braid!)
By now, your horse should be show-ring ready, but a few finishing touches will give you an even more polished look:
– Make sure his tail is completely brushed out (and fake tail put in if he's wearing one)
– Spray him on the shoulders and hindquarters with a non-slippery grooming spray for extra shine (don't forget fly spray, too)
– Use baby powder on white legs to add extra brilliance
– If the warm-up ring is muddy, use polo wrap to keep white markings as fresh as possible
– Use a touch-up spray like Shapley's Show Touch Up on any thin or bare patches of hair
– Apply a small amount baby oil or Silverado Face Glo to his muzzle, eyes, and ears.
– Smooth stray hairs with a damp brush or towel
– Get shiny hooves that don't attract dust by using a quick-drying polish like Absorbine SuperShine. If you do use oil, let it absorb and then wipe any excess so less dirt sticks.
– If you have a buddy, she can bring a few necessities to the warm up ring, like a towel to give your horse one last wipe before you enter the ring
– Take a deep breath, relax, and smile!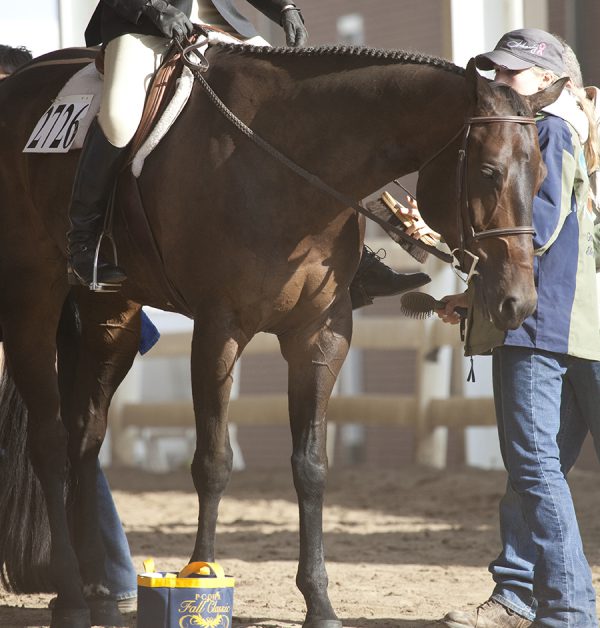 After the show
Give your horse some TLC
Remove braids and bands as soon as possible, and rinse with water if you've used Quic Braid so he doesn't get itchy. Then talk to your trainer about what type of liniment, poultice, and wraps are appropriate for your horse.
And, despite how wonderful it is for you to have a squeaky clean horse, there's nothing he deserves more after a long show day than a good stretch and a chance to roll.
Maintain, maintain, maintain
Stick to your regular daily grooming routine, modify your checklists, and re-stock your show grooming kit as needed. When your next show is in sight, you'll be ready to go in no time.