SmartPak's Ultimate Guide to Horse Clipping
We've got the buzz!
The decision to clip or not to clip your horse depends on a few key factors: your horse's living environment, how often you can get to the barn to change your horse's blankets, and your horse's winter exercise schedule.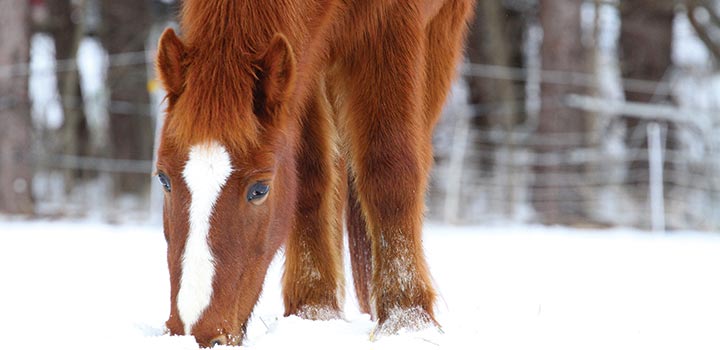 TO CLIP

OR NOT TO CLIP?
TOOLS & TIPS TO HELP YOU CLIP
CLIP IF...
You or your barn staff can make daily wardrobe changes as needed
Your horse will be ridden and working up a sweat on a daily basis
Your horse has access to a stall for shelter
DON'T CLIP IF...
Your horse needs to wear the same blanket most of the time
Your horse is taking it easy this winter and won't be ridden much
Your horse is mostly outside in the elements
Like just about everything in the horse world, the answer to that question is... "it depends." Your horse's living environment and management and your personal preference all play a role in deciding whether to clip. Start by answering some key questions:
WHO?
As in, who's going to be responsible for dressing your horse? If you or your barn staff can't check on your horse at least twice a day to make any necessary wardrobe changes, you should step away from the clippers and let your horse do his own thermoregulation.
WHAT?
That is, what will your horse be doing this winter? If he's taking it easy, there's no real reason to clip (we promise, he'll look adorable all woolly!). However, if he's regularly working up a sweat, having less hair will help him dry out quick and reduce the likelihood of him catching a chill.
WHERE?
Geography plays a factor since winter weather can be mild or severe in different parts of the country. But where your horse spends his time on your property is also a key factor. If he lives in a heated barn and rarely gets turned out, clip away! If he's out in the elements 24/7, it's probably best to leave him be. If he spends his time both indoors and out, choose the most conservative clip you can get away with, and then choose the appropriate blanket.
WHEN?
Most riders clip sometime around late September – October (resist the urge to carve a jack-o-lantern in his hindquarters!). If you're planning on showing through the winter or in the early spring, you may want to clip again later in the fall. Just be sure not to clip after the winter solstice on December 21st. Once the days start getting longer, the increased sunlight cues your horse to start growing his spring coat (and you don't want to clip that off!)
Back To Top

↑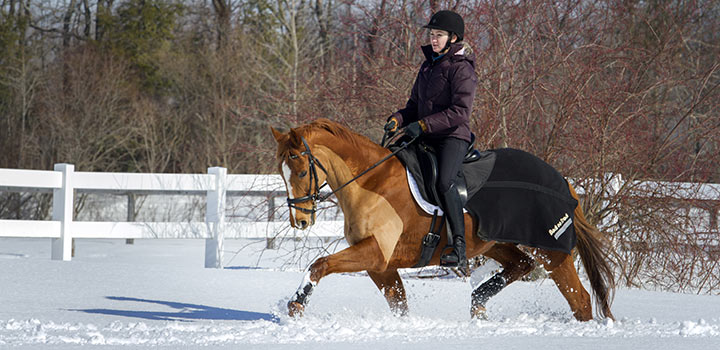 Types of Horse Clips
We'll help you choose what's right for your horse
The right clip pattern for your horse isn't just about style. Choose the clip that suits your horse's lifestyle and winter workload. But keep in mind, if you choose any of these body clipping patterns, you'll be taking away your horse's natural source of warmth, so it's your responsibility to replace that protection by blanketing.
A TRACE CLIP is the most conservative, removing the winter coat only in the most sweat-prone areas, including the underside of the neck and chest. It's a great choice for horses who spend most of the day outside and aren't ridden heavily in winter.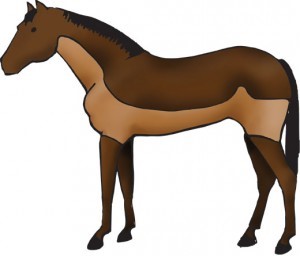 The BLANKET CLIP leaves a "blanket" of hair on the back, which keeps the topline warm and the legs protected but removes hair in sweat-prone areas. This is a great choice for horses who receive regular exercise and also spend time turned out.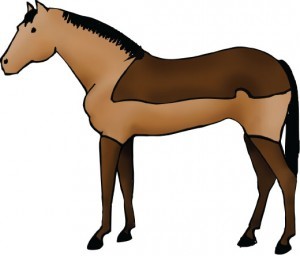 If your horse stays in full work all winter and spends most of his time indoors or in very mild weather, a FULL BODY CLIP is probably your best bet. It greatly reduces coolout time and keeps your horse looking show-ring ready all season long.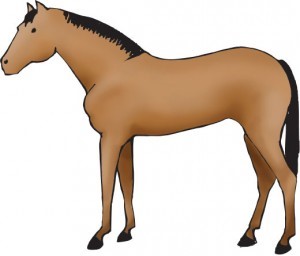 Back To Top

↑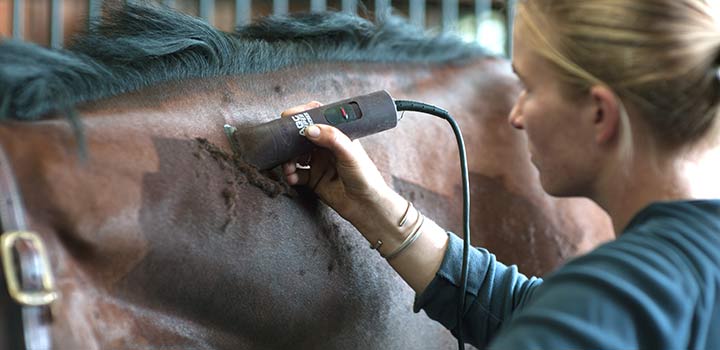 Choosing the Best Horse Clippers
Not all clippers are created equal
There are three types of horse clippers to choose from: body clippers, which are designed for body clipping; trimmers, which are for touch-ups and areas like the face and ears; and multi-purpose clippers, which are designed to be versatile and clip multiple areas.
When it comes to clippers, having the right tool is almost as important as knowing how to use it. With all of the options available, choosing the best horse clippers for your situation can seem daunting, but we're here to help! Here, we'll walk you through the different types of clippers and what features to consider when you're trying to choose the right ones.
There are three general types of clippers: body clippers, trimmers, and multi-purpose clippers. Body clippers are designed to clip your horse's body, and they have specific blades that match them. Trimmers are made for light-duty areas like your horse's face, ears, and muzzle. Lastly, multi-purpose clippers can be used for multiple areas of the body, and often feature removable blades so that you can choose the blade that will best suit your clipping needs.
Once you've decided between body clippers, trimmers, and multi-purpose clippers, there are a few key features that you can use to narrow down your options further: noise level, weight, and the type of cord. If you're concerned that your horse will be sensitive to the noise of clippers, look for a clipper that features a quiet motor. You'll also want to consider how much clipping you're going to be doing. If you're clipping a barn full of shaggy horses, you'll want heavy-duty clippers that can stand up to the job. If you're only doing a trace clip on one horse, you can get away with a light-duty clipper. Finally, you'll want to decide whether you need your clippers to be cordless or not.
Ready to start shopping? Check out our selection of clippers. Want to learn more about choosing the right blades? Keep reading!
Back To Top

↑
Choosing the Best Horse Clipper Blades
We'll walk you through it, by the numbers
Body clippers have specific blades to match each individual clipper, but trimmers and multi-purpose blades share common sizing specifications. The lower the blade number, the longer the hair left will be, so you'll choose your blade number based on how short you want the hair to be.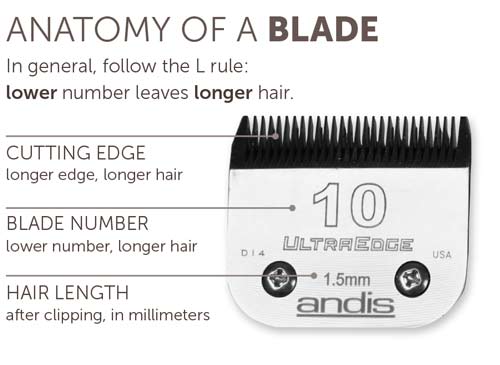 Here are the most common sizes, and what they're most commonly used for:
Blade Number
Hair Length
Best For
T-84
3/32" long
Body
#10 Blade
1/16" long
Legs and body
#15 Blade
3/64" long
Bridle Path
#30 Blade
1/50" long
Ears or muzzle
(if you don't like the "naked" look of a #40 blade)
#40 Blade
1/100" long
Anywhere you want the closest possible clip, like the ears or muzzle (these blades are often used for surgical prep)
A horse of a different color
We clipped the same horse with four different blades so you can see which is best for the job.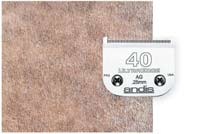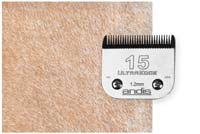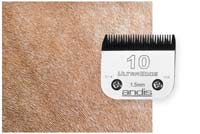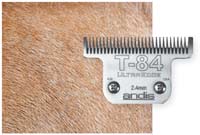 Caring for your blades
It's important to take proper care of your blades. To ensure that they stay cool and running smoothly, keep them clean and well oiled. You also want to have them sharpened regularly. Dull blades catch the hair and tug on the skin, which isn't fun for your horse. You can send them out to be sharpened professionally, search for a local sharpener (many knife sharpeners will take clipper blades), or get a kit to use at home.

Shop Blade Lubricants and Accessories
Blanketing & Clipping Videos