Smart, Simple Steps for Easier Horse Stall Rest


Why stall rest?
When you get injured, you know to take it easy. Unfortunately, your horse can't read a doctor's note. That's why veterinarians often recommend restricting movement to help your horse heal.
Building your rehab plan
Whether your horse is spending weeks or months on stall rest, you should talk to your vet about creating a rehabilitation program based on your horse's unique needs. Typically that will include hand walking and then a gradual return to riding, with the amount of exercise building slowly over time.
As you plan your horse's rehab, make sure you're being realistic. Walking for 20 minutes three times per day can be tough to do alone, so recruit some friends, talk to your barn manager, and work out a schedule you know you can stick to. Once you have your plan, write it down. That way you'll have goals to work toward and milestones to look forward to along the way.
Location, location, location
Spending days on end inside is a challenge for most horses, so try to think about where your horse might be happiest. Does he thrive on activity? Put him near the cross ties or where he can see the ring! If he prefers things quiet, try to find a corner stall out of the way.
If your horse's layup is longer or if he has a strong personality, a facility that specializes in rehab might be the best option for him (and you).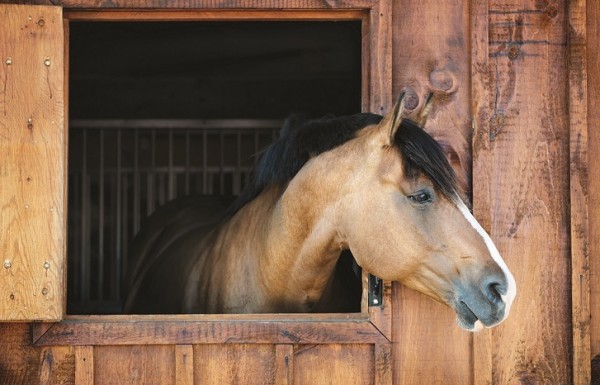 Evaluate his diet
Since your horse isn't going to be in full work, you may want to consider reducing or eliminating his grain, to help him maintain a healthy weight and energy level. However, it's important not to cut fortified grain out without adding vitamins and minerals back in. Learn more at SmartPak.com/BetterDiet
Feel the breeze
A horse in a stall is an easy target for bugs. Mounting a stall fan is a smart way to help keep your horse cool and tell bugs to buzz off.
Keep his brain busy
A bored patient is a potentially destructive, cranky, uncooperative patient, so try to find ways to keep your horse busy. Horses are social creatures, so coordinate with friends and family to schedule grooming and play visits.
When you're there, make the most of your time — practice braiding or banding, work on stretching (if your vet says that's okay), or teach your horse a new trick. When your horse is alone, you can help keep him occupied by providing a stall toy, like a hanging treat or even a traffic cone! Switching toys every few days can help keep things fresh and new. A window is an ideal source of entertainment, but if that's not an option, consider adding a shatterproof mirror to keep things interesting. Last but not least, use the SmartPak Small Hole Hay Net to help your horse's hay last longer.
Healthy recovery starts on the inside
As you plan your rehab program, talk to your vet about using SmartR&R Pellets to support your horse in three key ways:
Recovery
SmartR&R Pellets support normal tissue healing, and joint, tendon, and ligament health; promote a healthy inflammatory response; and help keep your horse comfortable.
Temperament
Supporting a healthy nervous system and balanced temperament can help take the excess edge off a restless horse.
Digestion
Several aspects of stall rest have been shown to increase your horse's risk of digestive upset. That's why providing proactive support for hindgut health is a smart choice!

Tip 1: Become a bookworm
Dr. Lydia Gray, Staff Veterinarian
When Newman was on stall rest, we made it all the way through Activate Your Horse's Core: Unmounted exercises for dynamic mobility, strength, & balance by Dr. Hilary Clayton and Narelle Stubbs. We broke up the monotony with clicker training. I even taught him to enjoy having his mane pulled and practiced different braiding techniques. Then I remembered what I used to do with my horse when I was growing up: read out loud to him! From Pride and Prejudice to The Hunger Games, Newman has become a connoisseur of fine literature!
Tip 2: Focus on groundwork
Jenna, Customer Care
When my horse Hershey was on stall rest, we spent 20 minutes a day walking around our indoor. At first, our walks consisted of both of us trying not to explode with unused energy. With the blessing of our veterinarian, we started to make each walk more purposeful by exercising our minds and our bodies. We started working on having crisp and responsive walk-halt-walk transitions, and then that blossomed into full-fledged groundwork. We practiced halting and standing, walking off sharply, walking off calmly, turns on the haunches, and turns on the forehand.
Tip 3: Try treats & tricks
Danielle, Marketing
Try not to let your horse get bored—give him a toy to play with, teach him a trick, or practice stretching. Learning new things on the ground is a fun way to keep bonding with your best buddy and can help you both stay entertained. My horse Indy is on stall rest right now, and he's really enjoying working on carrot stretches. He loves that he gets treats, and I love that they're helping him maintain flexibility while he's out of work.
Tip 4: Make his hay last longer
Julia, Customer Care
Try to keep hay in front of your horse as much as possible. Use the SmartPak™ Small Hole Hay Net or a slow feeder with small openings to help stretch out the time it takes for your horse to finish his hay. This is helpful for multiple reasons. It mimics "trickle feeding" so your horse is constantly eating throughout the day instead of gulping down his meals and then becoming bored for the rest of the day. It keeps them busy because they have to work a bit to actually get the hay, and it keeps their stall much cleaner by keeping hay from being tossed around and stepped on!
Tip 5: Open up his door
Sara, Customer Care
If your barn is set up to allow your horse to look out at the world going by, consider setting up a stall guard. One of the ponies at my barn is on stall rest and he's less bothered by being stuck inside if he can stick his head out to see what's going on. We call him the Mayor because he loves to meet and greet everyone as they walk by.