Senior Horse
By: Dr. Lydia Gray
What is it?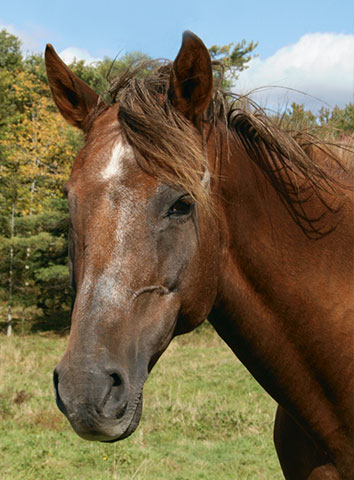 As horses age, their bodies begin to function less efficiently. Their skin becomes less resilient, their digestive tract doesn't break down and absorb things as well, and their immune response begins to decline. In addition, senior horses may begin to slow down because of stiffness and soreness.
What can be done about it?
When a horse starts to show signs of age - no matter if he's 10, 15 or 20 years old - it's time to adjust his nutrition, preventive care and management to compensate. Feed high-quality hay until he can no longer chew it then switch to soaked hay cubes, pellets, chaff or some other form of forage. Make sure his protein, vitamin and mineral needs are met with a complete feed, fortified grain, or multi-vitamin/mineral supplement. Consider adding extra B-vitamins and Vitamin C, as well as amino acids, probiotics and fat (especially if he needs to gain weight). Develop an appropriate vaccination, parasite, dental and hoof care program. Provide as much turnout as possible and continue to exercise the senior horse as long as he is comfortable and enjoys working.
What else do I need to know?
Some signs we may assume are due to aging are actually due to medical conditions such as Cushing's Disease, Recurrent Airway Obstruction ("heaves"), Laminitis and others. Every horse should be examined by a veterinarian at least once a year, but older horses may need to be seen more frequently and have specific tests done to detect problems sooner.


---
SmartPak strongly encourages you to consult your veterinarian regarding specific questions about your horse's health. This information is not intended to diagnose or treat any disease, and is purely educational.