Common Horse Hoof Problems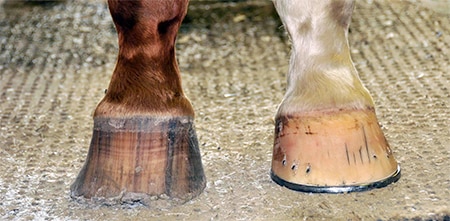 "No hoof, no horse." It's such a simple statement, but it holds so much truth. Your horse's hooves provide the foundation for everything you two do together, so it's important to know the horse hoof care that will keep them healthy and sound. But sometimes that's easier said than done. Some common horse hoof problems and hoof diseases can happen to the healthiest hooves, so it's important to know what to watch out for, and what to do in case a problem arises.
Thrush
Quarter Crack
Hoof Bruise
Horse Hoof Abscess
White Line Disease
Laminitis & Founder
Navicular Syndrome
---
SmartPak strongly encourages you to consult your veterinarian regarding specific questions about your horse's health. This information is not intended to diagnose or treat any disease, and is purely educational.