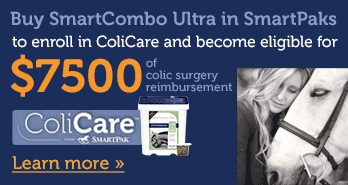 SmartCombo Ultra Pellets provide the active ingredients of SmartFlex III Resilience, SmartDigest Ultra, SmartHoof Ultra, and SmartShine Ultra at a
savings of 25%
compared to buying those 4 products individually.
This multi-purpose formula contains high levels of Glucosamine, Chondroitin Sulfate, Hyaluronic Acid, MSM, Vitamin C, Biotin, Amino Acids, Omega 3 Fatty Acids (including DHA and EPA from Fish Oil), Probiotics, Prebiotics, Digestive Enzymes, Oat Beta Glucan and more. Get your horse's "ultra" level of joint, hoof, digestive and coat support all-in-one and save! Your horse will love these tasty pellets.
Order SmartCombo Ultra Pellets in SmartPaks today, then be sure to submit your horse's ColiCare application!
View Product Label


View Joint Supplement Comparison Chart


View Hoof Supplement Comparison Chart


View Digestion Supplement Comparison Chart


View Skin & Coat Supplement Comparison Chart


Compare SmartCombo Ultra™ to Platinum Performance® CJ*
*Platinum Performance® CJ is a registered trademark of Platinum Performance, Inc.