Tips for Juggling Busy Schedule & Horses - Barn Life Balance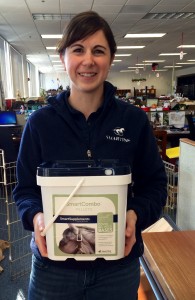 Like many riders, I have to balance barn time with an otherwise full schedule, and it isn't always easy! Most of us have to manage riding, family, work, and other responsibilities, and it can be challenging to find the time for it all. Currently I am juggling my full-time role here at SmartPak (as a Marketing Manager), pursuing my MBA part-time in the evenings, riding my mare Luna, and training for my first full marathon this fall. So, I've put together my top 5 tips for balancing horse time with other responsibilities in this blog. I hope you find them helpful, and please share your favorite tricks for managing a busy schedule in the comments below!
Plan ahead
This is important when trying to balance multiple responsibilities and priorities. First, I schedule non-negotiable items such as work, class, and exams. These could be anything, but they are your items that can't be skipped or moved. Next, I add in any big events I want to do, such as a horse show or a road race, to make sure the dates don't conflict. Lastly I add flexible items to my schedule, such as riding and running days, which brings me to my next tip…
Be flexible
Sometimes things don't go according to plan. The weather may not cooperate, maybe work ends up running late, or something unexpected comes up. Whatever the case, in order to get everything done, you will need to be flexible. I often swap riding or running days, use the weekends to catch up, or am willing to skip a day if the stars don't align. Sometimes family, work, or another task has to take priority, and this is when flexibility is key to keeping everyone happy.
Recruit help
No one can do it all, and even if you could, it's not very fun! When life gets too crazy, it's always easier to lean on friends, family, or a trainer to help you out. I've recruited fellow SmartPaker Erica to help me by riding my mare Luna on Fridays, as well as when I'm on vacation, or just need some extra help during busy weeks. It's a huge relief to have a free evening to get other stuff done, as well as during exams or other busy periods. Luna has benefitted as well from a more consistent work schedule, and so we're both happier. Whether you need help with riding, childcare or work, don't be afraid to reach out for support.

Cut yourself some slack
No one is perfect, and there will have to be some give and take in order to get everything done. Sometimes you may need a little more down time, or may not be feeling well. If you miss a riding day, or a day at the gym, try not to stress! Simply resume your routine as soon as you can, and don't let a temporary setback derail you.
Have fun!
Riding (and life) are supposed to be fun, not stressful! If you find yourself constantly frazzled or overwhelmed, it's time to take a look at your schedule and cut back in a few places. Remember, horses are a hobby, not a job, so if you aren't enjoying yourself, you're doing it wrong! Try to enjoy your time at the barn as down-time, away from the stresses of everyday life.
Good luck and have a great ride!