Tips for Tack Trunk Organization
I do my best to make sure my barn feels organized before the cold weather truly sinks in– from checking all of our pitchforks and muck buckets to ensuring all the horses have the right blankets cleaned and stitched up (as needed). But once the holidays are past and the mid-winter blues hit, I know it's my time to put that same effort into my personal things– namely, making sure my tack box is appropriately stocked and ready to roll for the year.
Over the years, I have changed how my tack box is set up, but most recently, I feel like I've really found that optimal setup! Being organized is a must for me and my horses, and having more than one horse to ride, has me using different topicals, saddles pads, and equipment. All of that can cause my tack box to look disorganized, fast, so I rely on certain products that have helped me keep my organization up to high standards.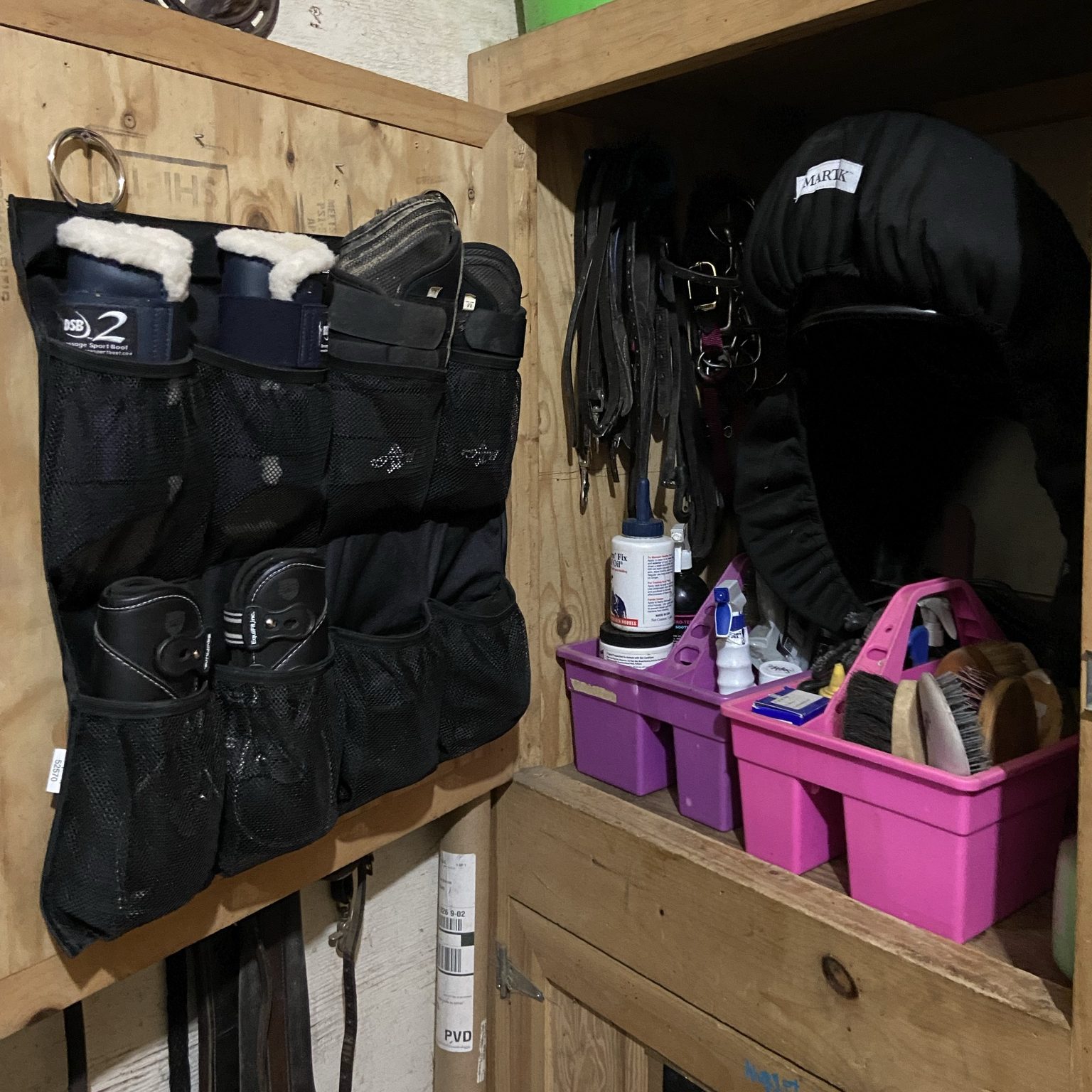 I recently purchased the Equifit Essential Hanging Boot Organizer and it has helped me see the various boots that I use, including polo wraps. It hangs perfectly on my tack box door and allows for more space within the box. I am not sure how I have lived without this for so many years!
To hold my saddle, I use one of the Standard Saddle Racks. Since my saddle has a SmartPak Fleece-Lined Saddle Cover on it, I don't have any concerns storing some saddle pads and my half pad on top of my saddle to utilize every inch of space in here. I also only keep 1-3 saddle pads in my tack box at a time. This way, I can bring home the dirty ones and quickly bring back some cleans ones until I have time to get them laundered.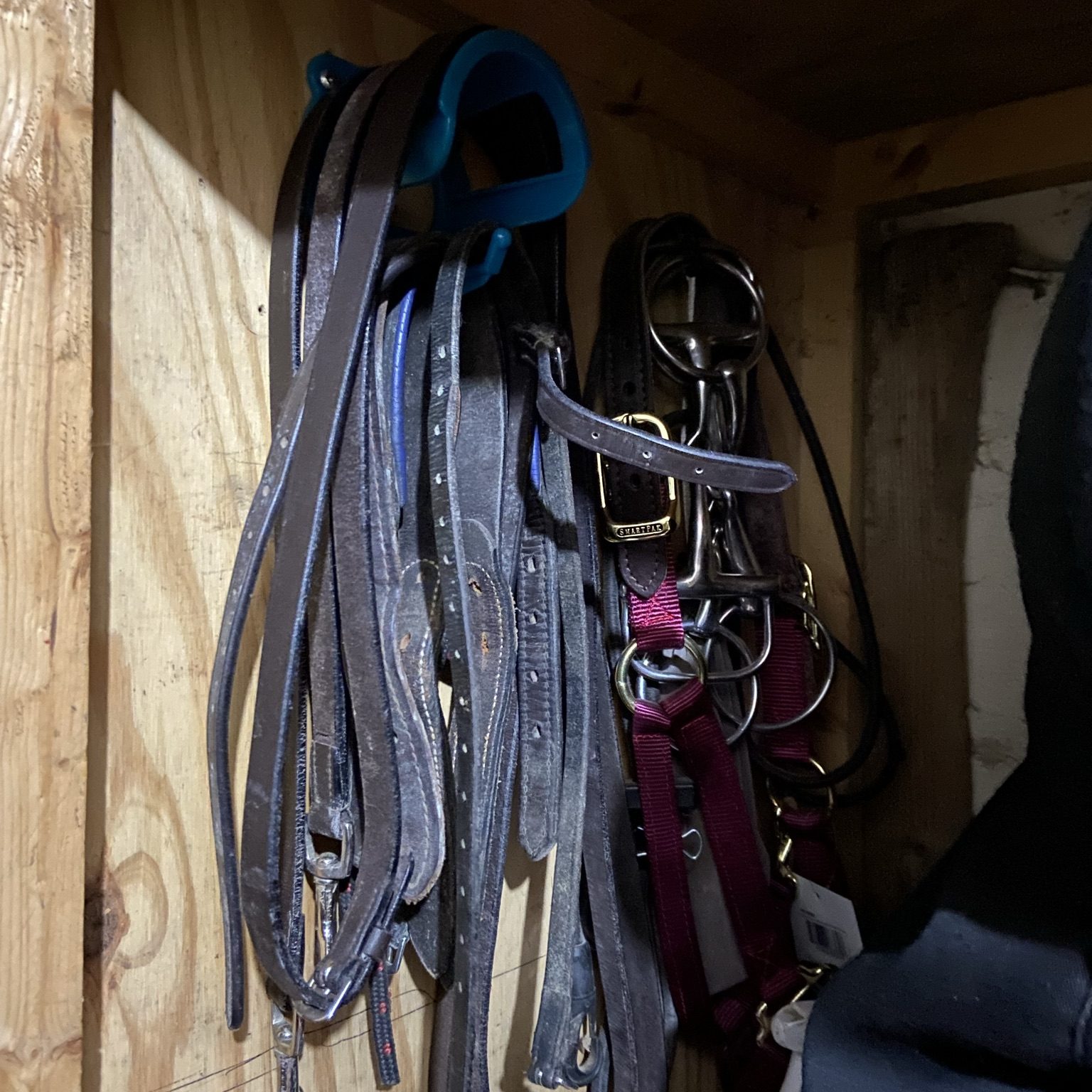 While I always had one Plastic Grooming Tote, this past summer, I added in a second one to put all my topical items, like coat sprays and ointments in. It prevents bottles from falling over when I take out my saddle or grab something from the back. It also allows my tinier products, like face wipes, to not get lost in the way back!
I use Bridle Brackets to hang miscellaneous items, like spare flashes, draw reins, extra bits, and a spare halter. While I could put a bridle in here if needed, I have a few (I'd rather not say how many I own-collecting bridles seem to be my guilty pleasure!) my barn has them individually hung on the walls of the tack room. So luckily, I also save some space this way.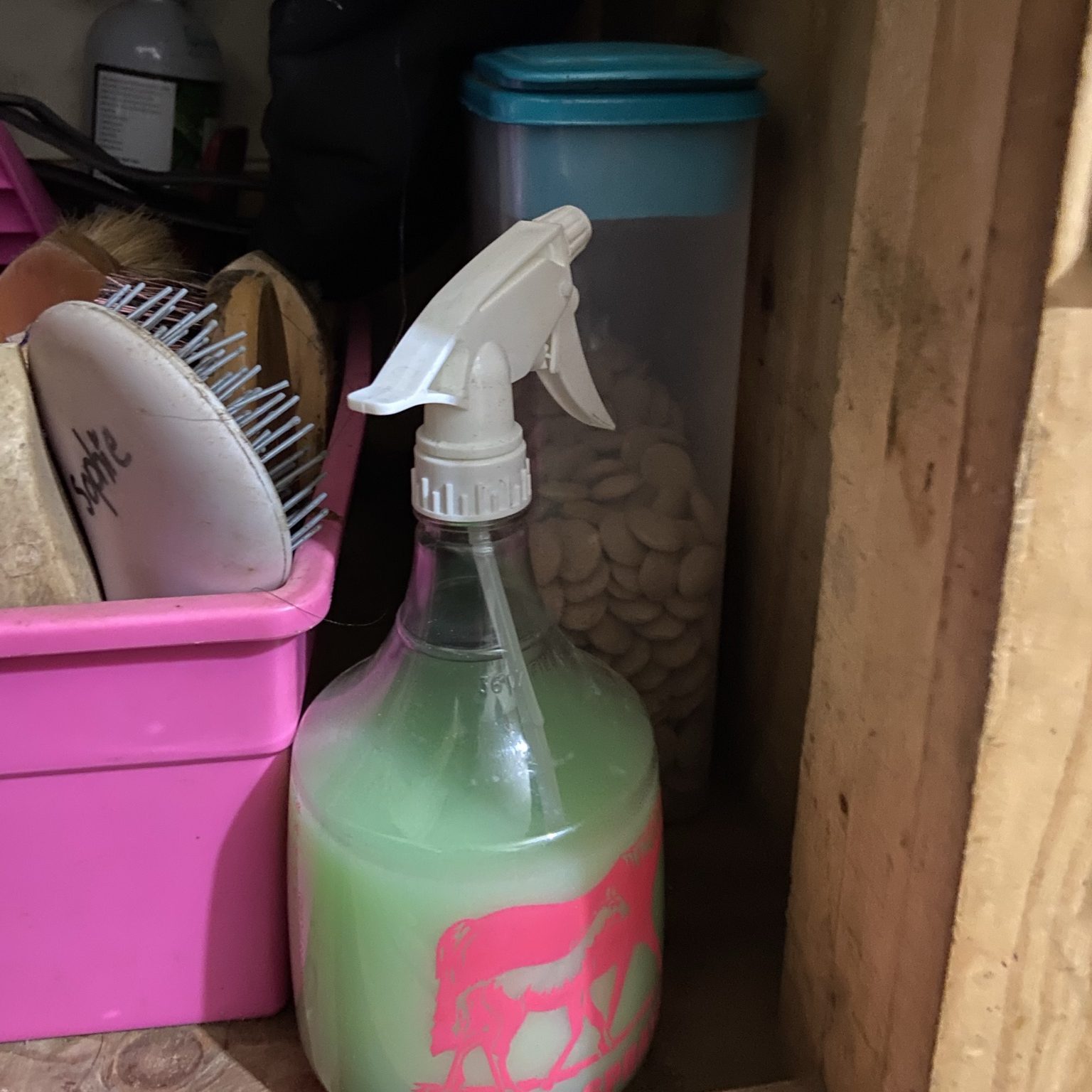 I also got a couple reusable cereal-like containers from my local grocery store that helps keep the most important thing safe- my horses' favorite treats; Peppermint Bits – No Sugar Added. I can almost fit an entire 4lb bag into my container and I have less concern with freshness since there's no bag to seal.
In front of the treats, I store Vetrolin Liniment in a Neon Spray Bottle. Since this spray bottle is a bit too round to fit in one of my Plastic Grooming Totes, it sits upfront. However, I use this product the most out of my other topicals, so it works that it sits in the front of my tack box for easy access.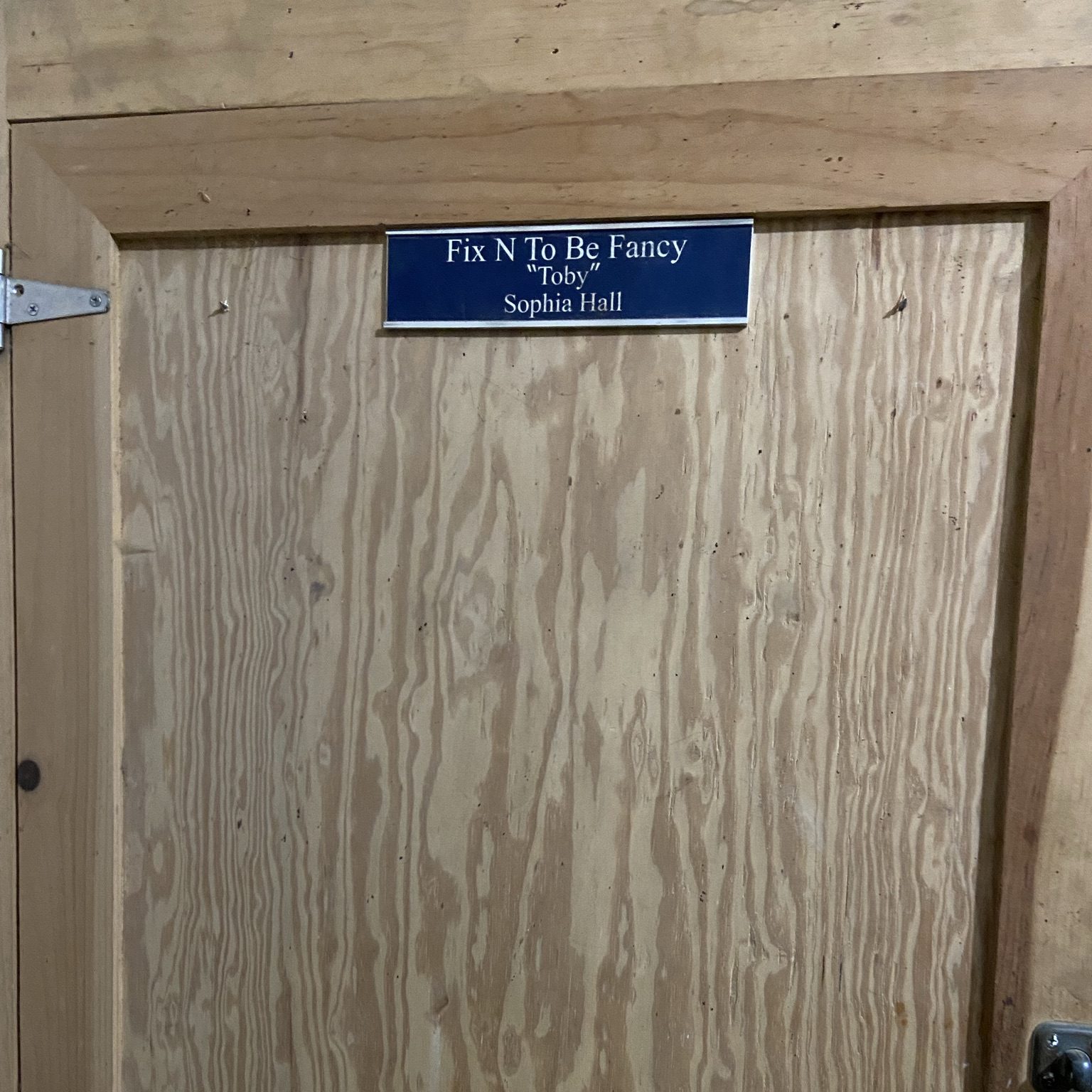 On the outside of the tack box door, I have my late heart horse's nameplate displayed. Toby meant a lot to me, so to be reminded of him every time I open my tack box brings me a lot of joy. It is also a great way to display his name at my barn and it allows people to know that this tack box belongs to me.  A few of the other boarders have caught onto this idea and have purchased nameplates that just say their name or their horse's and it looks quite nice!
Since I can't fit everything in my tack box, my barn manager allows boarders to use the shelf above my tack box for their Fortiflex Pails. I have two; one for cleaning supplies and one for bathing supplies. This makes bathing and tack cleaning time a breeze! I also like that wet sponges don't have to live in my tack box after use.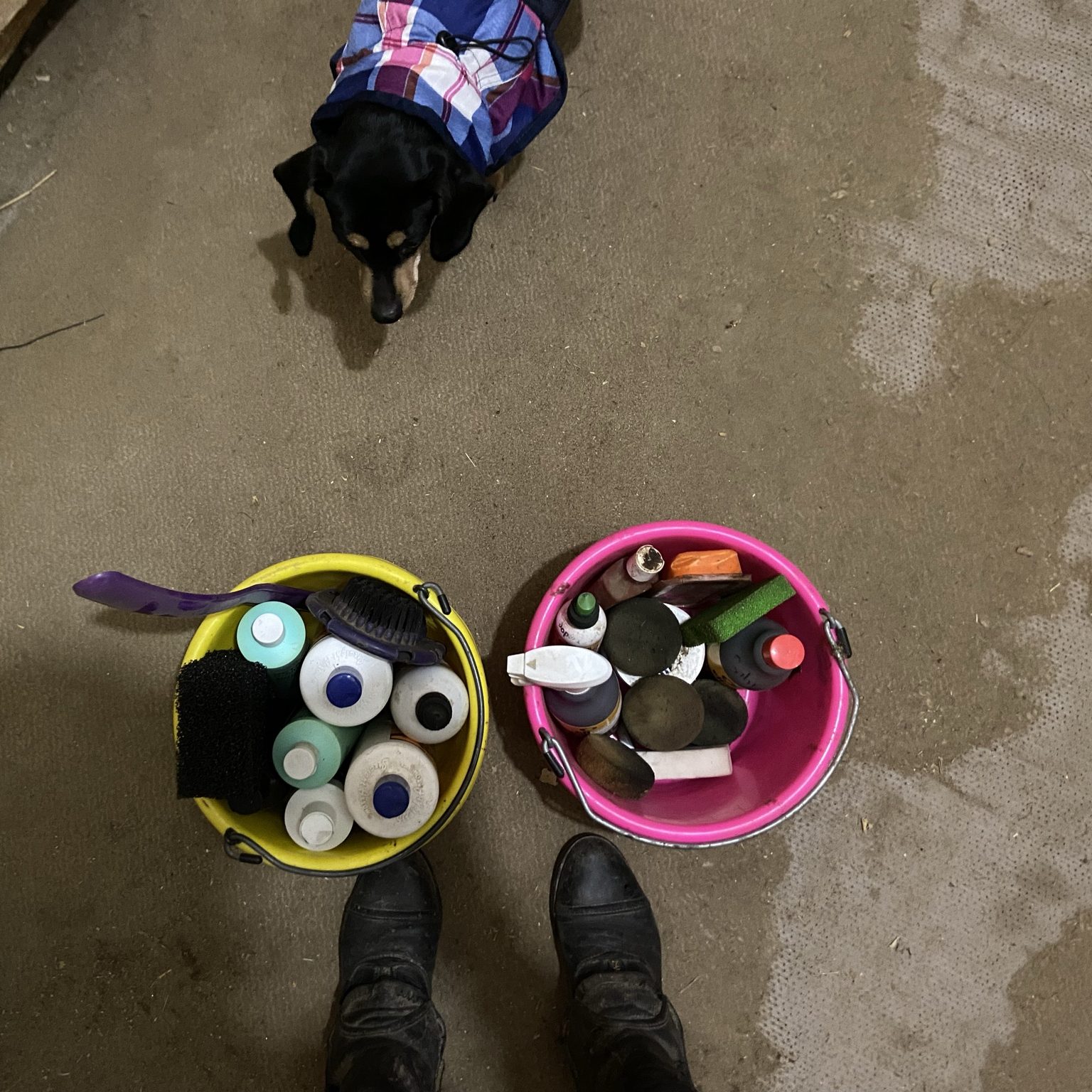 My helmet bag will often sit below my saddle and on top of the Plastic Grooming Totes. I also store my riding boots in the trunk of my car and just bring them back and forth with me, because believe it or not, there is no more space in my tack box! I also try to reassess any "extras" I have in my box and see if I can take anything home to store in my tack store; AKA my basement.
Whew! While that's not an exhaustive list of all the things I have to do to stay organized, it's a good start! What else do you think I could do? What are your tricks to keeping your barn space and horse stuff tidy?
---
Shop all of Sophie's top organization products here: