EMS vs. PPID - Do You Know their Differences in Horses?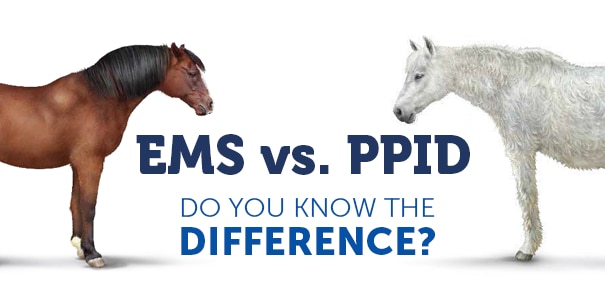 EQUINE METABOLIC SYNDROME (EMS)
EMS refers to a collection of endocrine and metabolic abnormalities associated with obesity and the development of laminitis in horses. Faulty insulin metabolism is a key component of EMS and can include both insulin resistance (IR) and hyperinsulinemia (HI). (Insulin is a vital hormone that transfers glucose from the bloodstream into tissues). IR is the failure of tissues to respond appropriately to insulin, while hyperinsulinemia means elevated levels of insulin in the blood. Both IR and HI fall under the new umbrella term Insulin Dysregulation.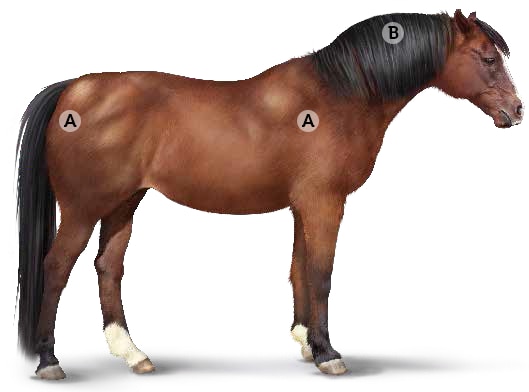 Middle-aged
EMS is first commonly noticed in horses approximately 8–18 years of age
Abnormal fatty deposits (A)
Horses with EMS may have a cresty neck as well as abnormal "regional" fat pads behind the shoulders, over the tail head, and above the eyes
Breed link
More common in "easy keeper" types such as pony breeds, Morgans, gaited horses, Arabians, and warmbloods, EMS is likely to be an inherited trait
Cresty neck (B)
---
Cushing's/Pituitary Pars Intermedia Dysfunction (PPID)
PPID refers to a collection of clinical signs due to overproduction of certain pituitary hormones. It is caused by an enlarged and overactive pituitary gland normally kept in check by inhibitory dopamine from the hypothalamus. In addition to obvious changes in hair coat, signs may also include weight/muscle loss, behavioral changes, increased infections, and laminitis.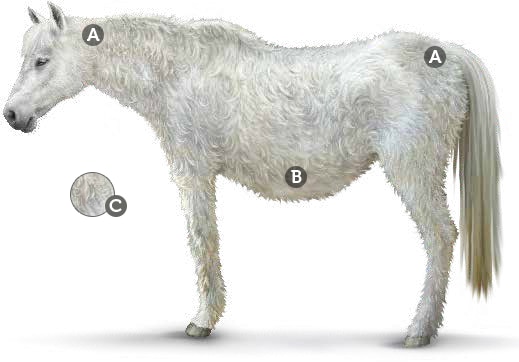 Loss of topline (A)
Loss of muscle (B)
Muscle wasting is common in horses with this condition and may be seen as loss of topline and a rounded abdomen (caused by decreased abdominal muscling)
Hypertrichosis (C)
50% of PPID horses may be affected by a long, curly hair coat that fails to shed
Older age
Clinical signs are most frequently first seen in horses in their mid-teens
Talk To Your Vet
What to do next…
If you're concerned that your horse may have one of these conditions, your first step is to talk to your veterinarian.
In addition to looking at the physical appearance of your horse, your vet may perform diagnostic tests.
Once your vet makes a diagnosis, work together to design a treatment, dietary, and management plan for your horse's individual needs.