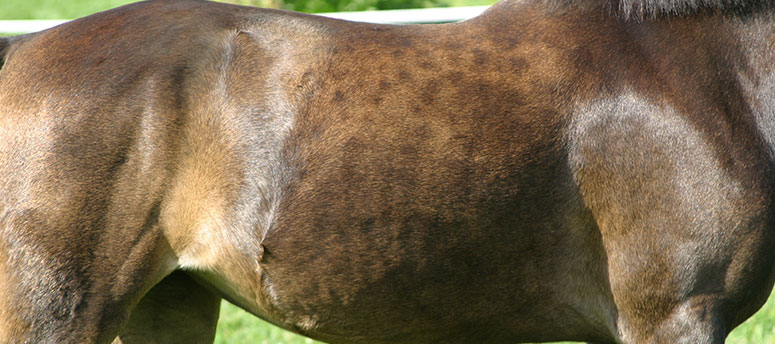 Dry Skin/Dull Coat
By: Dr. Lydia Gray
What is it?
Everyone wants their horse to have a soft, shiny coat, preferably with dapples. But sometimes no matter what owners do, their horses' coats look dull, even downright dry. Some fairly common medical conditions—parasites, ulcers, dental disease or general poor nutrition--can lead to a dull coat, so it's best to contact a veterinarian as soon as a horse appears not quite right. In addition, horses with any of these skin-related problems may have more going on than just a dull coat and should be examined by a veterinarian:
slow to shed
failure to sweat on hot days or during exercise
hair loss or change of skin or hair color
scaling or crusting
lumps or bumps
itching
What can be done about it?
Treat any medical conditions that the veterinarian diagnoses and give the horse several months to grow a better quality coat. In the meantime, make sure the horse is receiving its recommended daily requirements of vitamins, minerals and protein from his forage, grain and supplements. Restore the balance between the essential fatty acids Omega-6 and Omega-3 by adding flax seed or fish oil to the diet, which will improve both the structure and function of skin cells.
What else do I need to know?
It's difficult to overgroom a horse but easy to overbathe one, so be generous with brushing and stingy with shampooing. If the coat appears dull because it's sunbleached, rather than confine the horse to a stall, protect his coat with a turnout sheet and consider feeding supplements designed for his specific hair color.


---
SmartPak strongly encourages you to consult your veterinarian regarding specific questions about your horse's health. This information is not intended to diagnose or treat any disease, and is purely educational.