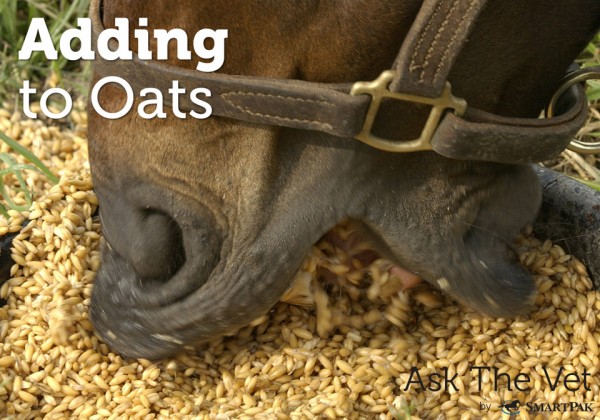 I would like to know, if feeding crimped oats what vitamin/mineral supplement would be a good choice. My horse is a pleasure AQHA gelding, not worked but 2 to 3 times a week. – Krista W. via AAEP Ask the Vet
If your horse was getting a full serving of a fortified grain I would tell you that a vitamin/mineral supplement isn't necessary, but since your horse is getting just crimped oats for extra calories, you're smart for looking into a vitamin/mineral supplement to complement his diet. I'm going to assume that he is also getting an appropriate amount of quality hay.
When looking for a multivitamin, remember that not every horse's nutrient needs are equal. Your horse's workload will influence his vitamin and mineral requirements, so look for one that differentiates between different workloads. Also consider looking for a multivitamin designed for his life stage. For example, senior horses may benefit from additional vitamins that also serve as antioxidants such as vitamins E and C. If your horse is older, look for a multivitamin formulated with the senior in mind. Lastly, palatability is important as the supplement won't do him any good if he doesn't eat it. Try and find a pelleted option, as most horses prefer them to powdered supplements.