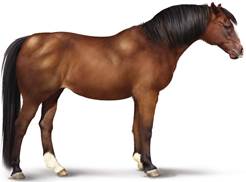 Equine Metabolic Syndrome
By: Dr. Lydia Gray
---
Brief Description
Equine Metabolic Syndrome (EMS) most commonly occurs in middle-aged horses (approximately 8 - 18 years) and is characterized by obesity, laminitis and insulin resistance. Insulin resistance (IR) is a failure of the body to properly respond to insulin, a hormone that transfers sugar (glucose) from the bloodstream into the tissues. Since IR is also associated with Cushing's Disease, the two conditions are sometimes confused. For more information on Cushing's Disease, click here.
---
Supplements that May Lend Support
Recent research suggests that some of the following supplement ingredients may be helpful in the management of EMS:
---
Possible Diagnostic Tests
Your veterinarian will most likely begin with a complete physical examination and routine bloodwork (CBC and serum chemistry). At the same time, the horse's blood insulin level may be measured as a screening test. If the insulin level is high, your veterinarian may confirm the diagnosis with a series of blood draws known as the Combined Glucose-Insulin Test (CGIT).
---
Prescription Medications Available
Although Thyro-L® (levothyroxine) is currently being studied as a potential treatment, at this time there are no prescription medications approved by the FDA for EMS.
---
Other Management Suggestions
Diet
In order to limit the sugars and starches (aka non-structural carbohydrates or NSC) in the diet, horses with EMS should not be fed grain and should have little or no access to pasture. If a dry lot is not available for turnout, the horse may need to wear a grazing muzzle. Low sugar grass hay (NSC content of 12% or less) should be the basis of the diet. Since grass hay alone will not typically meet a horse's nutrient requirements, and these horses aren't being fed grain, they may need a multi-vitamin/mineral supplement.
Exercise
In addition to turnout on a dry lot, horses with EMS should receive controlled exercise on a daily basis. Whether this consists of hand-walking, lunging or riding, exercise should be introduced gradually if the horse is not already used to it. Horses currently suffering from laminitis should be exercised only on the advice of a veterinarian.
---
Questions to Ask Your Veterinarian
How is EMS different from Cushing's Syndrome?
Is EMS the same thing diabetes?
---
Additional Resources
Further Reading for You
From our site:
Equine Cushing's Disease vs. Equine Metabolic Syndrome
Managing the Easy Keeper
Overweight Horse Needs to Lose a Few Pounds
Pony Gaining Weight – What Do I Feed My Pony?
Insulin Resistance in Horses, June 2008
Managing Your Insulin-Resistant Horse, December 2006
Cushing's or Not, Attack Insulin Resistance, October 2002
Further Reading for Your Veterinarian
Manning PH, Sutherland WH, Walker RJ, et al. Effect of high-dose vitamin E on insulin resistance and associated parameters in overweight subjects. Diabetes Care. 2004 Sep;27(9):2166-71.

Pagan JD, Jackson SG, Duren SE. The effect of chromium supplementation on metabolic response toexercise in thoroughbred horses. In: Proceedings of the 14th Equine Nutrition and Physiology Society, Ontario, CA; pp 96-101.

Takaya J, Higashino H, Kobayashi Y. Intracellular magnesium and insulin resistance. Magnes Res. 2004 Jun;17(2):126-36.

Kim W, Khil LY, Clark R, et al. Naphthalenemethyl ester derivative of dihydroxyhydrocinnamic acid, a component of cinnamon, increases glucose disposal by enhancing translocation of glucose transporter 4. Diabetologia. 2006 Oct;49(10):2437-48. are we keeping the ingredient names bolded on these?

Basch E, Ulbricht C, Kuo G, Szapary P, Smith M. Therapeutic applications of fenugreek. Altern Med Rev. 2003 Feb;8(1):20-7.

Molokovskii DS, Davydov VV, Tiulenev VV. The action of adaptogenic plant preparations in experimental alloxan diabetes. Probl Endokronol (Mosk). 1989 Nov-Dec; 35(6):82-7.

About Dr. Lydia Gray