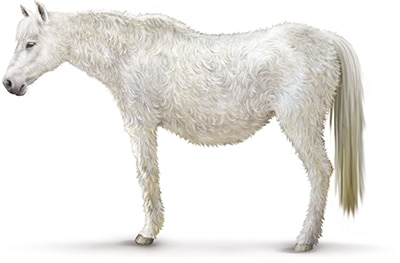 Cushing's Disease & Metabolic Health
By:
Dr. Lydia Gray
, SmartPak Medical Director/Staff Veterinarian
---
Brief Description
Also known as Pituitary Pars Intermedia Dysfunction or PPID, Cushing's Disease is a dysfunction of the pituitary gland. It is most common in older horses (18 – 23 years). Since it is sometimes associated with Insulin Resistance, Cushing's can be confused with another condition called Equine Metabolic Syndrome. For more information on Equine Metabolic Syndrome, click here.
Signs of Cushing's include:
Hypertrichosis (long, curly hair )
Delayed haircoat shedding
Change in body conformation (muscle wasting and rounded abdomen or "potbelly")
Decreased athletic performance
Change in attitude/lethargy
Fat deposits, especially along the crest of the neck and over the tail head
Laminitis
Increased drinking and urination
Recurrent infections
Abnormal sweating
Absent reproductive cycle/infertility
Neurologic deficit/blindness
---
Supplements that May Lend Support
The following ingredients may be helpful in the management of Cushing's and are often considered beneficial for senior horses in general:
Antioxidants and plant adaptogens to fight oxidative stress and provide immune support
Chaste berry (Vitex agnus castus) to assist with proper endocrine function
Amino acids such as lysine, methionine and threonine to support lean muscle mass
Healthy fat (like omega 3 fatty acids) for additional aid in preparing a normal response to inflammation
Products with these and other ingredients that may provide complementary support to prescription medications for this condition can be found on our Equine Pituitary Health Supplements page.
---
Possible Diagnostic Tests
After a complete physical examination and routine bloodwork (CBC and serum chemistry), your veterinarian has a few options for specifically diagnosing Cushing's. These include measuring the resting ACTH level, performing a TRH Stimulation Test, and others.
---
Prescription Medications Available
Prascend® is the first and only FDA-approved product for the management of Cushing's in horses. It contains the active ingredient pergolide.
---
Other Management Suggestions
Diet
Because insulin and blood sugar metabolism may not be functioning properly in Cushing's horses, avoid feeding traditional grains, treats or pasture because these can be high in sugars and starches. Instead, meet the horse's nutrient requirements with a multi-vitamin/mineral supplement or low-sugar/high-fiber feed made especially for senior horses. Add fat for additional calories, if needed.
General
An older horse with Cushing's is truly a "special needs" horse. Cushing's often compromises the immune system, causing horses with this condition to be more prone to infections and other health problems. Because of this, Cushing's horses should be seen by a veterinarian at least twice per year with special attention paid to vaccinations, deworming, dental health, hoof care, and other preventive maintenance.
---
Questions to Ask Your Veterinarian
How is Cushing's Disease different from Equine Metabolic Syndrome and Insulin Resistance?
Is Cushing's Disease the same thing as diabetes?
---
SmartPak strongly encourages you to consult your veterinarian regarding specific questions about your horse's health. This information is not intended to diagnose or treat any disease, and is purely educational.