According to the American Association of Equine Practitioners, 700,000 horses will colic this year in the U.S. alone.
Equine colic is an unfortunately common condition that affects horses of all ages, breeds, and disciplines. This condition refers to any sort of abdominal pain in horses, and while in some cases it may be so mild that you don't even notice, a severe case could be deadly. In fact, it's one of the leading causes of equine death, after old age. With statistics like that, you don't want to feel in the dark about colic. That's why we're sharing our colic knowledge with you and horse owners across the country in this resource center!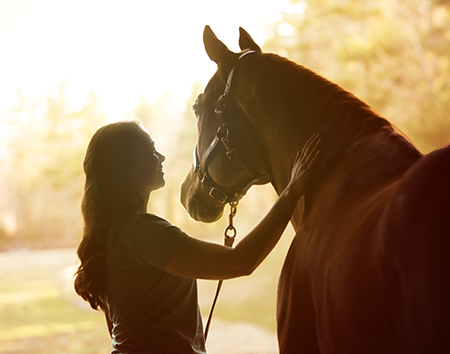 Ask the Vet: Research on Colic in Horses
Our staff veterinarian, Dr. Lydia Gray, shares what's new in equine colic research.
Do You Know Your Horse's Colic Risk?
Understanding your horse's current colic risk level is your first step in learning how to reduce it.
What to Do if Your Horse is Colicking
Do you know what do if your horse colics? Dr. Lydia Gray is here to help ensure you're informed and prepared!
Changing the World: Thunder's Story
Thunder is a therapeutic riding horse who's been changing lives for the last 23 years, but his story almost ended three years ago.
Colic Surgery Survival Story - Kelsey and Katalyst
SmartPak customer Kelsey tells her story of how her horse Katalyst's life was saved by colic surgery.
ColiCare from SmartPak
Find out how you could be eligible for $15,000 of colic surgery reimbursement with ColiCare, our free wellness program.
Video Playlists

Back to Top