About ColiCare
Why you should be concerned about colic
Colic is responsible for more deaths in horses than any other condition. A sudden change in your horse's lifestyle or diet, such as different hay or grain, increased stall time, adjustment in activity level, or even dehydration can lead to colic. In fact, research has shown that hay changes alone can increase a horse's risk of colic by 10 times! Luckily studies also suggest there are things you can do to help reduce your horse's risk.
A healthy digestive system with SmartDigest Ultra, backed by $7500 of colic surgery reimbursement with ColiCare
SmartDigest® Ultra offers everything your horse needs for a healthy hindgut. This innovative formula contains specialized ingredients backed by clinical research. But you don't have to take our word for it.
We're so confident that the ColiCare wellness program will help keep your horse's digestive system healthy that we back it with up to $7,500 of colic surgery reimbursement, which works with your existing insurance. With SmartDigest Ultra and ColiCare you can sleep soundly knowing your horse has the best digestive product and the best wellness program in his corner.
ColiCare Program Details
Eligibility:
Must reside in the United States
Weaned horses ages 5 months and older
Horses under the direct care of a licensed veterinarian
Horses that have had a previous colic and/or abdominal surgery, experienced colic in the past 12 months, or have a history of chronic colic are not eligible
Program Requirements:
Year-round, daily administration of SmartDigest Ultra maintenance dose (30g) in SmartPaks
Annual physical exam from your veterinarian
Annual dental exam from your veterinarian
Annual vaccinations administered by a veterinarian
Annual participation in a veterinarian-directed deworming program that includes at least one annual fecal test and two annual deworming administrations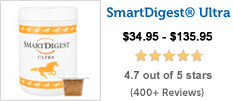 Start your horse on SmartDigest Ultra in SmartPaks and apply for our free ColiCare program to become eligible for up to $7,500 of colic surgery reimbursement. How's that for Smarter?