ColiCare Made Our Comeback Possible
Posted on: March 31, 2020 by SmartPak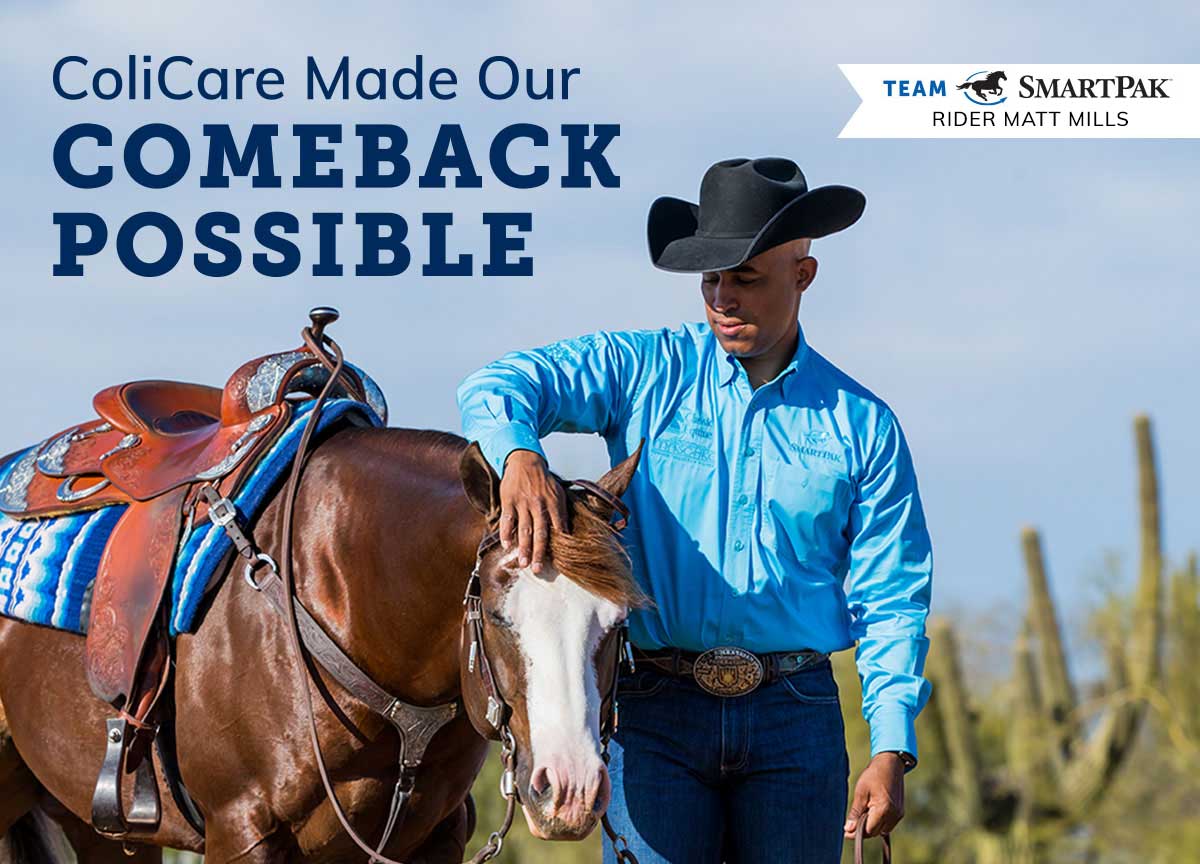 Matt Mills is a prominent name within the reining industry. Based in Scottsdale, Arizona he runs his business, Matt Mills Reining Horses, alongside his wife Karen. As a rider, Matt himself holds an impressive competition record, including winning the 2006 USEF Open Reining Championship on Easy Otie Whiz with a career-high score of 231.5 and being a member of the Gold Medal Team USA during the 2006 World Equestrian Games. Since getting his start in reining in 1996, Matt has prided himself in developing and showing young horses and leading them to success in the show pen.
'Tuff', registered with the AQHA as Trashy Chics Dig Me, is one of Matt's show stallions, owned by Janice Dickson. His lifetime earnings have topped $40,000, and as a now-six-year-old, he has been with Matt and Janice since he was a yearling. According to Matt, the horse is the opposite of his nickname – his personality "wants to be in your pocket" and he hopes to be friends with everyone who walks by.
One day, the unthinkable happened. Tuff, a special horse in the prime of his life, was colicking – but Matt knew he could rely on SmartPak and ColiCare, their colic surgery reimbursement program, which is why he is sharing Tuff's story here.

"Colic is a concern for any horse owner, even the ones at the top of their sport. On the day everything happened, I walked into the barn and Tuff didn't nicker to me. He was standing in his stall facing the corner, somewhat stoically. The horse who wouldn't normally leave a drop of food wouldn't touch his grain. While he wasn't showing the classic signs of colic (pawing, rolling, biting) he wasn't behaving like himself, and the change in his demeanor was enough for me to know something was up.
We made the decision to call the vet out. Knowing how special Tuff is to Janice, and that she would want us to do what was best for the horse, we made sure to take every precautionary measure regarding his health and get the vet involved as soon as possible.
Within 30 minutes of the call, the vet was out at the farm and evaluating Tuff. After checking his vitals, the decision was made very quickly that Tuff needed to get to the hospital for further evaluation. It was at that point I called Janice and told her that there was no time to wait and that we needed to get him on the trailer to go. We brought him to Chaparral Veterinary Medical Center in Cave Creek, Arizona. The surgeons at the hospital looked over Tuff's vitals again and were convinced he needed surgery.
I was hesitant at first because of how major surgery is. We wanted to evaluate all options while making sure his health and longevity remained the number one priority. When this happened in May, Tuff was a 5-year-old in the prime of his career, having made it to the National Reining Breeders Classic finals and was preparing for the NRHA Derby. We knew that going into any procedure would put a minimum six-month halt on his training and showing. After further discussion with the hospital staff, we knew we had no choice – he needed to go in for surgery.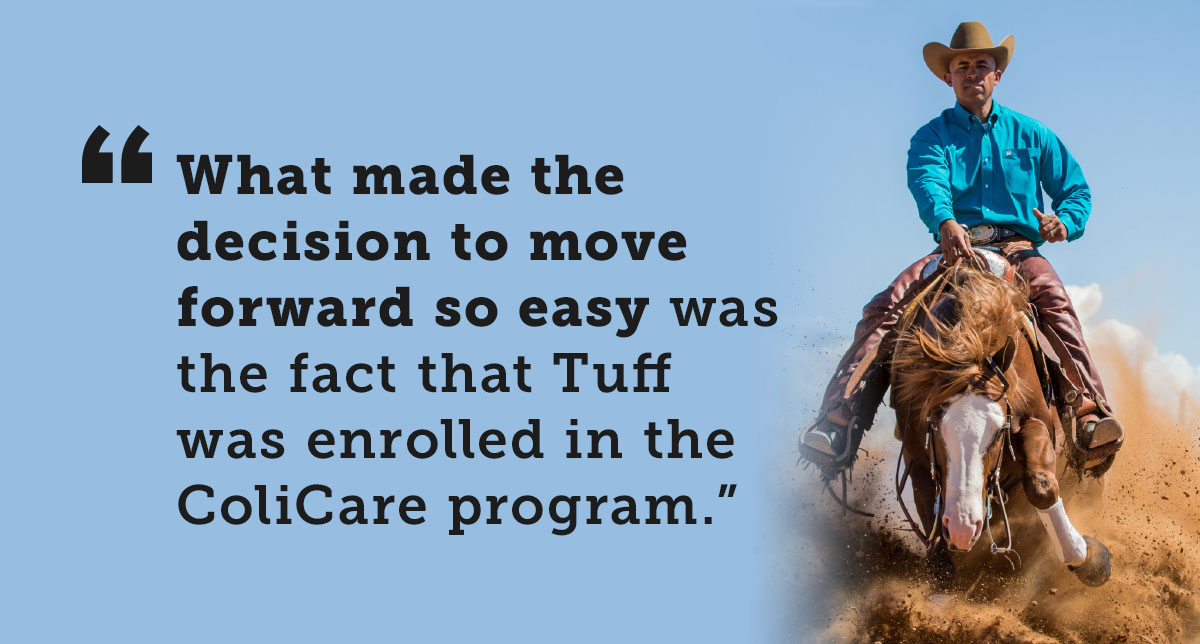 What made the decision to move forward so easy was the fact that Tuff was enrolled in the ColiCare program and so we would have the financial backing he needed for the proper care. Once he went into surgery, I called SmartPak to initiate the claim. Since they are also riders, they understood the severity of the situation and were caring, compassionate, and made the entire process seamless and stress-free.
According to the surgeon, part of Tuff's intestine got caught up internally and was being compressed, unable to move and cutting off the blood supply. The veterinary team did an amazing job. Everything went as smoothly as it could, and the next day following the surgery you could immediately tell he was feeling better and that he wasn't in pain anymore. It was truly one of the best days ever when we were finally able to bring him home.
Tuff's post-surgery recovery went surprisingly well. At the time of his surgery, he was in the running for the NRHA Derby, however, we knew he wouldn't be showing anytime soon, so we slowly rehabbed him back, taking as much time as we could and all of the precautions before riding again. We put him on the walker and eventually transitioned to light riding to make sure we did the process right. Tuff has made a full recovery and we're currently training for some major competitions including the AQHA World Show where both Janice and I will be showing him. Tuff is also in consideration as one of my horses in the Run For A Million.
ColiCare had my back when I needed it the most. The process from start to finish with ColiCare was incredibly easy. There were no hoops to jump through, which meant I could spend my time focusing on taking care of Tuff, and ColiCare followed up on the rest. When speaking with other owners, ColiCare is something I highly suggest the horses become enrolled in, even if they have other forms of insurance. We are the ones who are with the horses all of the time, and we want to make sure they get the care they need. ColiCare is totally worth it, and I think it's a no-brainer for any horse owner to apply to the program.