Changing the World: Thunder's Story
Posted on: December 20, 2017 by SmartPak
Every once in a while, we at SmartPak come across a truly unique and inspiring story of a horse and its owner. Thunder's story is one of those. Right from the beginning, you'll be able to feel the connection between these two – a connection that was almost lost a few years ago due to an episode of colic. Before you watch, here's a word to the wise – get your tissues ready.
Since this video was first published, the horse world lost a truly wonderful soul as Thunder the Wonder Horse passed away. Like all of the horses we're lucky to serve at SmartPak, Thunder was an incredible soul. He changed the world for countless students in the therapy program in which he served for over 23 years, and was beloved by the volunteers who worked so closely with him every day. We were honored to be a part of his care team for so many years and are proud to continue to honor the way he changed the world, four hooves at a time with this video.
A note from SmartPaker Sarah:
"At SmartPak, we're on a mission. We're making the world a better place, using our smarts to power healthy horses and happy riders. From creating innovative solutions (like SmartPaks) to offering expert advice and information that makes riders a little bit smarter, we're changing the world, four hooves at a time."
That's an excerpt from our Brand Playbook, which is basically the "how-to" guide we use to ensure that everything we do at SmartPak stays focused on healthy horses and happy riders. And I don't just love it because I helped author it. I love it because it speaks to the heart of the reason that I came to SmartPak 10 years ago, and the reason I'm so excited to come in again every morning. We truly are on a mission, and we're doing our best to make the world a better place for horses and the riders who love them.
Like most of the riders we're lucky enough to serve, horses have changed my life. From my first pony through my current horse, Cody, who's been my partner for over 22 years, horses have been the constant in my ever-changing life, anchoring me back to the hardworking, patient, empathetic, athletic woman I'm proud to have become. After spending the last decade having thousands of conversations with passionate horse owners from all walks of life, I know that I'm not alone. Horses truly change the world, which is why I'm so proud to be helping SmartPak change the world four hooves at a time.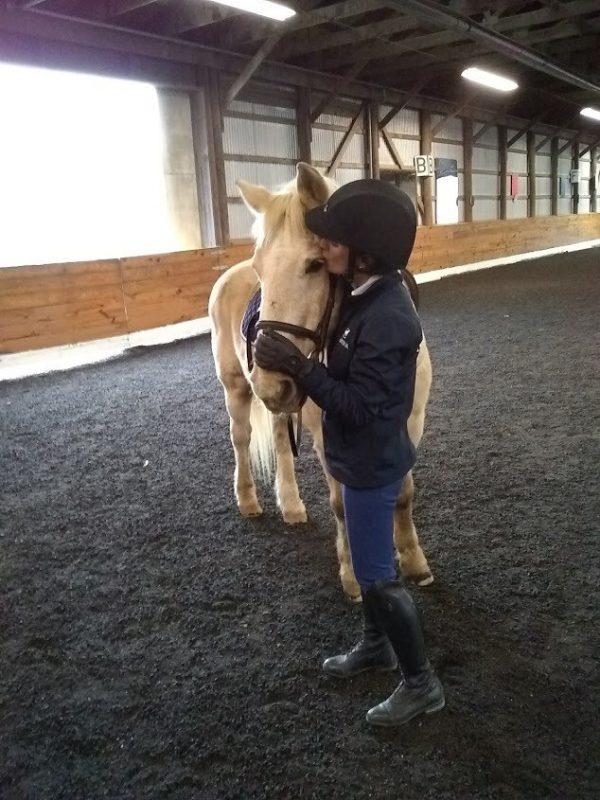 Recently, I was lucky enough to take a trip out to Pennsylvania to visit a horse who has changed the lives of hundreds of students of all ages and abilities. Thunder (aka "Thunder the Wonder Horse"), has been serving as a therapeutic riding horse at Sebastian Riding Associates for over 23 years! We've been lucky enough to support him with supplements in SmartPaks for many of those years, and three years ago, we were honored to be able to help his "dad," Jeff, and the team at Sebastian afford the colic surgery that saved Thunder's life, through our ColiCare program.
Meeting Thunder was a dream come true on so many levels. I'm lucky enough to be on the team that reviews the success stories that we feature in our blog, catalogs, and horse health guides, and I fell in love with Jeff and Thunder's photos the first time he sent them in. As part of the ColiCare team, I remember learning that Thunder needed surgery, and I was so nervous for him because I knew he was an older guy, but I was so relieved to hear that they were going to give him a chance – everyone at SmartPak was rooting for him, and we all cheered when we heard he was shipping home! A year later, I was thrilled to be able to feature him and Jeff in our "Success! Life After Colic Surgery" article, and as our PATH Horse of the Month. So, I guess you could say I'm a bit of a fangirl. And let me tell you – meeting him in person absolutely beat all my wildest expectations.
In the chilly December air, his coat was downier, softer, and fluffier than any pony I've ever snuggled (and I've snuggled a lot of ponies). He was the perfect mix of spunky & naughty and wonderfully earnest & affectionate – like all the very best horses. I was beyond overjoyed when Jeff offered me the chance to ride him, and as I walked him around on a loose rein, I had the goofiest little kid grin plastered across my face. After a lap or two around the ring, I leaned down and hugged his neck, burying my face in his perfectly palomino coat and breathed in that earthy horsey smell that will forever be home to me. And I thanked him. I thanked him for the ride, and for being such a wonderful teacher to so many students, and for being such a great friend to Jeff, and for reminding me, once again, that horses really do change the world, and that I'm lucky to be a SmartPaker, changing the world four hooves at a time.
If you enjoyed Thunder's story, I hope you'll take a minute to stop by Sebastian Riding Associates' Facebook page to leave a note for Thunder, Jeff, Chris, and the other amazing horses and volunteers who are changing the world in big and little ways, every day.