Peek in our Paks: Ellen B. & Nemo (Update!)
Posted on: April 09, 2021 by Ellen Brunelle
Ever wish you could take a sneak peek inside our horses' SmartPaks? Now you can! Check out the supplements we love, for the horses we adore.
This Month's Pick
Staff Member: Ellen B.
Department: Customer Care Team
Horse: Nemo, 16-year-old Morgan
Discipline: Hunter/Jumper and Dressage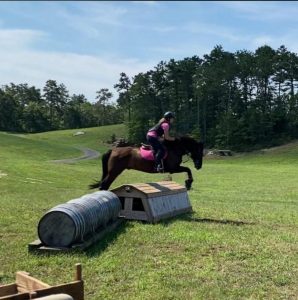 Nemo and I have been together for 9 and a half years, and I've enjoyed every minute with him. I found him as a green seven-year-old, and we've had so many adventures together. We're currently having a blast Eventing at the beginner novice level, and I love how he's always up for trying something new. Whether it's a new jump course, a conditioning trot set, or working on our dressage, Nemo has such a kind work ethic, and always tries his best. I love his "happy black lab" puppy personality, his honest disposition, and the bond we've formed over the years together.
(Check out Ellen's original Peek in our Pak from 2018 here!)
I've always want my best friend Nemo to look and feel his best, and I've had so much fun adjusting and adapting his supplement program to fit his health and wellness needs as he matures. Currently, his supplement program contains SmartCombo Ultimate Pellets, Leg Up Electrolyte, and Smart & Simple Psyllium Pellets – 1 Week Purge (7 -5 oz Doses).
I love this supplement for so many reasons. It provides support for healthy joints, tendons, and ligaments to keep Nemo feeling his best. We typically ride 4-5 days a week for 30 minutes to an hour during each ride. Keeping in mind our Eventing goals, and trying to keep variety in our rides, I work hard to incorporate a trot set or conditioning ride, a jump set, and 2-3 dressage rides or hacks each week. Nemo thrives on having a routine, regular exercise schedule, and loves having a job. I like knowing I'm helping support healthy joints, tendons, and ligaments while we're working so hard together.
Another reason I picked this supplement for him, is due to it's support for a healthy stomach and hindgut. Nemo tends to be a bit of an "internal worrier," and I love knowing I'm supporting his entire digestive tract and helping to keep him as healthy as possible. I also truly feel at ease knowing that he is enrolled in the ColiCare Program, and eligible for up to $15,000 of colic surgery reimbursement, as SmartCombo Ultimate Pellets is a ColiCare eligible supplement.  I hope I never need it, but just knowing I have options should my best friend need them is so reassuring.
Finally, this supplement helps support a healthy skin and coat, and healthy hooves for Nemo. He tends to be prone to itchy, dry skin at times, and I've seen a noticeable improvement in his coat health since starting him on this supplement.
I also use Leg Up Electrolyte for Nemo. Nemo works hard, and also tends to get particularly hot in the summer, so it's very important to me to be sure to include salt, as well as magnesium and potassium into his daily supplement program to help replenish what he loses in sweat and help to keep him hydrated. I make sure to use this year-round, as we work hard year round, and I have also found it helps keep him drinking water in the winter when it's very cold too.
Finally, I make sure to have Smart & Simple Psyllium Pellets – 1 Week Purge (7 -5 oz Doses) shipped right on the same schedule as Nemo's SmartPak each month. This is given at one little pouch a day for 7 days each month. I keep Nemo in Plymouth, MA, and the soil is naturally very sandy, as we're so close to the beach. By using this, I'm able to ensure any sand that he does digest is moved right along and out of his system. He also loves the apple-banana flavor and gobbles these pellets right up in his dinner as if they're a treat.
Over our many years together, I've found that it's helpful for me to revisit his supplement program every couple years to ensure what I've giving him matches his age, work load, and our current goals. I'm happy to say this supplement program is helping Nemo to look and feel his best, and I'm excited to see what the future brings for our adventures together.