Editor's Note: Since this article was published, the ColiCare program has been upgraded to provide up to $10,000 in colic surgery reimbursement. Click here to learn more.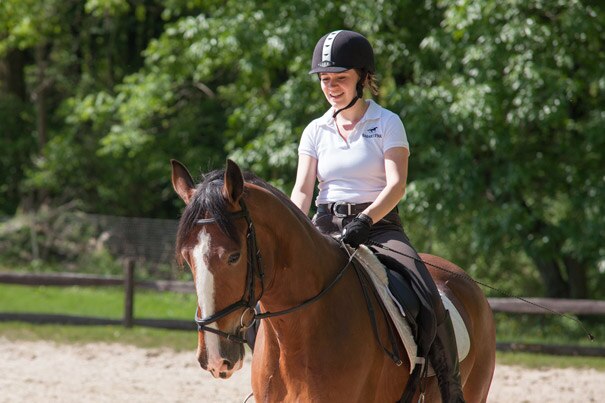 It's been about 7 years since I sold my first horse, Bella, when I went off to college. I've waited and waited (often not so patiently), and the time has finally come for me to buy a new horse! But since it's been several years since I've owned a horse, I'm basically starting my equipment collection from scratch. Thankfully, SmartPak has everything I need to get ready for my new friend, Rory.
One of the best parts about my job at SmartPak is that I get to write all of our product descriptions, which means I get an inside look at all our new products before they hit the warehouse. This made shopping for my new horse a whole lot easier (plus it was fun to finally have a use for some of the awesome products I've seen come across my desk!). So if you're looking to buy a new horse soon or you're just looking for some great product recommendations, you can check out my shopping list!
SmartPaks!
The very first thing I did when I decided to buy Rory was get him started on SmartPaks. Rory is going to be boarded at a barn with several other horses, and with SmartPaks I know he'll always be able to get exactly what he needs, every day.
Working at SmartPak, I've learned a ton about equine health and nutrition. I've especially come to appreciate the importance of supporting joint health, no matter your horse's age or workload. Rory's only 5 and is about a year into his training, so I decided to put him on SmartFlex I Maintenance Pellets. It's a great economical choice for horses in light work, and I love that it comes in pellets, so I know he'll eat it.
There are a lot of day-to-day events around the barn, hay fluctuations, training, and traveling to shows, that can cause digestive stress. I decided to put Rory on SmartDigest Ultra to help keep his digestive tract healthy. As an added bonus, it also means that I may be eligible for ColiCare, SmartPak's $7,500 colic surgery reimbursement plan, which really gives me peace of mind as a new horse owner.
Since summer is just around the corner, I also decided to add SmartBug-Off Pellets to his SmartPaks. I love this product not only because it works to deter biting pests, but it also contains omega 3 fatty acids, antioxidants, and MSM to support a normal inflammatory response and healthy skin.
If you're looking to start your new horse on SmartPaks but you're not sure what he needs, try our awesome Supplement Wizard. All you have to do is answer a few questions about your horse and it will give you a recommendation for a customized supplement plan on a variety of budgets.
---
Mudruckers Boot – Mid
I'm going to be spending a lot more time slopping around the barn in all weather and I don't want to trash my paddock boots, so I needed a good muck boot! I love these because they keep your feet warm in the winter and they're not too hot to use in the summer. Plus they have great traction and are super comfy.
---
SmartPak Soft Padded Leather Halter
As party of Rory's training, I'm going to be taking him to a few schooling shows this summer so he gets used to being off the property. I wanted him to be able to look sharp wherever we go, so I chose this halter because of it's supple leather and really stylish padding. I also got it engraved with his name, and it looks so sharp!
---
Colorful Cotton Lead w/ Chain
Along with a new halter, Rory needed a nice new lead rope. I love these cotton leads because they don't slip through your hands like the nylon ones. And even though Rory is a really good boy, I got the lead with the chain as an added security measure for when we're off the property seeing new places for the first time.
---
Roma Deluxe Shipping Boots
I definitely want to make sure Rory's legs are protected when we travel, so I got him these shipping boots because they provide a lot of protection—and they come in a pack of 4.
---
SmartPak Stable Sheet
I wanted something lightweight to throw over Rory when we're off at shows and in the trailer to keep him clean. I love the SmartPak stable sheet because it's affordable, comes in classic colors with stylish piper, and it has nylon-lined shoulders so it won't rub.
---
Quic Silver
Rory's a bay with four white socks, so you can never have enough Quic Silver around! It's a color-enhancing shampoo for white/gray coats that's really great for getting out grass and manure stains on legs. If you have a horse that has any white on him, this is a MUST!
---
USG Ear Bonnet
I love this ear bonnet because it pulls double duty—it protects his ears from biting pests during our rides AND it's super stylish. Not only does it come with stylish trim and piping, but it's also available in several colors, so you can get one to match your horse's "color" (Rory's is black, which looks nice on him since he's a big bay).
---
Saddle
I sold my saddle back when I sold my horse, so I'm in the market for a new one. Searching for the right saddle can be a long and tricky process, but SmartPak's Test Ride program makes it a whole lot easier! You don't even have to wrap your stirrups, you can just ride in the saddle like you would as if it were your own, which helps you get a realistic feel if it's right for both you and your horse. I haven't found the perfect saddle yet, but thanks to the Test Ride program I feel confident I'll be able to pick the right one.
---
SmartPak Lined Stirrup Leathers
When I do find the right saddle, I'm going to need stirrup leathers for it. I love these ones because they're super soft, super affordable, and they're lined with nylon to prevent stretching. Plus they have close-set, numbered stirrup holes.
---
Fillis Stirrup Irons
Stirrup leathers aren't much good without stirrups! With all the things I have to buy for my new horse, I didn't want to spend a ton on stirrups. These are affordable and they get the job done!
---
SmartPak Breathable Dressage Girth
Just like with the stirrups, I didn't have a big budget to spend on a girth, but I wanted something that would be comfortable for Rory. I chose this girth because the PVC waffle-weave breathes so Rory won't get as hot. Plus the synthetic material gives a secure, non-slip grip, which is especially important for a young horse—just in case. If you're looking for a hunter/jumper or all-purpose girth, you can get the same one with or without fleece.
---
SmartPak Medium Diamond Dressage Saddle Pad
Don't forget the saddle pad! If you're looking for a nice, everyday schooling pad, this is a great choice. Plus it comes in several fun colors. If you're looking for an all-purpose pad, try the stylish SmartPak Medium Diamond Deluxe AP Saddle Pad for it's fun trim and fun colors. You can also get your saddle pads embroidered if you're looking for a personalized touch.
Smart tip! Start your SmartPaks before you buy your tack and supplies, and then you'll be able to get 10% off all SmartPak brand gear with SmartPerks!
---
Passier Lederbalsam
With all this new tack I'm getting, I wanted be sure I had a good leather dressing to get the new leather soft and supple. After reading customer reviews, I decided to go with the Passier Lederbalsam because protects against water, helps keep leather soft, and it won't stain your leather.
---
Sport Boots
I want to protect Rory's legs while we're schooling, and these fleece-lined boots totally fit the bill! Plus, this is another high-quality product at a low price that gets the job done, which is great for a new horse owner on a budget!
---
Show Sheen
This is a staple in my grooming box. Rory has a really thick mane and tail, so I spray a little of this before I comb it out, and the comb goes through nice and easy! Just spray responsibly if you're going to use it on your horse's body as it can be a little slippery.
---
Oster Mane & Tail Brush
I need a serious comb to keep Rory's mane & tale in order, and this is a real workhorse! It's ultra durable but it's still gentle on the horse.
---
Stiff Center w/ Medium Border Body Brush
If you're looking for a really great body brush, man, this is IT! The medium bristles on the outside make it comfortable against your horse's body while the stiff center bristles really work hard to loosen up dirt and sweep it away. It sounds like a silly thing, but I swear by this brush—it's the best $10 you'll spend.
---
UltraShield EX Fly Spray
With summer on it's way, you're always going to want to have some good fly spray handy, and this stuff means business. It lasts for up to 17 days and kills & repels 70 different types of insects.
---
Braided Leather Bracelet
Last but not least, every new horse owner needs a leather bracelet with their horse's name on it! The braided sides adds a really unique look, and you can choose to get your horse's name laser engraved right into the leather or you can get it with a nameplate.
---
I hope this helps you get started on your own new horse shopping! And don't forget, we're here to help! If you need help anywhere along the way, just call us or click to chat.