My Goal for the 2017 Competition Year – A USDF Bronze Bar for achievement in Freestyle Dressage! Now that Newman and I have earned our United States Dressage Federation (USDF) Bronze Medal for scores at First, Second, and Third Level, it's time to round out our award shelf with a Bronze Bar for scores at First, Second, and Third Level freestyle! We've already completed Step 1: Collect First and Second Level Freestyle scores (with All-Breeds Reserve Champion and Champion ribbons to boot!), now we just need our Third Level Freestyle scores to be complete.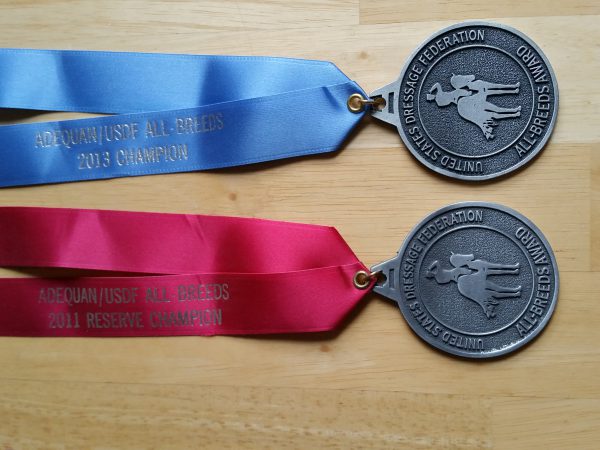 Of course, it's not quite THAT simple, first you have to become eligible to even RIDE a freestyle at a level, and you do this by earning at least a 60% at the highest test of that level, which is Step 2. Then when you enter a freestyle class at a show, you have to add that test to the entry as proof that you're eligible.
Step 3 is Selecting Music, and I plan to use new music for my Third Level freestyle. I used the same music (Mediterranean guitar, a little piano) for both my First and Second level freestyles, but I've found a movie score that is very dramatic AND fits my horse's looks and way of going (I'm not going to say what it is – that'll be a surprise!)
The next step for me (some people do it the other way around) is choreographing the freestyle. Here are the compulsory movements for Third Level:
• Walk (20m minimum continuous medium walk)
• Walk (20m minimum continuous extended walk)
• Shoulder-in at trot (left and right)
• Trot half-pass (left and right)
• Extended trot
• Canter half-pass (left and right)
• Flying change of lead (left and right)
• Extended canter
• Halts at beginning and end of test
The trick in designing choreography (which has a separate score) is not being test-like but creatively using the whole arena – especially in the center of the arena, away from the rail – and even "surprising" the judge in a good way with what comes next. It shouldn't be difficult for the judge to tell what movement you're doing, and extra points if you can combine two movements together that's unexpected and new. At the same time, it's important to highlight your horse's strengths and diminish his weaknesses as much as possible. For example, Newman's flying change from right to left is decent so I place that one right in front of the judge, but he's weak changing from left to right so that one occurs farther away.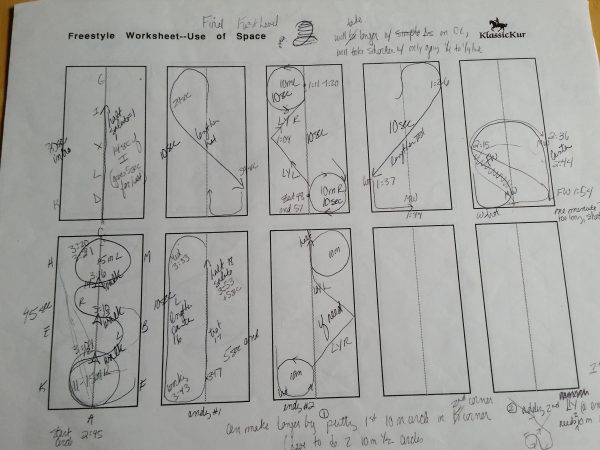 What looks good on paper sometimes doesn't always ride smoothly, so Step 5 is riding the freestyle you've designed and making adjustments. This is the step I'm on now and can be frustrating as well as fulfilling. On the one hand you might find a corner or circle develops the bend for lateral movements beautifully and solves one problem, but on the other hand it creates a new one as maybe you end up facing the wrong direction or going the wrong way. It's easy to spend a lot of time at this step!
Step 6 is to video yourself riding the final choreography in a regulation-sized arena so that the music can be set to it. For this you'll need a camera, trusty friend or tripod, and a sound editor. For the next step, I spend an evening in front of my TV and computer, watching the freestyle and playing the music again and again until the timing matches. While hitting most of the obvious musical phrasing is important, I tend to focus on the entrance and end, so that my first and last impressions are spectacular.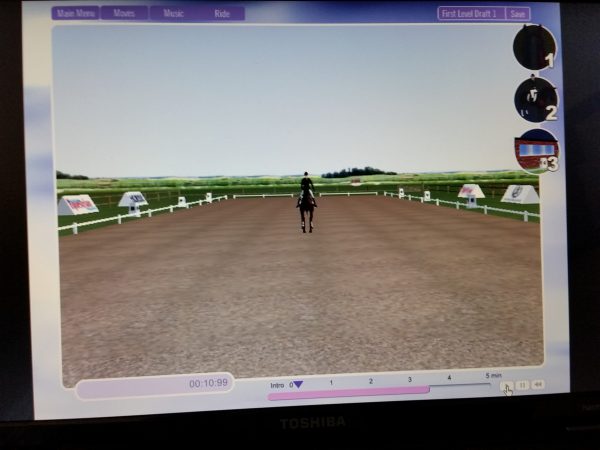 Sometimes I don't have the time or the weather doesn't cooperate and let me ride my new freestyle outside to music, so I have to 'wing it' in the show ring. For your first time riding a freestyle in competition, I don't recommend this, as freestyle competition can be very stressful itself and the last thing you need is the uncertainty of "I hope this works!" Because at the lower levels you do not have to submit your choreography to the judge ahead of time, if you get ahead or behind your music you have the ability to improvise on the spot, but that too can be stressful.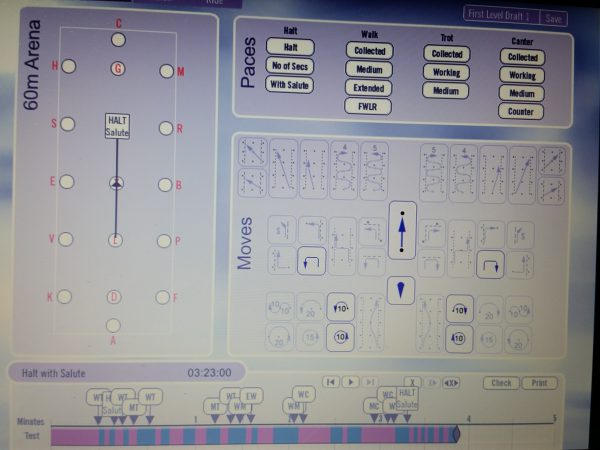 In a nutshell, here are the steps I need to take to achieve my 2017 Dressage Competition Goal and the status of each:
Step 1: Collect First and Second Level Freestyle scores DONE
Step 2: Become eligible to ride a Third Level Freestyle test by earing at least a 60% at the highest test of the level DONE
Step 3: Select music DONE
Step 4: Choreograph freestyle DONE
Step 5: Ride freestyle and tweak IN PROGRESS
Step 6: Video final freestyle ride IN PROGRESS
Step 7: Use sound editor to set to music IN PROGRESS
Step 8: Practice the freestyle to music hopefully at least once before competing PENDING
Step 9: Collect Bronze Bar at USDF Convention in December!