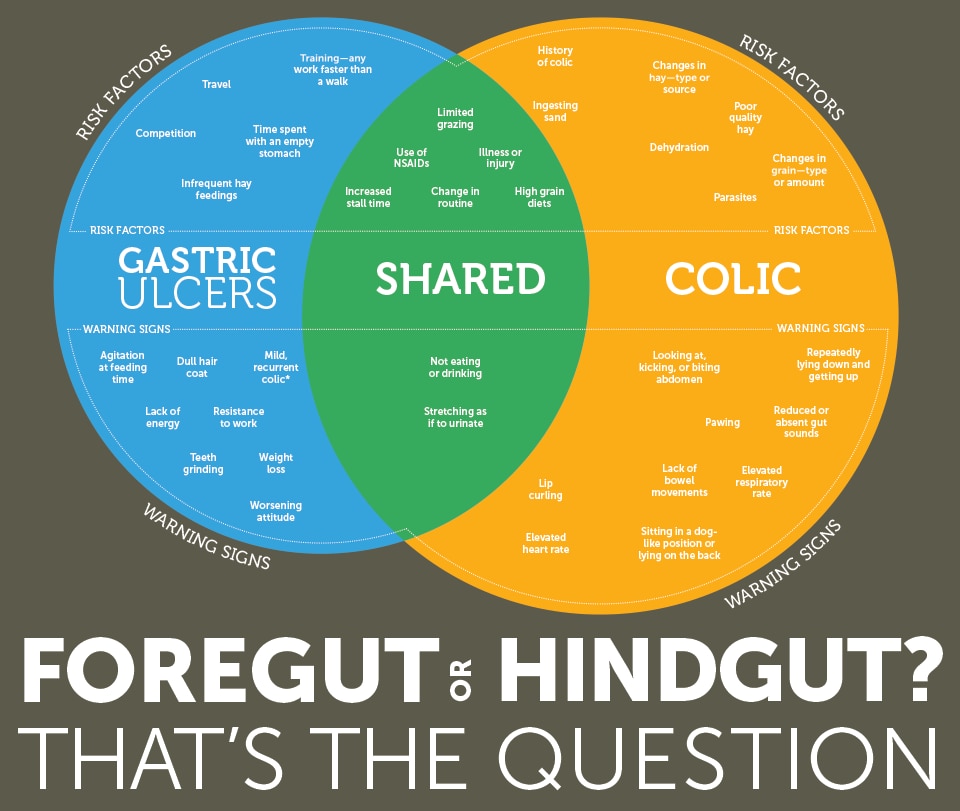 Knowing what sort of support your horse needs can be tough, but it can also make a big difference.
We know there's a lot of confusion between your horse's foregut health and hindgut health. After all, the process of breaking down food and absorbing nutrients is all technically "digestion," so isn't it all the same? Not quite. The organs in the foregut and hindgut have very different functions, and each area has unique health concerns. An unhealthy stomach is at risk for gastric ulcers, while an unhealthy hindgut is at risk for colic and other digestive upset. As if all that's not complicated enough, colic is not only the primary problem in the hindgut, it's also a general term for abdominal pain, which means mild, recurrent colic can also be a sign of gastric ulcers. However, for the purposes of this article, when we say colic*, we're referring to problems (gas, impaction, twists, etc.) in the organs that make up the hindgut. Confused? Have no fear—SmartPak's here to help! In Part 1 & Part 2 of this blog, we'll look at each condition in greater detail, and identify ways you can help support your horse.
Can one small organ really make such a big difference in your horse's health? Turns out, it can! Luckily, we're here to help with smart ways you can provide your horse with the ultimate gastric health support.
WHAT DOES "GASTRIC" MEAN?
The word "gastric" means "of or pertaining to the stomach," so gastric health focuses entirely on one organ —the stomach. While your horse's stomach is relatively small, accounting for less than 10% of his total digestive capacity, it can cause some pretty big problems, including gastric ulcers.
WHAT ARE GASTRIC ULCERS?
Over 60% of performance horses suffer from gastric ulcers, a painful condition that can cause decreased performance, weight loss, and more. Luckily, there are ways you can treat and prevent ulcers and maintain overall gastric health.
WHAT CAUSES GASTRIC ULCERS?
Your horse's body was designed for constant grazing (about 10-17 hours per day), which means the stomach is almost never empty. However, modern horsekeeping makes that tough to achieve. Often, a horse's diet is composed of infrequent meals of hay and grain, with most of the day spent with an empty stomach. This leaves your horse's sensitive stomach lining exposed to harsh gastric acids, which can cause gastric ulcers. Add to the mix that stress from training, travel, competition, and more can also contribute to ulcers, and you've got a recipe for an unhappy stomach.
DOES MY HORSE HAVE AN ULCER?
The only way to accurately diagnose an ulcer is with an endoscopic exam performed by your veterinarian. However, there are some warning signs that you can watch out for, including:
Reluctance to eat or drink
Worsening attitude
Less-than-optimal performance
Dull hair coat
Weight loss
Agitation at feeding time
Mild, recurrent abdominal pain
HOW CAN I HELP MY HORSE?
If your horse has been diagnosed with gastric ulcers, you should work with your veterinarian to develop a treatment plan, which may include an FDA-approved prescription medication.
Supporting a healthy stomach
The risk factors for occasional gastric upset include training, traveling, competing, or infrequent hay feedings. If your horse is exposed to any of these factors, a combination daily support from a supplement and smart management can help ensure he has what he needs for a healthy stomach. Look for supplements that provide ingredients like calcium and magnesium to help neutralize gastric acid, as well as glutamine, glycine, and soothing herbs to support healthy stomach lining.
When building your horse's gastric maintenance plan, you also want to consider his diet and other management strategies. When it comes to your horse's diet, focus on hay and other forage, ideally allowing your horse pasture grazing or free choice access to hay 24/7. Because large grain meals have been identified as a risk factor for gastric upset, add only the minimum amount of grain (if any) your horse needs to maintain weight and performance. Other management tips to consider include increasing turnout time, limiting the use of NSAIDs (such as bute), and making any changes to his routine or workload as gradually as possible.
Now that we've covered "gastro," let's move on to the "intestinal" part of the gastrointestinal tract.
WANT TO LEARN MORE?
Read Part 2 of this blog series, in which we talk all about colic & digestive health.