Lyme Disease in Horses
By: Dr. Lydia Gray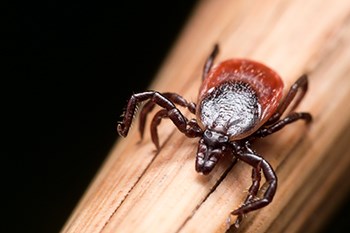 ---
Brief Description
Lyme Disease is a bacterial infection caused by Borrelia burgdorferi that is spread by the deer tick, or blacklegged tick. Horses, dogs, humans, and other mammals can all contract Lyme Disease, and it is most prevalent in New England plus the surrounding states Pennsylvania, New York, New Jersey, Maryland, and Virginia, as well as the upper Midwest (Wisconsin and Minnesota). It is typically treated with the tetracycline family of antibiotics, including oxytetracycline, doxycycline, or minocycline. In horses, clinical signs of Lyme Disease are vague -- encompassing many different systems -- and may include sporadic or shifting lameness, swollen joints, arthritis, stiffness, muscle tenderness/soreness, muscle atrophy or wasting, chronic weight loss, fever, lethargy, a hypersensitivity to being touched, uveitis (eye inflammation), hepatitis (liver inflammation), abortion, laminitis, and poor performance. Some horses may demonstrate neurological signs such as behavioral changes, difficulty swallowing, a head tilt, paresis or weakness, and ataxia (unable to voluntarily control movement or the gait).
---
Diagnosis
There is no "gold standard" to definitively diagnose horses with Lyme Disease, so veterinarians use these four criteria:
The horse lives in or traveled to an area where the disease is prevalent
The clinical signs shown are consistent with Lyme Disease
Other potential causes of these clinical signs have been ruled out
Based on immunological testing, the horse has a high antibody titer to the bacteria
Veterinarians have several options now to test for the presence of antibodies to the bacteria that causes Lyme Disease and will select the best one given the unique situation.
---
Prescription Medications Available
The tetracycline family of antibiotics seems to be effective against B. burgdorferi, including extended courses of oxytetracycline, doxycycline, or minocycline, but even these may not completely eliminate the organism from the body. In horses and other species, a low level infection can persist, causing a chronic condition that requires added rounds of even lengthier treatment. In addition, the particular system targeted by the infection (musculokeletal, neurological, eye, liver, etc) may require specific therapy with steroid or non-steroidal anti-inflammatory drugs (NSAIDs) or other medications.
---
Supplements That May Lend Support
Horses with Lyme Disease may benefit from supplements with ingredients that provide general wellness support – such as omega 3 fatty acids, antioxidants, and adaptogens -- as well as support towards specific, affected areas. For example, horses that are displaying joint discomfort may appreciate traditional ingredients like glucosamine, chondroitin sulfate, HA, and MSM. Also look for turmeric, resveratrol, collagen, and various herbs. Muscle recovery can often use an assist from amino acids like lysine, methionine, threonine, and others. Both muscle and neurological systems may find value in the addition of Vitamin E. Also, digestive support from probiotics, prebiotics, and yeast during a course of antibiotics is regularly recommended to help maintain normal, healthy gastrointestinal function, as is reinforcement for gastric (stomach) tissues under stress with ingredients like soothing herbs, soluble (mucilage) fiber, and buffering agents.
---
Management/Prevention Tips
Horse owners that live in a tick-infested area should follow advice to reduce exposure of their animals (and themselves) to these parasites such as Horse owners that live in a tick-infested area should follow advice to reduce exposure of their animals (and themselves) to these parasites such as:
Avoiding woods or forests
Removing brush, leaves, and long grass
Protect the horse from insects by using insect sprays & repellents
Performing full-body "tick checks" for horse and rider routinely
Discourage animals such as deer, birds, and rodents that form a part of the life-cycle of ticks and help them spread
---
Questions to Ask Your Veterinarian
Should my horse have a baseline antibiotic titer drawn if I live in a high-risk area?
Is there a vaccine to protect my horse from Lyme Disease?
What is the prognosis for a full recovery – that is, what are the long-term effects?
---
Additional Resources
---
SmartPak strongly encourages you to consult your veterinarian regarding specific questions about your horse's health. This information is not intended to diagnose or treat any disease, and is purely educational.