How many SmartPak scoops does my horse need?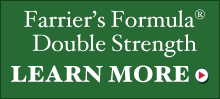 Farrier's Formula® is the original hoof supplement, validated through independent university research, and the #1 recommended* hoof supplement by farriers for 12 consecutive years. Provides a comprehensive selection of nutrients for the health of the hoof, skin and coat!
The nutrients in Farrier's Formula® Double Strength, important for a healthy hoof, are provided at twice the concentration compared to original Farrier's Formula® with the taste that horses love!
The 11 lb. nitrogen flushed vacuum package or 11 lb. bucket deliver:
Twice the number of daily doses compared to original Farrier's Formula®
A 60 day supply for a 1000 lb horse at the Adult Replenishment Feeding Level or a 120 day supply when feeding at the Adult Maintenance Feeding Level
Added benefit of being more economical to feed compared to original Farrier's Formula®.
*#1 According to an annual survey performed by the American Farrier's Journal.
Feed at the replenishment feeding level (3 oz / 85 gm for a 1000 lb. horse) for horses with hoof problems. After feeding for 6 to 8 months and desired results have been achieved, the adult replenishment feeding level may be reduced to the maintenance feeding level (1.5 oz / 42.5 gm for a 1000 lb. horse).
View our Hoof Supplement Comparison Chart

Original Farrier's Formula® in buckets or bags