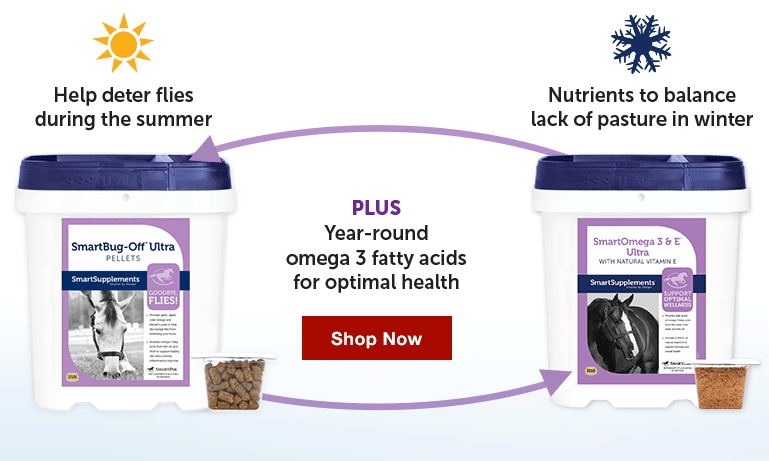 Equinox 365 is the smartest way to provide your horse with year-round support for overall wellness. In addition to a daily serving of omega 3 fatty acids, your horse will receive targeted support, based on the season. In the warmer months, he will get the ultimate fly defense from SmartBug-Off Ultra. In the cooler months, SmartOmega 3 Ultra provides additional nutrients to balance the lack of fresh pasture.

Equinox 365 allows you to take great care of your horse, so we want to take great care of you. That's why you'll receive 20% off SmartBug-Off Ultra or SmartOmega 3 Ultra every month. You'll pay just $19.95 for these formulas, saving you over $65 a year!

When your horse is enrolled in Equinox 365, we'll automatically update his SmartPaks as the seasons change in your area; you don't have to worry about a thing! Once the flies are gone, we'll take out SmartBug-Off Ultra and replace it with SmartOmega 3 Ultra. As the weather heats back up, we'll switch back to SmartBug-Off Ultra to ensure your horse is ready to battle the bugs!
Frequently Asked Questions
Q: How do I enroll in Equinox 365?
A: Enrollment is easy! Simply purchase SmartBug-Off Ultra using the designated Equinox 365 link (see above) and that's it. We'll take it from there and automatically apply your 20% discount each month plus update your order seasonally.
Q: When do you switch my horse's SmartPak?
A: We'll automatically update your horse's supplements at the appropriate time based on your geographic location. You won't have to guess when to make the switch anymore! Orders will be updated to SmartOmega 3 Ultra between September and December; they will be switched back to SmartBug-Off Ultra between February and April.
Q: Will you notify me of the change?
A: Yes. You will receive an email reminder before your updated order ships out.
Q: Do you have to pay for the whole year at once?
A: No. When you enroll in Equinox 365, you are authorizing us to automatically switch your SmartPak for you. However you will still be billed for your SmartPaks on the normal 28 day cycle.
Q: Can I make changes to my SmartPak?
A: Yes. You can adjust your SmartPak contents, ship dates, and other information as usual. You may also cancel your order if necessary.
Q: Why should I enroll in this program?
A: When you enroll in Equinox 365, you're signing up to support your horse's health and wellbeing all year round, and we think you deserve a reward for that! As a result, we'll give you a 20% savings every month on SmartBug-Off Ultra or SmartOmega 3 Ultra (depending on the time of year).