You are now leaving Funky Town
Posted on: March 22, 2013 by SmartPak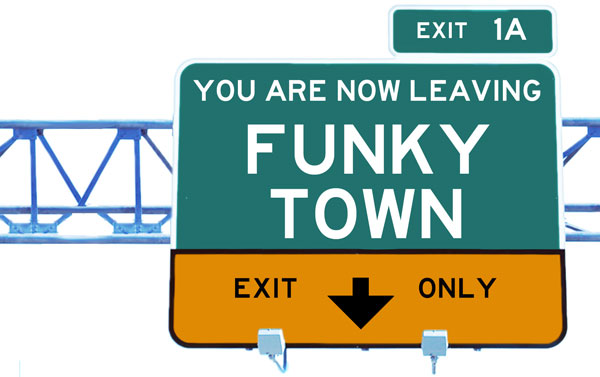 We've all been there. You get to the barn and there is just something, well, funky going on with your horse's skin. But what is it?! And what can you do about it? We've put together a list of the usual suspects and some helpful hints on how to handle them. But even our expertise is no substitute for a hands-on consult from your veterinarian. If your horse is lookin' funky, call the doc for a diagnosis first!
Rain rot
Rain rot is a skin infection caused by Dermatophilus congolensis. This opportunistic organism is like a shy boy at a party, it's always there, waiting for the right moment to make its move. In this case, the right conditions are a moist environment and a break in the skin. Rain rot is characterized by hard, painful, crusty scabs that appear on a horse's back and rump.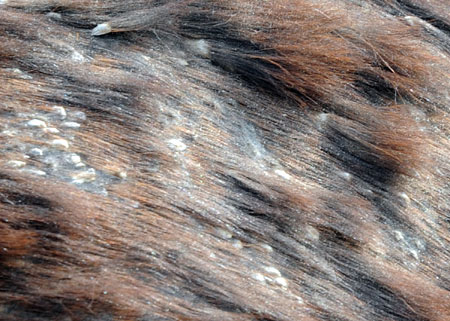 Gross! What can I do?
If your horse is diagnosed with rain rot, your vet will likely recommend removing the scabs and keeping the area clean and dry. You should soak the scabs before peeling because they can be quite painful. Then, as instructed, clean the area with an iodine solution.
Scratches
Scratches is a condition caused by constant wet/dry cycles in the environment that causes the skin at the back of the pastern to become chapped (a lot like your lips). Once this skin is broken, bacteria in the environment get under your horse's skin, causing redness, pain, swelling and discharge.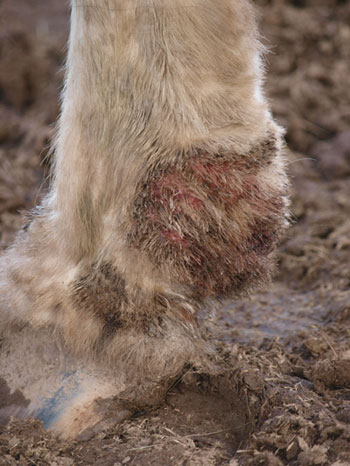 Gross! What can I do?
Get your vet involved. Scratches can quickly become serious and even cause lameness. Working with your vet, you'll need to remove all scabs and dead tissue before healing can begin. But you don't want to soak the area because that will just exacerbate the chapping. If you have really tough scabs, try gently washing the area with Eqyss Microtek Medicated Shampoo to soften them up (just be sure to dry the area very well with a clean towel). Dermacloth is also a great choice with gentle yet effective healing and antimicrobial agents built in. Many riders also love applying diaper rash cream to moisturize the skin and protect sensitive areas.
Sweet Itch
Sweet itch, as it turns out, ain't so sweet. It's actually an allergic response to the bite of Culicoides (a.k.a. midges or no-see-um's). It's also referred to as insect bite hypersensitivity (IBH). Sweet itch not only causes horses to rub their manes and tails, it can also cause itching, crusting, and hair loss on the horse's midline along the back and belly.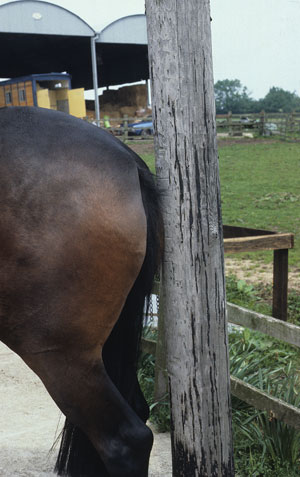 Photo by Bob Langrish
Gross! What can I do?
Unfortunately, Culicoides aren't like fleas—you can't just bomb or bathe them away. But if your vet diagnoses them as the culprit, you can manage how your horse reacts to them. A study by O'Neill, McKee and Clarke in the Canadian Journal of Veterinary Research showed that feeding flax seed reduced the inflammation and skin lesions in horses with IBH. Additional studies have shown that supplementing with omega-3 fatty acids (found in flax seed and fish oil) can reduce inflammation throughout the body. Read more about Sweet Itch from our staff veterinarian, Dr. Lydia Gray, in her Ask the Vet blog.
Fight the funk from the inside, out!
SmartShine® Ultra contains skin-supporting omega 3 fatty acids from flax seed and ultra-powerful fish oil. Order it in SmartPaks and it's Guaranteed to Work.
APF contains several different adaptogens, which are natural plant-derived substances that modulate the body's immune response. They are believed to dial up the immunity when facing an infection and dial it down when facing an allergen.