What's in Newman's Journal?
Posted on: July 19, 2017 by Dr. Lydia Gray
I get a lot of questions about Newman's Journal, like: what kinds of things do I record in it, how often do I write stuff down, what do I do with the information I record, and so on. I've been keeping a journal about him ever since he joined our household in August of 2005, when he was four years old. At first it was just a way to keep track of his wellness care and training, but over the years it has evolved into documenting observations that have allowed me to diagnose colic, PSSM, headshaking, Equine Asthma Syndrome, and a few other issues.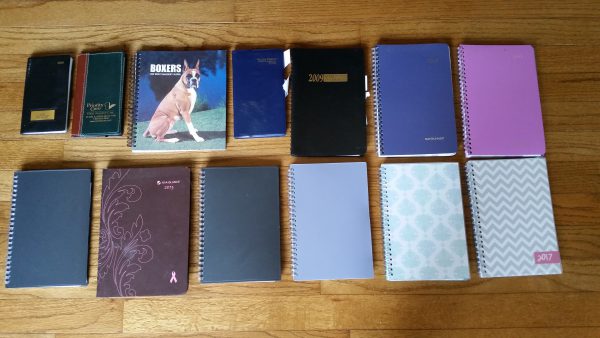 The type of journal I use has also changed over the years, from a small, simple, whatever's-being-given-away-free model to a combined weekly/monthly planner with month-at-a-glance pages followed by a week-at-a-glance with 10 lines for notes on each day. I use the extra blank pages at the front and back of the journal to record dates and costs of lessons, clinics, and shows; veterinary health care that I have done as well as other vets; visits from the farrier, dentist, bodyworkers, and saddle fitters; even trailer maintenance – anything and everything to do with my horse. These appointments are also noted on the month-at-a-glance pages with more detailed descriptions of each in the daily sections. However, the daily sections are really to document the work that day — what went well and what was challenging, breakthroughs on his or my part, or setbacks. That's how I notice trends such as how weather affects him, that he lacks energy after trailer hauls more than an hour or being stalled, the effect of a new supplement or medication, etc.
1. Wellness Records
Nothing too earth-shattering here, just the normal preventive care that you want to keep track of so that you know when it was done last (and what was found) and when it should be done again. I like to jot down who did it and how much it cost, too.
• Vaccinations (especially important now that US Equestrian requires proof)
• Deworming
• Dentistry
• Farrier visits
• Bodyworkers (chiropractors, massage therapists, acupuncture)
• Saddle fitter
• Any trips to the hospital or visits to the farm for maintenance or emergency care (this could include anything from hock injections to a colic scare to a repeat BAL for his airway disease)
2. Event Records
On a different page I list all the lessons, clinics, shows, and other events we participate in, as well as the date, who gave them, and how much it cost. Mine looks like this so far this year:
3/11-12 Anita 2 rides $XXX
5/6-7 Anita 2 rides $XXX
5/17 Adrienne #1 $XXX
5/27-28 Sterling Graburn driving clinic $XXX (get reimbursed from IDCTA grant)
5/31 Adrienne #2 $XXX
6/7 Adrienne #3 $XXX
6/24 Silverwood show, 3-3 and FS3, $XXX
6/29 Adrienne #4 $XXX
7/2 Anita 1 ride $XXX
7/5 Adrienne #5 $XXX
7/8 Silverwood show, FS3, $XXX
7/15 Driving Derby at FVSA, $XXX
7/16 Arena Driving Trial at FVSA, $XXX
3. Month-at-a-Glance
I find these facing pages to be particularly helpful to assess "the big picture" as I can quickly scan the tabbed months and remind myself when I started him on a particular feed, supplement, or medication; how many days we worked that month doing what (dressage, drive, jump, hack, free lunge, etc); what new health issues he developed or that were exacerbated. I include any travel I did during the month on here too, as my presence/absence can play a large role in how he feels in a given week.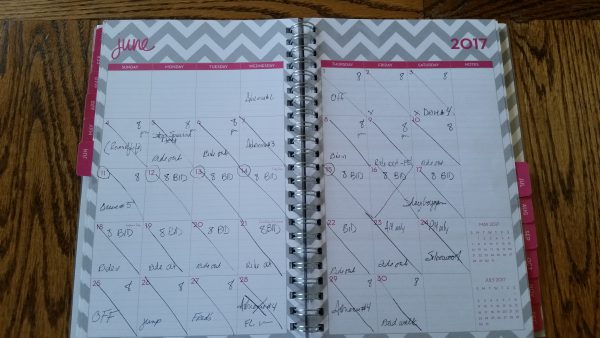 4. Daily Diary
The real "meat and potatoes" of Newman's Journal though, is what I record on a daily basis. It's here that I document the weather, his attitude/energy, and as many details about the work as I can. It's helpful both from a "hmm, it was 70 and not humid with a light breeze and he STILL had no forward," to "Eureka! The secret to a good transition to collected trot from medium trot is a supple medium trot!"
Here are two sample entries, one good and one not-so good (see if you can figure out which is which!):
Tuesday July 4th
Drive #7 of the year. Small pasture with an 8-pair cones course in snaffle bit 1st time. Had to chase a little in the 10 min. walk in the beginning. Then easy trot at his pace. Didn't really want to bend L today, even showing counter bend and falling on inside L shoulder, but once corrected, then didn't want to bend R! Lots of leg-yielding both ways, quite respectful to touch of the whip on hip. We both liked the snaffle in place of the Glory or KK Conrad and I could really supple him longitudinally and laterally with it, even "swing the neck" ala Larry Poulin. No head tossing. Started cones by #8, then #7 and #8, then #6, #, 7, and #8 and so on until 1-8 in order. Had a couple of major corrections but no extra circles and otherwise forward with tight turns.
Monday June 26th
Can't remember when he's felt this bad under saddle 🙁 Thought by jumping him today he would perk up but didn't. Cantered to and after trot crossrails but probably for momentum, to make it easier  So low in front I was scared he was going to fall on his nose! Even tried to encourage him to lift his head and neck with reins. Worked on myself, playing with some Practical Horseman H/J riding exercises: hold mane and let him jump up to you; hand on head, then on waist, then on small of back; hand pushing out in front, hand waving out behind. Also did David O'Connor's "walk-pop" exercise. Gave up after 30 min 🙁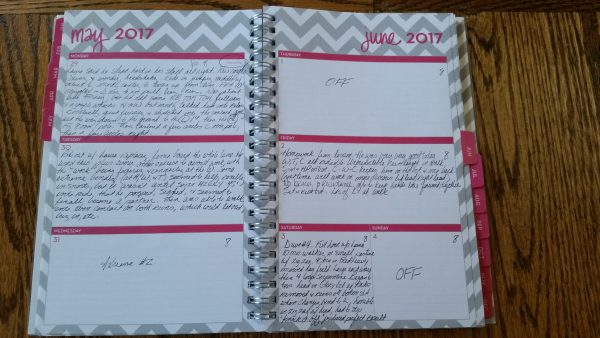 I hope this inspires you to start a journal for your own horse. Or, maybe you already have one and gained some ideas for a new format or new details to capture. Post a comment about facts you keep that I didn't mention, or better ways to record data. Of course, all of this can be done electronically, I'm just old school 
I'll leave you with a chart of words that I use so regularly, I save space by abbreviating:
Common abbreviations
FL – free lunge
L — lunge
LL – long line
SR — side reins
R – ride
FW – free walk
W – walk
T – trot
C – canter
LY – leg yield
H2WLY – head to wall leg yield
h-in – haunches in
s-in – shoulder in
HP – half pass
TOF – turn on forehand
TOH – turn on haunches
FJ – free jump
J – jump
DB – double bridle
JS – jumping saddle
RB – reinback
H – halt
L — left
R — right