What One Year of SmartPaks Looks Like
Posted on: July 08, 2015 by Kaitlin Teore
As a member of SmartPak's Customer Care team, one of the common concerns I hear from our riders is that they are worried about the waste generated by SmartPaks. This is one of my favorite myths to debunk!
SmartPaks are actually made out of recycled plastic (unlike buckets, which are usually made of virgin plastic). Plus, they're made of #1 PET plastic (just like water bottles!) which means they can easily be recycled again at most recycling centers. Many buckets are more difficult to recycle, or not recyclable at all!
Another common concern is that SmartPaks take up a lot of space in the feed room. In reality, they take up a lot less room than you'd expect. Your first order of SmartPaks comes with a blue plastic storage drawer that's 8" tall, 16.5" wide, and 21" long. The drawer is large enough to hold a seven well SmartPak (which is as big as SmartPaks can be) and you can stack multiple drawers on top of each other and leave them in a corner. To make things even neater, the SmartPaks themselves are also stackable. You can stack your empty SmartPaks together and then make one trip to your recycle bin when you have a lot instead of throwing them out every day.
It's one thing to talk about how convenient SmartPaks are, but it's another to see it in person.
Last May, I relocated to a self-care barn where I was cleaning my own stall, making my own grain, and opening my own SmartPaks. One day in April while adding to my stack of used SmartPaks, I realized I had not taken them home to be recycled. Despite this, my SmartPaks still fit on the same shelf they had lived on since I moved to the new barn! I decided to keep stacking them for another month so I could see what one year of SmartPaks would look like.
Here's what one of year SmartPaks looks like – it's a lot less plastic than you might think!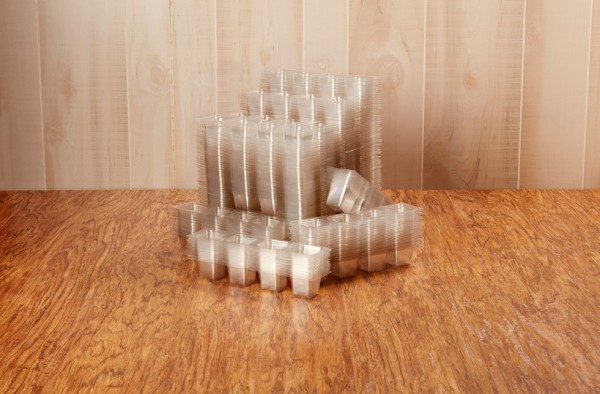 Here's what a year of the same amount of supplements in buckets and bags looks like – way more plastic!