The Everyday Horse World Hero
Posted on: November 16, 2020 by Jessica Knox
Sometimes it takes a village, sometimes it's a single person, and often, it's both!
For most of us with the "horsey bug," it's not easy to juggle the demands of everyday life combined with our time-consuming passion, and we wouldn't be able to do it without some help. It may be a supportive spouse who might not completely understand what we do but takes care of the household so we can get some much-needed barn time in. It might be the trainer that stands out in the cold and rain for us to take a lesson. Or, it may be our barn peer who offers a shoulder to cry on during a difficult time. Our horsey heroes come in all forms and often aren't given the credit they deserve, but I want you to know that you are all very much appreciated!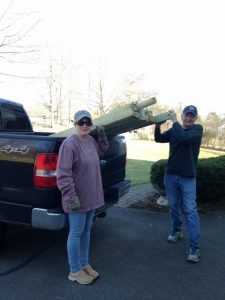 I have had a few, but there are several that mean the most to me. First and foremost, I'd have to thank my parents. I think as a parent you hope to encourage a hobby or sport that your child enjoys at a young age, and that may mean trying a few to see what "sticks." Unfortunately for mine, piano, tennis, and pottery didn't, but horse-back riding did! I didn't realize it at the time, but they made many sacrifices to fulfill my equestrian dreams. Carting me to the barn after school every day and buying riding equipment was just the start. Later came the purchase of a horse when we had no idea what we were doing but jumped in headfirst. My parents sold their sedan and bought an SUV and a horse trailer, and my dad faithfully hauled me to Pony Club meets on the weekend after working an exhausting job. Looking back, I'm not sure how he did it, and he never once uttered a complaint. I've also carted my dad to Home Depot several times to buy lumber, and he sacrificed his valuable time to build tack trunks and jumps from scratch. Though my parents aren't "horsey" themselves, they understand my passion and support it 100% because they know how much it means to me. That's a true hero in my book! Thirty years later, they still show up to my shows to cheer me on.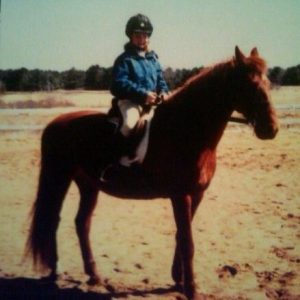 I wouldn't be where I am today without patient, understanding instructors (and school horses!). I'll never forget my first riding instructor, Joy, who silently held up Pollyanna's hoof as my little 7-year-old hand chipped away with a hoof pick for what probably seemed like an eternity. And, I can remember her calm correction when I did up the girth wrong every time and tried my best to hoist the saddle way up to the horse's back myself. I remember cold Maine winters when she'd bundle up so I could trot a few steps around on the lunge line with a huge smile on my face. Those early delicate memories, though seemingly small, meant a whole lot. These days I am super lucky to have the very best trainers still. They endure the heat and bugs to watch the same dressage test repeatedly and lug heavy jumps around to set a course. They laugh at my horse's acrobatic moments and offer advice after a not so great round. I watch in awe when they ride, and their professionalism is a true inspiration. What more could you ask for in a hero?
T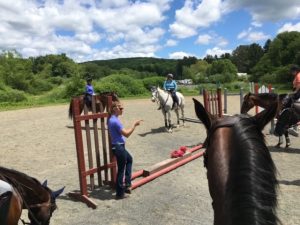 oday, I'd have to give kudos to my barn family. No one quite "gets you," like the people who share your passion; the people that trudge through mud just to give their horse a kiss, the people that give you a word of encouragement when you're feeling low, the people that just understand. These are people that trek out to the cross-country course just to catch a photo-op for you at the fence and yell "woohoo!!!" And these are also people that are waiting with a glass of prosecco after a long event to cheers together and say, "we did it!" These are the people that gather in times of sadness to bid farewell and cut locks of hair when it's just too hard, and they know to zip off tall boots after an accident so the EMT's don't cut them off. Those are certainly heroes in my book.
So, to the many family members, friends, trainers, vets, farriers, and others that help to allow us to do what we do, I just wanted to say thanks. The horse life is a life we choose, and it's because of heroes like you that we get to enjoy our passion every day. Your capes may have some hay and slobber on them, but we won't judge.