Team SmartPak Rider Spotlight: Meet Laura Chapot
Posted on: March 28, 2019 by SmartPak
Laura Chapot has a name that many will recognize, as she comes from a family of extremely successful equestrians. Based out of her family farm in New Jersey, Laura is currently ranked in the Top 20 riders on the Rolex/USEF Show Jumping Ranking List. Laura has an extensive list of accomplishments, and she continues to add to them everywhere she goes.
Laura has been a member of Team SmartPak since 2010. So, how does Laura spend most of her time? We talked with her and asked her some questions, so you can get to know her more!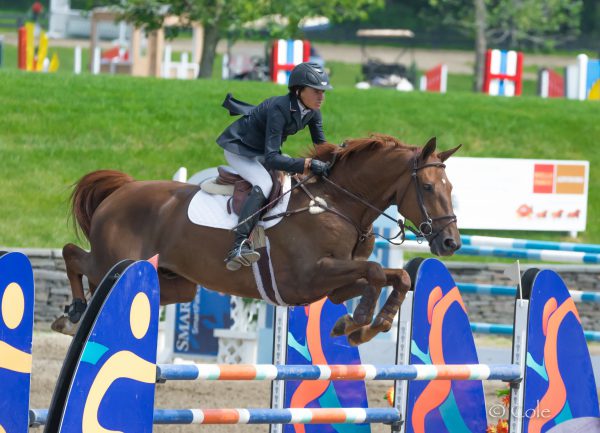 Tell us a little bit about how you got started with riding, and how you got to where you are now?
Riding has always been in my family, so it was only natural progression that I too would do it. My parents (Frank and Mary Chapot) are both former Olympians. My dad was the chef d'equipe for six Olympic games, and my mom was a gold medalist at the Pan-Am games in 1963.
I started riding ponies and made my way up through the junior hunters. I also started doing the jumpers in my last few years as a junior. I started to do more of the jumpers once I graduated from my junior years and was lucky to ride some amazing horses. I rode Gem Twist, who had a list of accomplishments, and he really helped launch my grand prix career. I also rode another horse named Little Big Man – he was a great grand prix horse and we had a lot of accomplishments.
What is your favorite accomplishment in your career? And what about it is so special?
I don't think I can narrow it down to just one accomplishment. I've had success with a number of different horses and each win is special in its own way. It depends on the horse too – I have many great horses to ride, and I'm proud to have done well with so many of them. Even just taking a horse to a new level and having them perform well is special.
Tell us about the some of the current horses you are preparing for shows.
I have a few horses preparing for different things. At my most recent show, Harrisburg, I had Chandon Blue with me. He arrived to us right before we went to Florida this past year. We've had some good success over the summer and have won a few Grand Prixes together.
Dual Star is a well-known horse of mine that I've been actively competing. I want to make sure Star is always feeling her best, which is why she is supported with SmartPaks. She's currently on SmartFlex Ultimate which helps support her joints, and she's also on SmartGI Ultra for gut and digestion support.
I also have a younger horse named California – he's making his way up through the ranks right now and competing in smaller Grand Prixes. The rest of my horses, some of which are some 6 and 7-year-olds, are at home on break until Florida. I'm showing a lot of them in the 1.40 and 1.45 meter classes.
Do you have a favorite show that you always look forward to attending?
Each season has a different show that I look forward to and like for different reasons. We travel to Wellington in the winter, and what I like best about this is there are a number of weeks to show in one place. It gives the horses and riders a chance to build and improve on everything they work on. Wellington is a great opportunity for us to compete on an international scene as we don't get to travel to Europe and Spruce Meadows as much.
In the spring, Devon is always a great show to attend. There is a lot of history behind it, and the atmosphere always makes going a fun time. During the summer, we travel up to Lake Placid, which is like a vacation for us. The event is always well run, and those who run it are always over the top with the hospitality. We've attending this show every year since it started.
To wrap up the show season, we'll usually head over to Harrisburg for the PA National Horse Show. This show is in the same respects as Devon – there is a lot of history behind it and the people who manage and put on the event are always so wonderful.
If you could do something other than riding, what would it be?
I honestly don't imagine myself doing anything else. I took economics in school, but I always knew I was going to make a career out of riding. I've always been involved with horses.