SmartPaks Are Convenient, Custom, and Consistent
Posted on: September 23, 2020 by SmartPak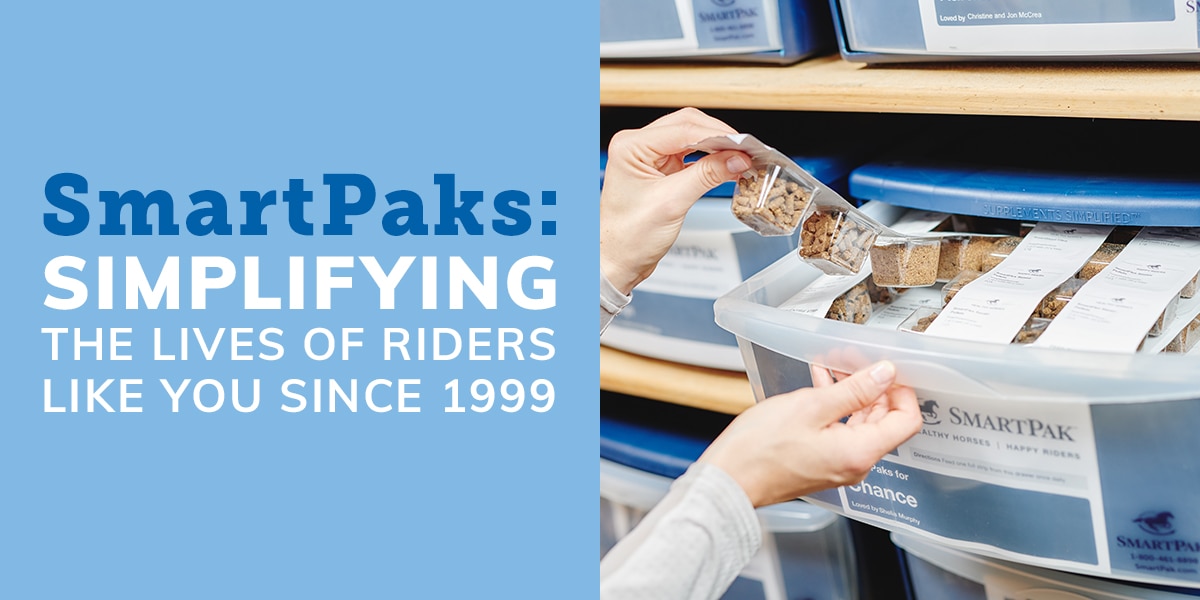 At SmartPak, we're on a mission to make the world a better place by using our smarts to power healthy horses and happy riders. We know that your horse is your best friend and you want to do everything you can to help him look and feel his best. You can do just that by supporting his health with supplements in SmartPaks, the supplement feeding system that's easier for you and better for your horse. See why riders like you love SmartPaks!
Convenient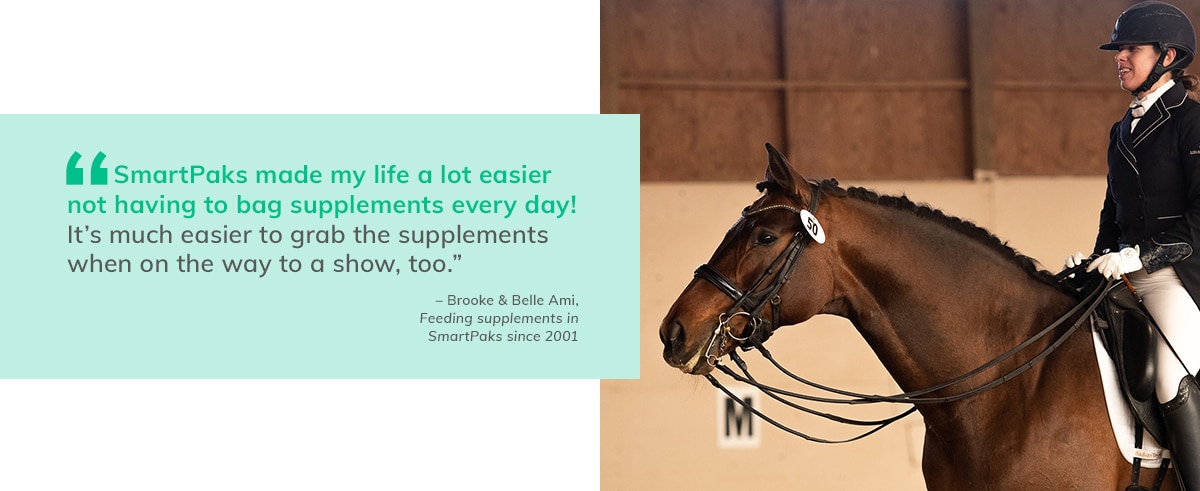 Belle is my 10-year-old Westphalian mare by Belissimo M. I've had her for four years, and she's been a dressage horse her entire life. She started in the FEI six-year-old classes and we're now working towards the Grand Prix ring.
[SmartPaks] made my life a lot easier not having to bag supplements every day, it's been a long time since I've had to bag supplements! It's much easier to grab the supplements when on the way to a show, too. It comes very quickly and ships right to the barn, so things can get to my horse and I don't have to worry about it!
Read their full Success Story here. 
Custom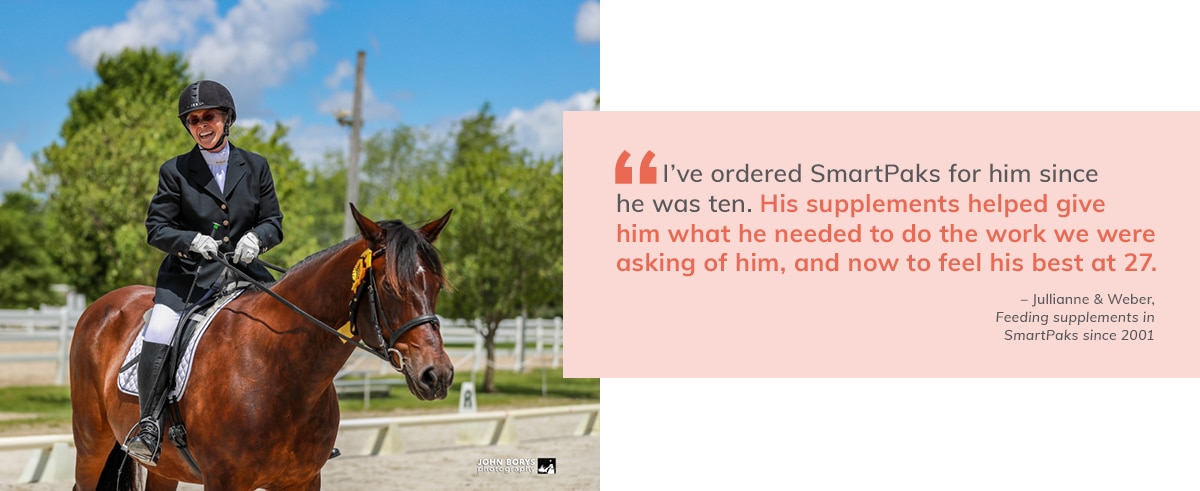 I purchased Tre Awain Weber (a.k.a. Weber) in utero and have had him since he was six months old. He's a Connemara/Thoroughbred cross and is now 27 years old! Weber has never failed me. Most of all, he's taught me patience and trust. He has been my best friend and I love and value him, and all of that is why giving him the healthiest life possible has always been important to me.
As part of my mission to give Weber the healthiest life possible, I've ordered SmartPaks for him since he was ten years old. For the past 17 years his supplements have helped give him what he needed to do the work that we were asking him to do and feel his best at each stage of his life. Right now, he's getting SmartCombo Ultra Pellets to support his joints, digestion, hooves, skin, and coat.
Read their full Success Story here. 
Consistent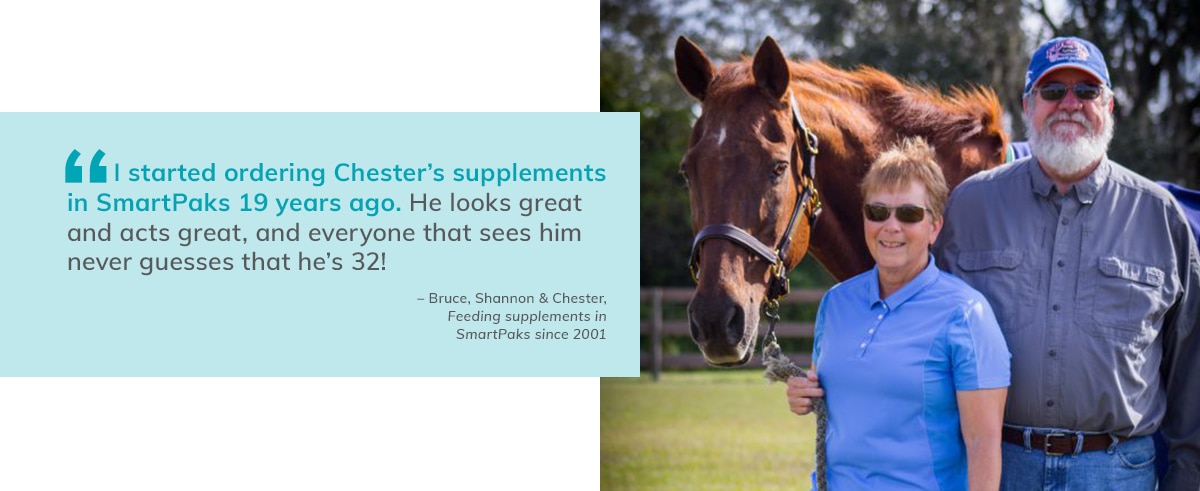 Chester is now retired, but we did compete in eventing together back in the day. We stuck mostly to the novice division, though we did compete in training level a couple of times. Chester is now 32 years old and has an incredible veterinary team to help ensure that he feels healthy as he continues to grow older. In addition to getting great veterinary care, he also gets supplements as part of his program.
I started ordering Chester's supplements in SmartPaks nineteen years ago, and he still gets them today. He looks great and acts great, and everyone that sees him never guesses that he's 32!
Read their full Success Story here.