SmartPak Recipe: Low-Sugar Apple Horse Cookies
Posted on: August 18, 2020 by Danielle Franchi
My horse, Indy, absolutely, LOVES cookies and is very food motivated. When he was diagnosed with Laminitis, it was extra hard to not give him any kind of sweet treat, but luckily, he is not at all picky, so he was willing to eat his supplements out of my hand as treats. Even so, I still felt bad and wanted to be able to provide him with some kind of reward on a regular basis, for doing nothing other than being adorable and perfect, which he is at all times.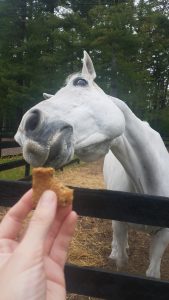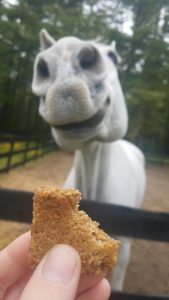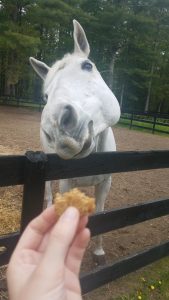 I came across this recipe from Teresa Martinoli, DVM that is extremely low in sugar and starch with an NSC of 2.4 and I wanted to share it with all of you for anyone else going through a similar struggle.
---
Ingredients:
First, you'll need to gather these things :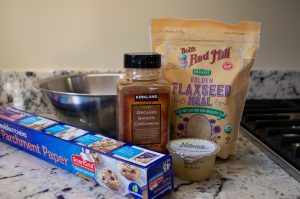 – 1 lb. bag of Bob's Red Mill organic ground flaxseed (you can find it at your local grocery store)
– ½ cup Unsweetened applesauce (I like to use organic)
– 2 tbs. Cinnamon (I like to use organic)
– 2 cups hot water
– Cookie sheet, and parchment paper
– Measuring cups & a mixing bowl
---
Steps:
Start with preheating your oven to 350 degrees

Pour entire 1 lb. bag of flaxseed into a mixing bowl

Add in your 2 tbs. of cinnamon and mix well

Add applesauce (don't mix) – I've found that a half cup is equal to one of the single-serve containers

Add 2 cups of hot water – I've found the hotter the water, the better it mixes into the flaxseed

Mix altogether starting with a rubber spatula and then using your hands until it's all blended and smooth
 
Once all mixed, spread across a baking sheet lined with parchment paper using a rubber spatula and/or your hands. (Do NOT use cooking spray, oil, or butter). Spread evenly until the sheet is completely covered. The thinner you spread it, the crunchier the treats will be.

To make the treats easier to break apart after cooked, cut into squares using the rubber spatula before putting in the oven. You can make the treats as big or as small as you'd like, I personally go for one-inch squares.

Put in the oven at 350 degrees and baked for 50 – 75 minutes. The longer they bake, the crunchier they will be. I stick to around 60 minutes for chewy cookies since my guy is on the older side. (This also allows me to break the squares up into even smaller pieces when feeding, so Indy can feel like he's getting multiple cookies.)

After they've finished baking to your desired texture, turn off the oven and let them sit in the warm oven for 30 minutes.
The treats will shrink a bit during baking but will break apart easily once cool.

Oliver says they are dog approved too!

Break apart and store in baggies or containers. Put them in the fridge (or freezer) to make them last longer and to avoid mold. I give Indy one treat per day, and found that one batch lasts me over a month

Like I said Indy is not picky, but my other horse who is on the picker side gobbles them right up as well!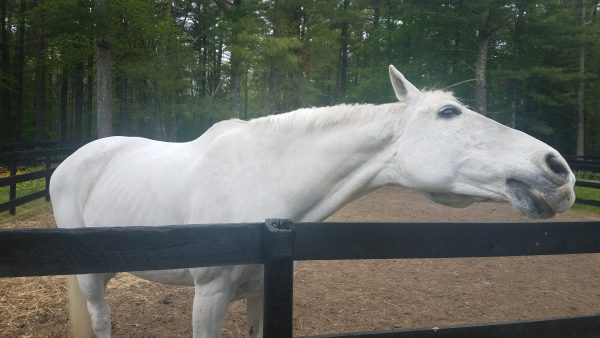 I hope you and your horse enjoy!