SmartPak & Kensington Give Back
Posted on: September 02, 2020 by SmartPak

Since day one, SmartPak has been on a mission. We're making the world a better place, using our smarts to power healthy horses and happy riders.
In light of the struggles that horses and riders have been facing this year, SmartPak is more focused than ever on giving back. This fall, we're partnering with the team at Kensington Protective Products to help equine therapy and rescue facilities across the country.
"We know it's been a tough year, and we're grateful to the equine community that has supported  Kensington Protective Products since our devastating fire. We wanted to reach back out and support some of those whom we feel need the support the most – equine rescue facilities and therapy organizations."

– Anthony Gatto, Owner and CEO
of Kensington Protective Products
What?
We're donating Kensington SuperMesh Sheets (and Neck Rugs!). These donations will be sent to equine rescues and therapy facilities across the United States to help protect their horses this winter.
When?
Nominations are open today! We will be accepting entries on our form until midnight, September 16, 2020 in the hopes of supporting as many horses and organizations as possible.
Why?
"Giving back to the community is important to us at Kensington and we were thrilled SmartPak was able to partner with us on this Blanket Give Back Program. The features of these blankets are perfect for rescue and therapy horses, providing durability and maximum comfort. We can't wait to get these blankets in the hands of these facilities."

– Anthony Gatto, Owner and CEO
of Kensington Protective Products
Kensington SuperMesh Sheets (and neck rugs) have a long list of great features that will help keep horses protected, safe, and comfortable.
Features: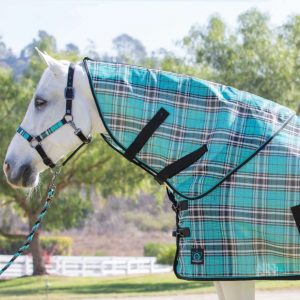 100% waterproof
Cool-plus lining for moisture wicking
Fade-resistant
Fire retardant
Mildew resistant
SureFit® Cut
How?
While the list of features is impressive, we want to have an even longer list of facilities to send them to, which is where you come in. If you know of a rescue organization, please fill out our form to nominate them so that they can have a chance to receive a donation of sheets and neck rugs.
Web Users: fill out the form below