SmartPak Dog Blog: Derby and Piper's Puppy Picks
Posted on: May 19, 2020 by Amy Cohan
We've all heard the expression "working like a dog". Well, I wish that I could work like my dogs. Their days largely consist of eating, looking cute, bothering my horses, sleeping, looking cute, getting scratches, sleeping some more, and the occasional trail ride.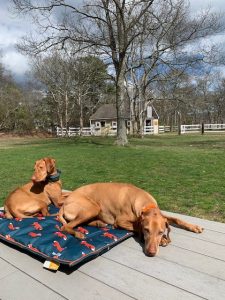 One of their favorite places to catch some Z's on a nice day is outside in the sun. Since they are ridiculously spoiled, they were napping on all of my outdoor furniture and getting the cushions filthy. I decided to purchase them a bed for outdoors, and I chose the Shire's Waterproof Dog Bed. I love it, because if it gets dewy overnight or there is a shower, it doesn't get saturated. They love it because, well, they love anything soft, and it gets nice and toasty in the sun.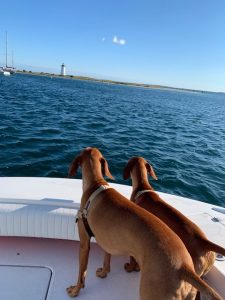 For their many social outings, I love the PetSafe® Deluxe Easy Walk® Harness. I am not sure that Derby and Piper would say the same. They used to tow me around like it was the Iditarod any time I had them on a leash. A friend who is a dog walker suggested the Easy Walk to me, and it stopped them dead in their sled tracks. They really do not like the chest part tightening when they pull against me, so they tend to fall right in step and no longer pull at all. I think that they even have the neighbors fooled that they are well trained these days.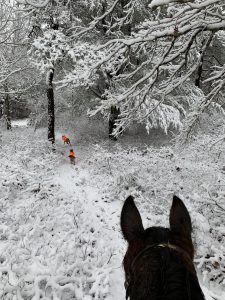 Since I love to hit the trail with my guys, during hunting season I make sure they, (and I) are decked out in orange for safety. I purchased the Weatherbeeta 300D Deluxe Reflective Dog Parka on a whim, and I have found myself reaching for it time and time again. My wimpy dogs hate the rain, and I find myself tossing this on them even when we are not trail riding, just to keep them dry. Not to mention, the color is SO BRIGHT it absolutely glows, and makes them visible to myself and others from what feels like outer space. I now put it on them to trail ride even when it's not hunting season, it's nice to simply glance around a big field and spot them right away.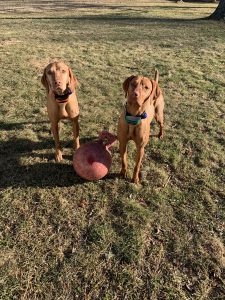 Now, these little four-legged furballs may look cute, but they have ended the short lives of many a toy. Toys for tough chewers? Don't stand a chance. However, they play ceaselessly with my horse's Jolly Ball, and 2 years in, it is still in one piece! I might not recommend letting your pups play with it inside, as it does get some serious speed up and may take out a lamp or two (but, if your dogs are anything like mine, there is always a chance that may happen any time they get going). However, it's perfect for the yard!
So, if Fido has been particularly cute this week, or his birthday is coming up, or if you just want to spoil him (because let's be honest; he deserves it), take a peek at some of the awesome products SmartPak has to offer.
"If you don't own a dog, at least one, there is not necessarily anything wrong with you, but there may be something wrong with your life." – Roger A. Caras