Smart Tips for Success with Fly Stoppers
Posted on: March 01, 2019 by SmartPak
From irritating your horse to ruining your ride, flies can be a big problem around the barn. That's why we developed Fly Stoppers, the smartest way to stop the flies before they start. In order to make sure these tiny, beneficial bugs can do everything they can to protect your horse and your barn, check out the smart tips and frequently asked questions below.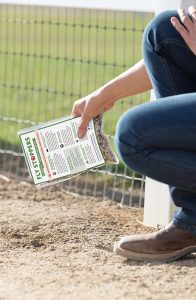 FAQs
How do I know if my Fly Stoppers are ready to be released?
Release your Fly Stoppers when you see 12 or more tiny black insects moving around inside the bag. Hatching typically starts between 1-14 days after you've received them, but it's okay if they're already hatching upon arrival or if it takes longer than 14 days.
When should I release my Fly Stoppers?
Release them at dawn or dusk when temperatures are cooler and there's less light to ensure safety from daytime predators such as ants and birds.
Where should I release my Fly Stoppers?
Release Fly Stoppers in fly-breeding "hot spots," areas where organic matter is decomposing and where animals eat, drink, and frequent, such as manure collection sites. Moist places where they won't get stepped on by animals or eaten by ants or birds are best.
How do I release my Fly Stoppers?
Make a small hole in the ground and sprinkle a small handful of the contents of the bag into the hole. Cover lightly with dirt, straw, or manure. Apply to as many locations as possible and release a new shipment every 3-4 weeks during fly season.
How do I know if my Fly Stoppers are working?
You should see a decrease in the number of adult flies after about 30-60 days when used continuously every 3 to 4 weeks. Remember, Fly Stoppers affect fly reproduction but won't affect the existing population of adult flies.
Will Fly Stoppers hurt me or my horses?
No, Fly Stoppers won't bite, sting, or harm humans or other animals.
What kind of flies to they help control?
Fly Stoppers work on "filth" flies such as house flies, blow or bottle flies. They don't, however, work on any type of water-breeding flies.
What if my dog eats my Fly Stoppers?
Neither the Fly Stoppers or the wood shavings inside the bag are toxic to dogs, however, the plastic bag itself certainly isn't a good idea to eat.
Smart tips
• To speed up the hatching process, try storing your Fly Stoppers in a warm place (80 ̊F)
• To slow down the hatching process, store them in a refrigerator at 42 ̊ F for 3-5 days
• Avoid using pesticides or fly sprays near your Fly Stoppers
• Manure management is key – remove, dry, and consolidate as much as possible
• Fly Stoppers can only travel about 50 feet, so if fly management on neighboring properties isn't up to scratch, consider fly traps or other alternatives to keep neighboring flies in check
• Fly "hot spots" can include places such as fence lines, under water troughs, and the edges of manure piles
• Watch out for ants and birds, including chickens, that will eat your Fly Stoppers. Try placing them away from ant piles or in piles of grass to protect them from birds.
• Start using Fly Stoppers as soon as the night temperatures are above 40 ̊ for three nights in a row and use continuously throughout fly season
• Use the total number of animals on your property when considering how many Fly Stoppers to use
• Use in combination with OutSmart® Fly Spray and SmartBug-Off® Pellets for comprehensive fly control
As always, if you have any other questions, you can always reach out to our product specialists on our Customer Care Team.