Riding With Nerves (not around them)
Posted on: July 22, 2021 by Sophia Hall
Riding Should Be Fun! Part Eight:
SmartPaker Sophie owns the nerves (and the show ring!)
Do you get nervous when you show?
I'll start off by saying that I have always been quickly flustered and easily nervous whenever I have shown (no shame!), but always for different reasons. When I sign up for an upcoming show, I am always excited, but also questioning my choices at the same time. (I like to think I'm not alone?!) However, I like to remain competitive with myself and to do that, I need to push myself outside of my comfort zone.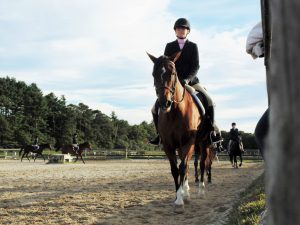 While I rode more casually as a kid, I always say I didn't really start riding until I got back into horses my junior of high school. I hadn't been on a horse since I was 10, but once I sat on one for the first time in a long time, I was hooked all over again and haven't looked back. After about nine months back in the saddle, I signed up for my first show. While I would stick to walk, trot, and cantering for my first season, I loved the feeling I had that came from showing. From grooming and bathing your horse the night before a show, to waking up before the sun, to hurrying up and waiting for your classes at a hunter show. I also enjoyed watching my barn mates compete, and when I showed in college, it was exciting to see how we did as a team at the end of the day.  
So, how did I cope with my nerves when I entered the ring?
I would say that I have never truly gotten rid of them, I just learned how to show with them. I channel the nerves into a more positive energy. My mare now can get a little spooky or edgy from time to time, and now that I know her better, I am actually happy when she's feeling like "there are monsters in the corner" because I can channel that energy into more forward work. Gosh, I never thought I'd say that out loud, but as I've learned to trust my partner, I have gained more confidence. It wasn't always this way though.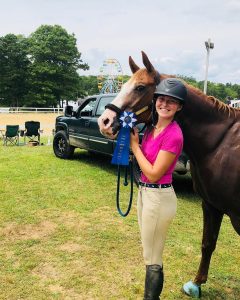 My first two seasons of showing were on my trainer's trusty, steady eddy named Bolt. He was one of those horses that would still do a course or his transitions, even if a rider wasn't on his back. He was the perfect horse to feel confident on when I began showing and when I started leasing my next horse that would lead his purchase, I was on what I like to call "a perfect horse to horseshow high." I would come to find out that Toby was not the perfect horse show horse. As I've said in a previous blog, he was the rodeo action at my local hunter shows. While we eventually overcame his "yee-haw" moments in our last season together, the memories of excusing myself from classes, or hearing people say "oh no, that chestnut is here again," definitely made me go from having confidence, to lacking every piece of the word when I was off property.
While I love to jump, and hunters are the core of my foundation, when I got my current mare Phoebe, we began taking dressage lessons to fill in some blanks from her previous training, and it has become the absolute best thing I have tried so far in my equestrian endeavors. For whatever reason, dressage clicked for my western pleasure lady and me. I am enjoying how to sit my bum in the saddle and to keep my chest up tall and ride with stirrups much than longer than I have ever ridden before. Not knowing how my first show with Phoebe would go, we started out in my comfort zone; Hunter Pleasure. While I was jumping her at home still, I wanted our first show together to be successful and while I want to push myself to get better, I also think it's completely okay to show in a division less than what you're schooling at home; there's no rush to move up. I am also not the same rider I am at home, in the comfort of the ring I have known for all these years, as I am off property. While I may have a horse now that loves showing more than me, I am still the same rider, working to be better with each class.
I have learned that the best way to put my nerves at ease is to celebrate each milestone.
After my first show with Phoebe, I couldn't stop smiling. My horse was well-behaved, and I trusted her. For once, I didn't compare myself to other riders jumping that day. I chose to focus on what we were going to do, what we did, and how we could improve next time; just the two of us, as a team. While we continued our dressage lessons, we stuck to showing in Hunter Pleasure and threw in some other hunter flat classes from other divisions for our first season together. It allowed me to feel comfortable in a known discipline, without the pressure of jumping or remembering a course. When I felt like we were ready, we competed in our first dressage show, at the end of last season, just to test the waters. Jumping was off the table, but why was I still nervous?
For starters, it was my first dressage show. My trainer read the instructions for my tests and as the morning unfolded, I began to get less and less nervous, and then bam-my tests were complete! I did not complete the first test as well as I had been at home, but I did it and was able to get feedback from the judges. Once I had dusted off the cobwebs, I felt like I could really ride for my second test, and my higher score proved that! I felt like the dressage show was a better fit for my horse and I think it was in that moment I realized this was the discipline we belonged in, at least for the time being.
Didn't fall off at the show? Celebrate it.
Fell off but landed on the soft part of the ring? Celebrate it!
I show because I want to be a better horsewoman and grow the partnership I have with my mare, but I also show because at the end of the day, I enjoy it. The nerves are just a piece of the journey you must jump over!