Q&A: You asked, the blanket experts answered!
Posted on: September 05, 2018 by SmartPak
Here at SmartPak, we hear a lot of blanketing questions – whether it's from SmartPak customers like you or from other riders in our barns. So we decided to clear up the confusion and went straight to the experts to get your most commonly asked questions answered!
---
Meet the experts
The R&D Team, Horseware
Horseware Ireland was founded in 1985 by Tom MacGuinness in Dundalk, Ireland. The Research & Development Team is made up of a dedicated group of equine enthusiasts with educational backgrounds in product design, innovation, and fashion design. Their priority is to create the best quality products for the global equine community.
Ally O'Hara and Korie Boissoneau, Shires Equestrian
Shires Equestrian has been trusted by riders since 1968. Ally, who has a passion for horses that began at the age of 7, joined the team in 2012. Her time at Shires has been spent growing their customer base and advising customers on the best products to suit their needs. Korie, who joined the team in 2009, began her riding career at age 5. She uses her background and knowledge in all things horsey to improve and develop their product range in the United States.
Amy Miller, SmartPak Equine
SmartPak™ has been powering healthy horses and happy riders since 1999. A lifelong rider, Amy joined the Merchandising team back in 2015 and has been putting her smarts to work on gathering the best blankets on the market and creating innovative new solutions through SmartPak's own brand of blankets, sheets, and more!
Lisa DeMaria, WeatherBeeta
WeatherBeeta has been a leading designer and manufacturer of horse blankets for over 35 years. Lisa joined WeatherBeeta's team in 2017 after spending many years in equestrian retail sales and merchandising as well as riding and teaching. A dressage rider with mild eventing ambitions, Lisa works with retailers like SmartPak to bring their customers the best that WeatherBeeta has to offer.
---
Blanket pieces & parts
From front closures to surcingles to leg straps and tail cords, blankets are available with a variety of different features. We asked the experts about the different features available to help you determine which is right for your horse.
There are a variety of types of front closures out there now – from plain buckles to buckles with clips to just clips. Is there a "best" or "safest" type of front closure?
Lisa from WeatherBeeta: While there is no "best" or "safest" type of closure, each type of closure has its own unique benefits. WeatherBeeta's Quick Clip front closures, found on our ComFiTec Ultra Cozi, ComFiTec Ultra Tough, ComFiTec Premier Trio, and ComFiTec Plus Dynamic blankets, easily snap closed even when wearing bulky gloves or mittens on cold days. The twin adjustable buckles on our ComFiTec Essential and ComFiTec Classic blankets give you a wide range of adjustment options.
The R&D Team from Horseware: All Horseware front closures are designed and chosen with the horse's safety and comfort in mind. Our V-Front Closures are easy to use, fixed trigger hook fastenings that are made of stainless steel for longevity and durability. The clip of the trigger hook is fastened to sit facing the chest of the horse, which helps to prevent the fastenings from opening or catching on external matter.
Ally and Korie from Shires: Choosing front closures on blankets is all about figuring out which works best for you and your horse!
How do you decide which type of front closure you use on the blankets you make?
Ally and Korie from Shires: We offer a variety of styles of front closures on our blankets, from buckles to surcingles to quick clips. The type we choose is based on the particular product line and the other features of the blanket.
Lisa from WeatherBeeta: The front closure is determined by design preference. We aim to offer high quality, easy to use, and safe closures on all of our blankets.
The R&D Team from Horseware: Horseware Blankets have different types of front closures to reflect the different shapes and sizes of the horses that wear them. The different closures are used to help offer the best fit possible with our blankets' different neck line cuts. The different closures we use include the V-front closure, which eliminates pressure on the shoulder; the disc front closure, which is light, safe, easy to use, and incorporates our four V-front closure points in a lighter, more flexible design; and the classic straight front, where the secure closure sits in alignment with the point of shoulder.
Why do some blankets have one surcingle, others have two and others still have three? Do more surcingles make it more secure?
Ally and Korie from Shires: Blankets most commonly have two surcingles, which are the belly straps that help to keep the blanket in place. The more surcingles on a blanket, the less likely it is to shift or move around.
The R&D Team from Horseware: More surcingles help provide a more secure fit. All Horseware Turnout blankets are made with two or three surcingles. Rambo® turnout rugs are designed with secure surcingle system that gives the blanket a secure fit around the belly area. The Horseware unique safety system breaks in the event of an emergency. One surcingle is commonly found on cooler and show blankets. This is because these rugs are usually worn for shorter periods of time such as show preparations and traveling.
Lisa from WeatherBeeta: The number of surcingles depends on the blanket designer's discretion; two or three surcingles offer little difference in terms of security.
What are the most common types of blanket linings, and what are the pros and cons of each?
Lisa from WeatherBeeta: Common blanket linings are cotton or polycotton, nylon, and mesh. Cotton and polycotton are absorbent but can sometimes cause friction against the skin. Nylon linings, like those found on WeatherBeeta turnouts, smooth and "polish" the horse's coat while allowing freedom of movement. Mesh linings enhance air flow and moisture management but shedding hair can be trapped inside.
Ally and Korie from Shires: Linings are typically made of cotton, polyester blends, nylon or mesh. Cotton and polyester blends are both breathable and absorbent, nylon linings will help to smooth the horse's coat, mesh linings will help to increase air-flow and move moisture away from the skin. Shires Air Motion Blankets are lined with 3-dimensional mesh that draws moisture and heat into a cooling, breathable microclimate away from the skin, providing superior comfort and functionality.
The R&D Team from Horseware: Polyester and microfibre are the most popular types of lining used in Horseware blankets. Horseware polyester linings are anti-static, antibacterial, breathable and offers a smooth, inside hand feel to a blanket keeping a horse's coat smooth & shiny. They're most commonly used in turnouts, some stable rugs and for lining the shoulders of fly & stable sheets. Mircofibre lining offers a cotton-like hand feel. Breathable and secure it is commonly used on stable rugs. Microfibre does not offer a smooth surface so may trap dirt or hair, and it is not antibacterial or shine enhancing.
Does wither padding really do anything to make the horse more comfortable, or does it just add extra bulk, which adds extra pressure, making the horse more uncomfortable?
Ally and Korie from Shires: Wither padding can help to reduce rubbing on the withers. On a properly fitted blanket, it should not make the horse more uncomfortable.
Lisa from WeatherBeeta: Wither padding can help reduce discomfort some horses experience with blankets. Boa fleece, like that found on the WeatherBeeta ComFiTec Essential and Classic blankets, can prevent rubbing at the top of the withers. Blankets in WeatherBeeta's ComFiTec Ultra, ComFiTec Premier, and ComFiTec Dynamic lines feature an additional wither relief pad. This pad contours to the horse's shape and lifts the blanket off the withers, which can be a pressure point area.
The R&D Team from Horseware: Wither padding is used to ease pressure on the withers of horses wearing them. The padding is designed to lift the rug up to ease rubbing and tension on the wither & mane area. Horseware Blankets that utilize a wither pad are constructed with either fiberfill or light weight foam to offer a light weight padding to this area.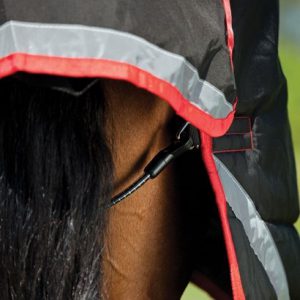 Are leg straps "more secure" than tail cords? Most blankets don't have both.
Ally and Korie from Shires: Leg straps can be more secure, but this is really a matter of personal preference and figuring out what works best for both you and your horse.
The R&D Team from Horseware: Horseware blankets do not use leg straps. Our innovative design eliminates the need for leg straps, because the tail strap and positioning of the darts at the rear of the blanket allow for the blanket to curve and sit securely on the hind end of the horse
Lisa from WeatherBeeta: Because they are connected at multiple points and over a greater area of the blanket, leg straps keep blankets in place better than tail cords. Because they connect around the horse's legs, they also make it more difficult for a Houdini horse to escape his blanket.
What are the pros and cons of using a tail cord instead of leg straps?
The R&D Team from Horseware: The Horseware tail cord combined with the positioning of darts at the rear of the Horseware blankets allow for blankets to fit securely without the use of leg straps. The tail strap is easy to use and eliminates safety concerns that may arise when fitting leg straps on sensitive or young horses.
Ally and Korie from Shires: Tail cords can be less restrictive than leg straps and there is less chance for tail cords to rub your horse. There is a small chance that your horse may be able to get their tail under the tail cord, compromising the security of the blanket.
Lisa from WeatherBeeta: While tail cords are more time efficient when taking blankets on and off, leg straps keep a blanket more secure. Because they attach around the horse's legs, leg straps also make it more difficult for a Houdini horse to escape his blanket.
---
Putting blankets on safely & securely
If you walk into any barn, you could find any three people blanketing their horses differently. But while some aspects of blanketing can be hotly debated, it turns out there is a proper way to secure the different parts of your horse's blankets!
Which way should the clips in a quick-clip front closure face?
Amy from SmartPak: The opening of the quick-clip should always face in towards the horse to help prevent the opening from getting caught on anything in his stall or his turnout.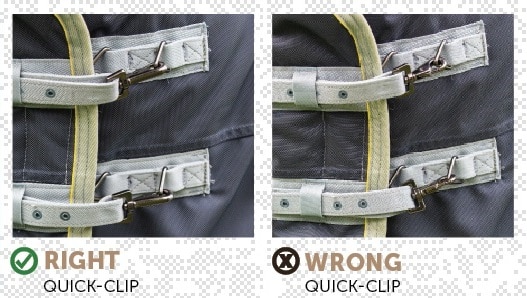 How tight should surcingles be?
Ally and Korie from Shires: Surcingles should be adjusted so that you are able to slide a flat hand between the strap and your horse's belly. If the straps are too loose, it is possible for the horse's leg to get caught while rolling or laying down, and if they're too tight they can cause discomfort and rub.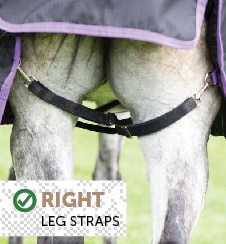 What's the correct way to secure your horse's legs straps?
Lisa from WeatherBeeta: To properly attach leg straps, you should connect the first strap to the side it originates on, then "feed" the second strap through the first and connect it to the side it originates from. For example, start with the left leg strap. Bring it between the horse's legs and connect it to the left side of the blanket. Take the right leg strap, bring it between the horse's legs, feed it through the loop created by the left strap, then connect it to the right side of the blanket.
What's the recommended length for leg straps? How tightly should they fit?
Lisa from WeatherBeeta: Leg straps should be adjusted so that you are able to fit one hands width (4-5") between the strap and the inside of the horse's leg. If they're too tight, they could rub or restrict your horse's movement. If they're too loose, there is a risk for entanglement.
---
Dressing your horse from neck to tail
Blankets these days come in a variety of styles and weights, and it can be tough to weed through the options and decide what to put on your horse. But have no fear – our experts' tips will help you choose between neck styles and understand the pros and cons of layering so you can make smart decisions when you dress your horse this season.
What are the pros and cons of using a standard neck blanket vs. a high neck blanket vs. a combo neck blanket? Why would you choose one over the other?
Lisa from WeatherBeeta: Standard neck blankets are a good option for horses that live in areas with milder winter, however they won't provide enough coverage for horses who are clipped along their necks. High neck blankets offer increased coverage and can help reduce discomfort on horses that have high withers or who are prone to rubs around their withers.
Combo neck blankets provide coverage along the whole length of the horse which makes them a good option for horses that are clipped, live in cold climates, or need extra warmth to help maintain weight, however they lack versatility because the neck is attached to the body of the blanket. Detach-a-Neck blankets offer the greatest versatility by allowing you to switch between a standard neck or combo neck design. This makes them a great option for horses that live in variable climates.
Ally and Korie from Shires: Standard neck rugs offer no neck protection. High neck blankets are cut higher up the horse's neck offering increased protection from the elements. Combo neck blankets offer even greater protection from the elements and cover the entire neck. Choosing one over the other should be based on the current condition of the horse, their coat, along with the climate and elements that they are exposed to. High neck and combo neck blankets do help to keep rain/snow from getting under the blanket at the shoulders.

Is a combo neck blanket better than using a blanket with a detachable neck cover?
The R&D Team from Horseware: Choosing between a combo neck and a detachable neck can depend on the environment your horse lives in and their physical shape, but each style offers benefits to the horse wearing it. A combo neck blanket has a seamless all-in-one design for maximum security and comfort, and it offers an even distribution of fill from ears to tail. Detachable necks offer the user the freedom of change. They can be removed to reflect weather conditions or can be changed depending on the weight of fill required for a given time period.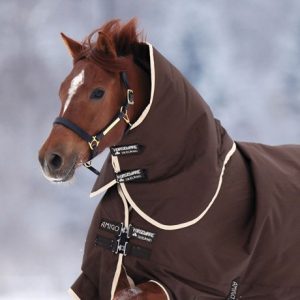 How much additional warmth does an attached neck add to the blanket? Some people say that by adding a neck to a medium-weight blanket, your horse will stay as warm as he would in a heavyweight blanket.
Ally and Korie from Shires: While neck covers do provide additional warmth it is hard to put a numerical value on just how much. This is a lot like wearing a winter jacket vs. wearing a winter jacket with a hat and a scarf – how much warmer it would keep you really depends on the individual.
The R&D Team from Horseware: Adding a neck to a blanket offers a horse an overall consistent temperature. However, a medium weight fill blanket when used with a hood will not offer the same warmth as a heavy weight blanket. This is because a heavier weight of fill will offer a warmer over all body temperature to the body of a horse than that of a medium weight used with a hood.
Lisa from WeatherBeeta: Anecdotally, some horse owners feel that their horse stays warmer with a neck cover and a lighter weight blanket than they would with a heavier blanket and no neck cover. How warm your horse stays with a neck cover versus without a neck cover depends a lot on each individual horse.
If my horse is trace clipped, does he need a neck cover?
The R&D Team from Horseware: The use of a neck cover can depend on the style of horse, their physical condition and the environment they live in. If the weather is mild with warm days and nights the use of a neck cover may not be necessary if the horse is good at keeping their condition. However as the external temperatures drop and rain (precipitation) increases the use of a neck cover, regardless of clip style, will offer a horse coverage from rain, keeping them dry and decreasing their chances of being affected by issues such as rain rot. Equal covering of the neck, which houses important muscle groups of the horse, keeps this area at a consistent temperature with the rest of their body.
Ally and Korie from Shires: This really depends on the horse and the climate they are in, but no, not all horses who are traced clipped need a neck cover.
Lisa from WeatherBeeta: It is WeatherBeeta's recommendation that any horse with a trace clip should have a blanket with neck coverage when temperatures drop below 40 degrees Fahrenheit. This does not take in to account wind chill or precipitation, which could mean your horse requires a neck cover at a warmer temperature.
Is it better to layer blankets or to have a single blanket for every weight?
Allie and Korie from Shires: This is a matter of what works best for you and your horse, some horse owners prefer to have a blanket for every temperature, while others prefer to layer with other blankets. For example, you could use a fleece dress sheet under a mid-weight to increase the level
of warmth in more extreme temperatures.
Lisa from WeatherBeeta: Blankets are designed to rest directly against a horse and form to their body. This helps keep the blanket in place and ensures adequate breathability. When blankets are layered, it increases the likelihood that the blankets will move and shift on your horse. Because blankets are designed to be used individually, it's best to have single blankets for each weight your horse requires or to use a blanket with a layering system.
Amy from SmartPak™: If your horse is mellow in his turnout, you should be just fine throwing a light turnout blanket over his stable blanket. However, if he's a wild child in the field, layers will shift and twist, so a single blanket is a safer choice. In addition, if your horse likes to roll or lay down a lot outside, a single turnout is better than using a turnout sheet over a stable blanket. That's because the non-waterproof stable blanket can come into contact with the snowy or muddy ground and soak up the moisture, leading to a damp horse.
Should I change the horses into different blankets if they come inside, or is it okay to leave them in their turnouts?
Ally and Korie from Shires: It is okay to leave them in their turnouts as long as they are not damp underneath the blanket.
The R&D Team from Horseware: This is dependent on owner's preference and the conditions a horse is in. As Horseware Turnout Blankets are water proof and breathable it is very common for them to be used in the stable. However, here are some factors that could contribute to the need to change your horse's blankets:
• Wet blanket: While the Horseware blankets are waterproof if a turnout is used during a heavy shower the outer of rug can have water running off it and onto the horse's limbs when they come in to be stabled. It may be advisable for the rug to be changed to offer it a chance outer fabric to dry out.
• Temperature changes throughout the day: During transitional months (such as when late summer is moving into autumn), the external temperatures can be very high during the day and drop during the night. It may then be advisable that a heavier weight blanket is used at night to keep your horse warm and comfortable.
---
Blanket season is over – now what?
Your horse's blankets are an investment, and you want to protect them. Unfortunately, your horse doesn't have that in mind when he goes outside to romp in the mud with his pals. If you've ever wondered how to take care of that muddy blanket once blanket season is over, we've got you covered here.
Do waterproof blankets ever "lose" their waterproof-ness? If so, what contributes to that? Does how often you wash it and the type of detergent you use matter?
Ally and Korie from Shires: Blankets can lose their waterproof-ness. This can occur naturally over time or it can happen quite quickly if washed and dried improperly. Hot water, harsh detergent, and machine drying can all negatively impact the longevity of the waterproofing on blankets.
The R&D Team from Horseware: Washing blankets incorrectly can cause the waterproof coating to break down. How the blanket is stored is equally important – blankets shouldn't be exposed to extremely high temperatures.
How do you re-waterproof a blanket that's lost its waterproofing?
Ally and Korie from Shires: We recommend having blankets re-waterproofed by a professional blanket repair company.
Lisa from WeatherBeeta: Using a specialized blanket cleaner can add water-repellency while maintaining breathability, which is key in any turnout.
The R&D Team from Horseware: Reproofing your Rambo turnout in its first 3 years of use will invalidate your warranty. In the unlikely event that you experience waterproofing or breathability problems with your Rambo Turnout, please contact the Horseware Dealer where the blanket was purchased. If there comes a stage where a blanket requires re-waterproofing Nikwax and Tectron make waterproofers that can be applied as part of a wash cycle. Horseware take no responsibility for the effect of these products on our blankets and recommend consulting your local blanket repair or laundry service when considering re-proofing.
What's the best way to wash a blanket?
Lisa from WeatherBeeta: You should always follow the washing instructions from the manufacturer of your blanket. We recommend the following process for machine-washing blankets:
1. Remove excess dirt, mud and hair from the blanket.
2. Remove all detergent buildup from your washing machine's detergent dispenser.
3. Place your blanket in a mesh wash bag to contain all the straps and buckles, which will protect them and your machine from damage.
4. Machine wash your blanket in cool water (maximum 85° F) on a gentle cycle using mild soap or a blanket cleaning wash. Do not use detergents or fabric conditioners because you risk compromising the blanket's waterproof and breathable coating.
5. If you've found that the water no longer beads off the surface of your turnout, re-waterproof it to add water repellency and revitalize its breathability.
6. Line-dry the blanket.
Ally and Korie from Shires: Shires blankets can be machine washed on cool water with non-detergent soap, although this can vary a bit brand to brand. Always hang to dry!
The R&D Team from Horseware: To wash your blanket, you should first gently brush off any excess dirt and mud from the outside. Once dry, gently hose off your turnout, and use a wash that is specifically formulated to clean horse blankets without damaging the fabric or waterproof coatings, preferably a natural or non-biological substance, such as Rambo Wash and Rambo Conditioner. Strong or biological detergents can cause damage to the waterproof coating. We don't recommend washing your blanket with a power washer, as the pressure from the washer can possible damage the waterproof layer on the turnout. Washing should be done on a cool wash cycle. If your blanket has any small tears or nicks to repair, we recommend using our Rambo Turnout Repair Kit or our Rambo Stormsure Glue, which effectively seals and waterproofs any small damage to your turnout.
How should you store blankets when blanket season is over?
The R&D Team from Horseware: Once your blanket is thoroughly washed and has been hung to dry, fold it neatly into a breathable storage bag, such as the bags our Horseware turnouts are packaged in. Store it in a cool, dry area, taking care to avoid areas where it will be exposed to moisture, dampness, and excessive heat.
---
Still have questions? We've got more answers!
Feel free to give our Customer Care Team a call at 1-800-461-8898 or email us at CustomerCare@SmartPak.com if you need any help choosing the right blanket for your horses. They're riders and horse owners who understand the bafflement that can come with blanket season, so they're always help to help! Ready to start shopping? Click here to shop from our wide selection of blankets!