Q&A with Team SmartPak Rider Lynn Palm: How to Longe and Long Line a Horse
Posted on: February 27, 2018 by SmartPak
Lynn Palm is an accomplished equestrian, whose accolades include, but are not limited to, more than 40 World and Reserve World titles, was named an AQHA Professional Horsewoman of the Year, and is an active board member on numerous committees. Lynn is also the driving force behind Palm Equestrian Academy, which she operates out of her Fox Grove Farm in Ocala, Florida. Lynn's training methods are widely known helping riders learn correct and safe horsemanship, regardless of their discipline.
Lynn's clinics are widely attended and cover a variety of topics. So, we asked Lynn to give her insight into a common groundwork practice – longeing (or, as it is also spelled, lunging).
What's the difference between longeing and long-lining? Why would you choose one over the other?
There are several differences between Longeing and Long-lining. Longeing is a great source of controlled exercise that builds response to voice commands and improves the handler's position. If done properly, longeing will develop coordination and straightness, thus developing a natural balance and self-carriage.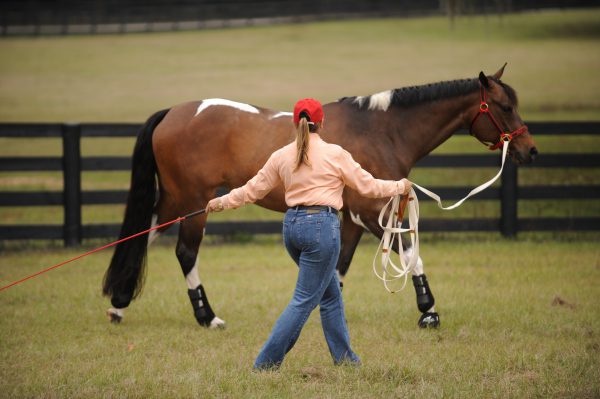 Long lining, I prefer to call Long Reining from Classical Training, or Ground Driving in Western riding- all titles mean the same. Long Reining is similar to longeing as you work different size circles and straight lines with transitions in your work each direction. Long Reining is excellent to teach the young horse rein aids before under saddle: to turn, slow down and back. It is an excellent way to school your horse without having to bear the weight of the rider. Long Reining is great to work on a specific training task with a more trained horse such as developing the horse to learn connection from the hind legs to the mouth and bringing the horse on the bit. I also use it for improving my horse to bend increasing suppleness which allows him to connect. You can do anything with Long Reining that you can do under saddle with the addition of being able to see your horse's reaction.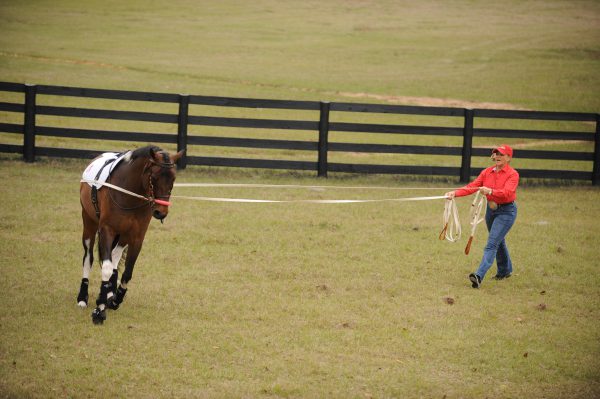 Why do you choose to do one or the other? – First, I always keep a variety of training with the horses. I try never to school the same training technique more than 2 days in a row. It keeps my horses interested and never drilling. I would choose longeing with a weekly training routine or a day where my horse may have a lack of concentration due to weather, lots of activity going on at the farm, or needs controlled play and to have fun. Another reason is that I don't feel like riding that day and I need to watch my horse to see a tempo in the gaits and balance from the horse that I have to create under saddle. I would choose long reining when the day is quiet, and I can get my horse's full concentration. When they are mature and advanced in their training I would always choose longeing if I wanted to see my horse before riding. I would choose Long Lining when I had something specific to improve like bending, forward motion, connection, or to see my horse to understand what I need to improve as I ride/train the horse.
What are the benefits to longeing or long-lining a horse?
The benefits of both exercises include the development of your horse's fitness for stronger muscle and flexibility of his joints, development of coordination and athleticism, and development of natural and correct self-carriage and balance. It is mentally and physically easier for the horse not carrying the weight of the rider. As the rider, you get to see your horse and learn from him, as you cannot under saddle!
When would you use this training / exercise tool?
I would use longeing when my horse needs to exercise before riding, needs to buck and play with control, and as a variety in training. When I go to new places, I will work in hand and use longeing to get my horse acclimated to the new surroundings before riding. I would use Long Reining specifically for a certain task, and I wouldn't use it for more than two days in a row. I may use Long Reining one time per month, or a couple of times over three months.
Do have any tips for a first-time lunger or long-liner?
Whether you're a first-time lunger or long-liner, get professional guidance for either training technique. Watch videos and books on the subject. Make sure the horse is willing in his work and does not look like he is bored, tired, tense or resistant. The horse should always be accepting, relaxed, and responsive, as their concentration is working with the handler not resisting the handler.
Can you provide a step-by-step guide on how you'd perform this exercise?
Both longeing and long lining are exercises that should be taken seriously, because if either is done poorly, you can be in unsafe situation or your horse could develop poor balance and give you more struggles under saddle. Because it's so important to do them correctly, it's tricky to provide a step-by-step guide in writing. I'd recommend that riders new to these exercises work with a professional and consider checking out a video that shows and explains how to do them. You can check out my website for more information and videos on these ground training techniques.