Q&A with Team SmartPak: Rehab & Reconditioning
Posted on: September 25, 2018 by SmartPak
Have you ever wondered how the some of the top riders in the industry work to keep their horses feeling their best? On top of proper veterinary care, there are many alternative therapies on the market now that you'll find in these barns. We interviewed Team SmartPak riders from a variety of disciplines including Kim Severson (Eventing), Jim and Deanna Searles (All-Around), and Tom McCutcheon (Reining) to learn more about what they use to support their hard-working horses.
Kim Severson is a three-time winner of the Kentucky 3-Day event and was also a member of the 2002 World Equestrian Games gold medal team. Since 2007, Kim has been running her own business, Kim Severson Eventing, LLC where she continues to offer training and coaching to aspiring riders.
Jim and Deanna Searles own and operate Circle S Ranch in Scottsdale, Arizona. Together, this husband and wife team have ridden and trained numerous AQHA world and All-American Quarter Horse Congress champions. Circle S Ranch is also home to Equi-Stat Leading Hunter Under Saddle stallion, Allocate Your Assets, owned by G.W. and Katherine Tobin.
Tom McCutcheon, along with his wife Mandy, own and operate Tom McCutcheon Reining Horses in Aubrey Texas. Tom is one of the most accomplished professionals in the reining industry, including being the 2010 Equestrian of the Year after earning the 2010 Individual Gold Medal as part of the USA World Equestrian Games team. In addition to their world renowned training and breeding operations, the McCutcheon's also operate an Equine Spa and Rehabilitation center.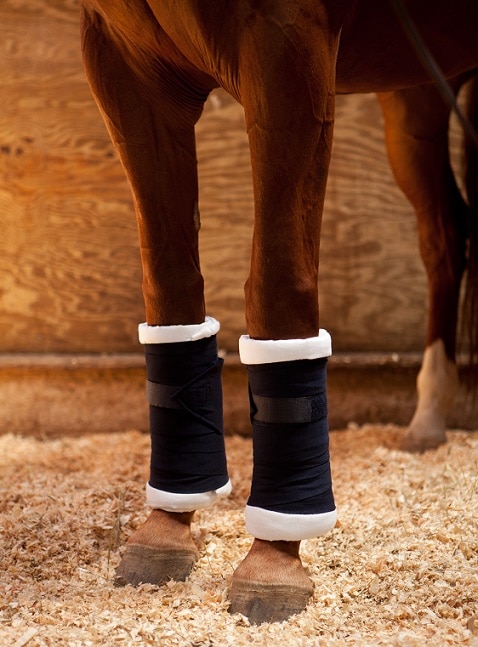 1. Your horses compete at the highest levels in your sport – what are some of the things you do to help reduce the risk of any injuries or setbacks?
Kim – "Some of the things we do to reduce injuries or setbacks are icing after each jump school or gallop. I plan my gallops based on the competitions I am going to, so I do not overwork my horses and cause a tendon/suspensory issue. I wrap my horses' legs in standing bandages after each competition to reduce the swelling in their legs. For Cross, I also like to use a massage blanket every day, before and after I ride."
Jim – "To help avoid injury we like to warm the horses up, with either walking a few laps or putting them on the walker for a few minutes. We also like to work on bending them and flexing their necks. Jogging at a brisk trot can also help get them moving. These horses are athletes, so they need to get the blood flowing just like a person would before they would perform."
Tom – "The first thing, the most important thing, is the day-to-day care and maintenance. And, that starts with our feed and our SmartPak supplements, and goes all the way down to alternative therapies such as the cold salt water therapy spa. We also use other equipment like IceHorse, P3 and Magnawave – we have everything available to use to make those horses healthy and happy."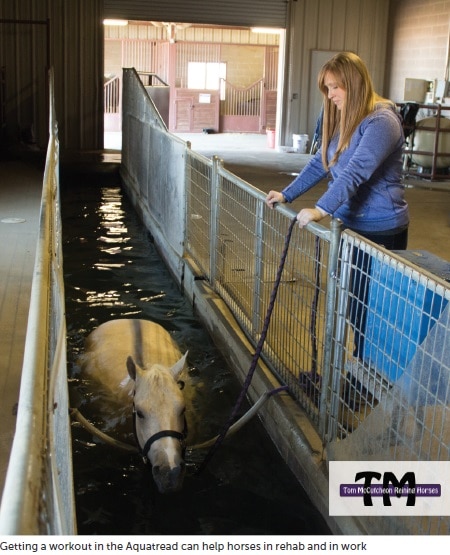 2. Aside from training, are there any alternative therapies that you like to proactively use on your horses to keep them feeling and performing at their best?
Kim – "I have a few that I use – I like to use my massage blanket before and after I ride, and we also use some magnetic blankets. I also like to give sore-no-more baths after a hard jump school or gallop. Something else that helps and doesn't require equipment is doing back and rump stretches with the horses."
Jim – "We incorporate a few machines like the Theraplate, treadmill, and a P3 machine (manga wave). All of these machines provide blood circulation which is beneficial. We also use the aqua spa when it's available at shows. Sometimes I feel as if the show horses have more spa time then we get!"
Tom – "We love the Aquatread! That is, when we have the ability to give our horses 4-5 days off because we are gone at a horse show or something else is going on. The Aquatread is a great way for the horses to stay in shape and refresh mentally."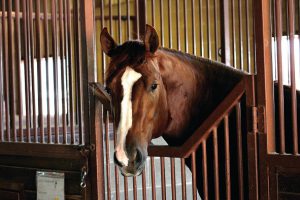 3. We know that injuries happen with horses – sometimes they are just unavoidable – for those horses that are faced with an injury, what are some ways you help keep them comfortable and on track for recovery?
Kim – "I like to keep the horses in a well bedded stall if they are supposed to be on stall rest. If there is a foot problem I like to do a lot of packing and Epsom salt soaking and usually keep it wrapped. I am a big fan of doing a sheet cotton compression bandage for swollen legs and cellulitis. I also like to do sweat wraps."
Jim – "Sometimes horses need stall rest for long periods of time. When this happens, we try to give them a ball in their stall a new salt/mineral block that might hang. We also will try to move them to a stall with a view."
Tom – "Follow the doctors' orders, there's not much you can say about that question. Depending on the injury, you have to have a combination of time off, medication or using some of the therapies, which we have available through our rehabilitation center."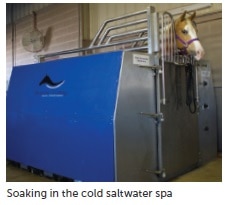 4. Is there any special equipment that you like to utilize in rehab? What strategies do you use to build up their strength again?
Kim – "I like to use a de gouge training aid when my workers are trotting the horses because it keeps the head down by connecting to the crown piece of the bridle, so the head goes down at the poll and not through contact of the bit. I also do a lot of hill work going both up and down, so they are constantly using both sets of muscles. I like to go slow down the hill and a bit quicker with the head down going up the hill.
Jim – "The Theraplate and P3/ Magnawave machines help promote blood circulation which in turn helps healing. When the horse is able to start exercising again, a brisk trot helps their core and hind end. Building up a few minutes at a time will slowly build up strength."
Tom – "We love to use the cold salt water spa, Aquatread, Magnawave and IceHorse Machine. All of that stuff has a different use and plays a really important role in the recovery process."
5. Do you change anything about the horse's diet?
Kim – "I do change my horse's diet based on how much work they are in and the weight they are gaining. My horses tend to live out 24/7 so they are used to walking and grazing, so when they are put in their stall they tend to get over excited and gain some weight when not in work. The grain I feed needs to change by how much sugar and fat is in the grain."
Jim – "Sometimes the horse on rehab or stall rest needs to watch their weight. Usually, we'll start by cutting back on grain or replacing it with low carb grain. We also switch to a grass hay or grass blend. SmartPak has joint supplements (SmartFlex Rehab) that we find to be helpful, in addition to a supplement like SmartGut Ultra, which helps support their stomach health."
Tom – "Well, we try to monitor the feed intake because if they are laid off for 30 days, you don't want them to get big and too fat, which makes it harder for them to come back when they do come back. So, we try to monitor them to make the comeback a lot easier. We also take into account that key vitamins and minerals come from a full serving of grain, so when we cut back on their grain, we need to make sure those vitamins and minerals are supplemented for."