Peek in our Paks: Sara M. & Waco
Posted on: December 27, 2021 by Sara Martineau
Ever wish you could take a sneak peek inside our horses' SmartPaks? Now you can! Check out the supplements we love, for the horses we adore.
This Month's Pick
Staff Member: Sara M.
Department: Customer Care Team/Admin
Horse: Waco, 12-year-old grade draft cross
Discipline: Western All-Around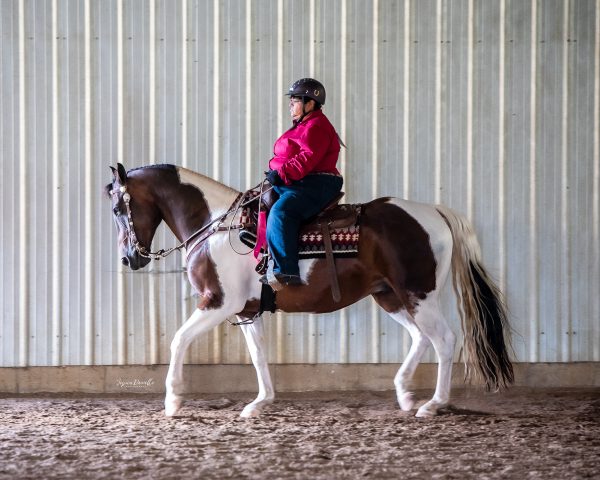 I keep Waco at an active boarding barn that does anything with our horses that might seem fun, from cow-sorting at the County Fair to Cowboy Mounted Shooting matches, to trail and beach rides, as a group we are always up for trying new things. We have what we call "Friday Fun Night" which is unmounted work such as liberty or desensitization. In addition to the barn family outings, Waco and I also compete in Western Dressage, Western Pleasure, and Ranch classes.
Since Waco is a laid-back type who is great about traveling to new adventures, I try to keep him as happy and healthy as possible, so I make sure the supplements in his SmartPaks help him feel strong and at his best.
Chasing cows and performing patterns and circles can take a toll on joints, so having him on a supplement that helps maintain healthy joints was an easy decision. SmartStride Ultra Pellets ingredients such as glucosamine, chondroitin sulfate, and HA with Collagen and silica assure me that not only his joints but tendons and ligaments as well have a high level of support. I also like that it has turmeric and resveratrol for supporting a normal response to inflammation and boron for maintaining bone health.
Waco is quite an easy keeper, so he only eats a ration balancer instead of a full-grain feeding, so to be sure his vitamin requirements are met, I give him Leg Up Multi-Vitamin Pellets. This supplement has a broad selection of vitamins and minerals which helps close the gaps on any nutritional needs the ration balancer may miss.
I absolutely love Waco's long, full mane and tail and the thick coat he gets in the winter, so supporting his coat and skin is something that is important to me, which made SmartOmega 3 & E Ultra an easy choice. The omega 3s from the flaxseed, chia seed, and fish oil keep his skin healthy and his coat glossy. The vitamin E it has is also important as he does not have access to pasture, so he does not receive enough of this in his daily diet.
In order for him to fully utilize all the benefits of his supplements, a healthy hindgut is key, especially since we do a lot of traveling and training. I support his hindgut health with SmartDigest Ultra. This formula is designed to support a healthy hindgut by providing probiotics, prebiotics, and digestive enzymes. Unfortunately, Waco had abdominal surgery before I owned him, to heal a tear in his stomach lining, so he is ineligible for ColiCare coverage, but I still have peace of mind knowing he is receiving the digestive benefits of the supplement.
Waco and I have been together for 3 years now and as a team, we just keep getting better and more connected. I expect a lot from him, and he never lets me down, so I try to do my best as an owner by making sure his supplements help him be his healthiest so he will continue to be my partner for work and fun!