Peek in our Paks: Annina M. & Titan
Posted on: September 20, 2020 by Annina McMillan
Ever wish you could take a sneak peek inside our horses' SmartPaks? Now you can! Check out the supplements we love, for the horses we adore.
This Month's Pick:
SmartPaker: Annina M.
Department: SmartBarn Services
Horse: Titan, 3yo Oldenburg
Discipline: TBD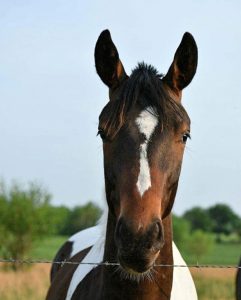 I purchased Titan at 5 months old. I love being on this journey with Titan while he's so young. I have loved watching him grow, seeing his personality develop, and I'm so excited as we start lightly under saddle together. Since he is a growing young horse that is staying with me forever (sorry, bud, you're stuck with me!), I have him on a few supplements to support his health.
SmartDigest Ultra Pellets
Supporting Titan's hindgut was a no brainer for me. His hindgut is a bit more sensitive than most and he can be prone to loose stool. I love the Diamond V Yeast and combination of pre- and probiotics. Besides combating loose stool, supporting his hindgut is also helpful for many areas of support. A healthy hindgut helps ensure he's absorbing nutrients as effectively as possible, the beneficial bacteria also produce necessary nutrients, such as various B vitamins and vitamin K. The hindgut is also a critical part of the immune system! Plus, since I have Titan enrolled in ColiCare, he is covered with $15,000 worth of colic surgery reimbursement. I hope I never have to use it, but if I do, I love the peace of mind it gives me to make the best decision for Titan, regardless of finances.
<12041>
SmartOmega 3 and E Ultra
This is my favorite skin and coat supplement! The omega 3 fatty acids are important in cellular health while keeping his coat nice and shiny. I'm a sucker for a shiny horse, and I love how it makes his white spots gleam next to his shiny dark bay spot. Plus, it has 1,500 IUs of natural Vitamin E, which is highly bioavailable. Since Titan does not have access to 24/7 fresh pasture and dry hay, unfortunately, is not a good source of vitamin E, it's very important Titan gets vitamin E supplemented. Vitamin E is important for immune system support and muscle health, supporting his muscle health as he learns to carry a rider.
<14436>
SmartStride Ultra Pellets
Even though Titan is only 3, I still wanted to put Titan on a joint support supplement, especially since they support best before an issue has developed. SmartStride Ultra has a combination of joint and tendon and ligament support, which gives me peace of mind as he plays with his pasture mate. The turmeric and resveratrol help support a healthy inflammation response, which is important as Titan's body adapts to carrying the additional weight of a rider. Plus, I love that it has boron for maintaining bone health. With 3 areas of support – joint, tendon and ligament, and bone, this was the perfect supplement for my young growing horse.
<15015>
Leg Up Electrolyte
I keep Titan on an electrolyte year-round to help encourage natural hydration. Even in the winter, since Titan sometimes does not always want to drink cold water, providing Leg Up Electrolyte is a great, cost-effective daily supplement I can provide Titan to encourage him to drink. Even though it's a powder, Titan loves the cherry flavoring, and eats it up happily!
<15019>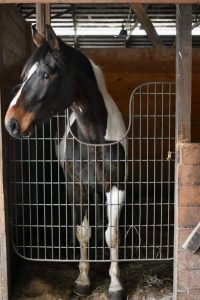 Why Annina Uses SmartPaks:
Using SmartPaks has always been a no-brainer for me. They are made from recycled plastic, can be recycled again, and contain much less plastic than a typical supplement bucket, making them an environmentally friendly option. In addition, since I never have more than a month at a time, I can easily make changes in case Titan need any adjustments as he gets older. My barn also loves that they come pre-measured, the SmartPaks are easy to feed, and I have the peace of mind Titan is always getting what he needs!