Peek in My Tack Trunk: Alissa H.
Posted on: April 28, 2019 by Alissa Hof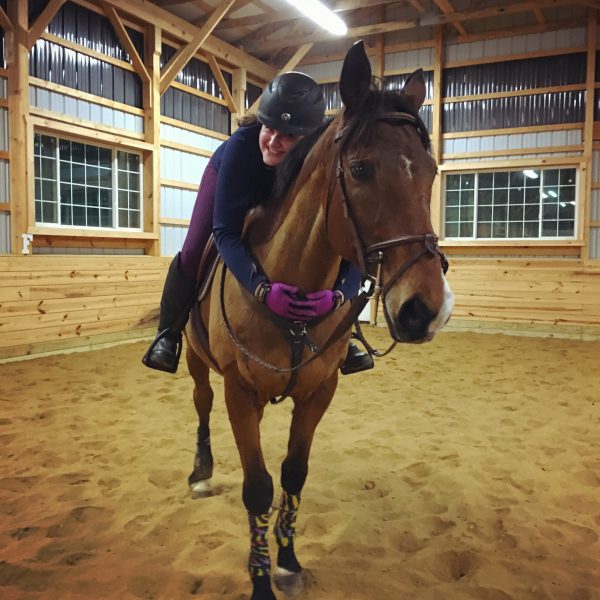 As we say goodbye to winter and hello to spring here in Massachusetts, the changing weather can present several ups and downs for our equine friends. There are certain products that me and my horse, Tiger, have found to be especially beneficial for springtime riding. Take a look inside my tack trunk to find out Tiger's secrets to success!
HandsOn® Gloves for Grooming
My favorite grooming tool to help with shedding is the HandsOn® Gloves. These gloves are perfect to help remove loose hair, mud, and dander as well as get all those itchy spots resulting from a long winter of blanketing. Best of all, these gloves cover your entire hand, so less dirt from your horse is transferred to you!

Sore No-More® Gelotion
I always keep a bottle of Sore No-More® Gelotion in my tack trunk, and I find it especially important to have in the springtime. After taking it easy for the winter, Tiger has started being ridden more consistently now that it's getting nicer out. While I love being able to ride more often, with these extra workouts comes the possibility of muscle soreness as Tiger gets back in shape. I've added a Sore No-More® massage to his management plan a few times a week, and it helps his muscles to recover and be ready for our next ride!

GroomTex Microfiber Towel
Also found in my grooming box is the GroomTex Microfiber Towel. Tiger's increased workload combined with the warmer weather results in him sweating more during an awesome ride. Unfortunately it's still too cold to hose him off, so this microfiber towel helps to absorb the sweat and expedite his coat drying. Plus, the towel is super soft and helps to bring out his shine!

SmartPak Cotton Lunge Line
Another springtime vital is a lunge line. This is great to have on hand for any rider, and especially helpful for horses with spring fever! If Tiger has had more than a few days off, I like to start him on the lunge line before mounting up. This helps to get any pent-up energy out and allows him to start focusing on work without a rider on his back. Check out our SmartPak Cotton Lunge Line to help manage your horse's springtime sillies.

Farriers' Fix Hoof Oil
Farriers' Fix Hoof Oil is the next must-have for me. The changing weather and varying wet-to-dry conditions coming out of winter can be detrimental to hoof health. Farrier's Fix is an all-natural formula that helps add moisture to dry hooves as well as keep excess moisture out on rainy or muddy days. I use this on Tiger five days a week, and have peace of mind knowing that I'm helping him put his best hoof forward!

SmartPak Classic Fly Mask
Being a Thoroughbred, Tiger is especially sensitive to the flies, and unfortunately, fly sprays. I have found that the best option for his battle against the bugs is the SmartPak Classic Fly Mask with Ears. I keep this fly mask on hand and ready to use as soon as the bugs start to emerge. Best of all, I have it customized with his name so everyone at the barn knows just who it belongs to!

Perfect Prep EQ™ Sane & Sound MAX Paste
Tiger and I are starting to put hunter paces on our calendar, so I like to have a tube of Perfect Prep EQ™ Sane & Sound MAX Paste available to use when we go on outings. Tiger tends to get a little nervous in new situations, so this Perfect Prep Paste helps to take the excess edge off and supports his stomach health so that he can cope with the stress of traveling.

I hope you have some fun riding plans and new goals for yourself and your horse this season. Feel free to let us know your must-haves in the comments below. Happy riding!