Peek in My Grooming Tote: SmartPaker Emily
Posted on: November 22, 2020 by Emily Joyce
Grooming is one of my favorite things to do at the barn. In addition to quality bonding time with your horse, there is nothing as satisfying as seeing the end result of your hard work- a gleaming horse (which generally means you have reversed roles and are now the one covered head to toe in dirt). When I purchased my new horse, Keeper, earlier this year, I decided it was time to revamp and upgrade my grooming tools. Additionally, Keeper is a thin-skinned thoroughbred who is incredibly sensitive, so I needed to find solutions that keep him comfortable during grooming and help with all the funky skin issues that pop up. Below is an overview of my current grooming tote tools: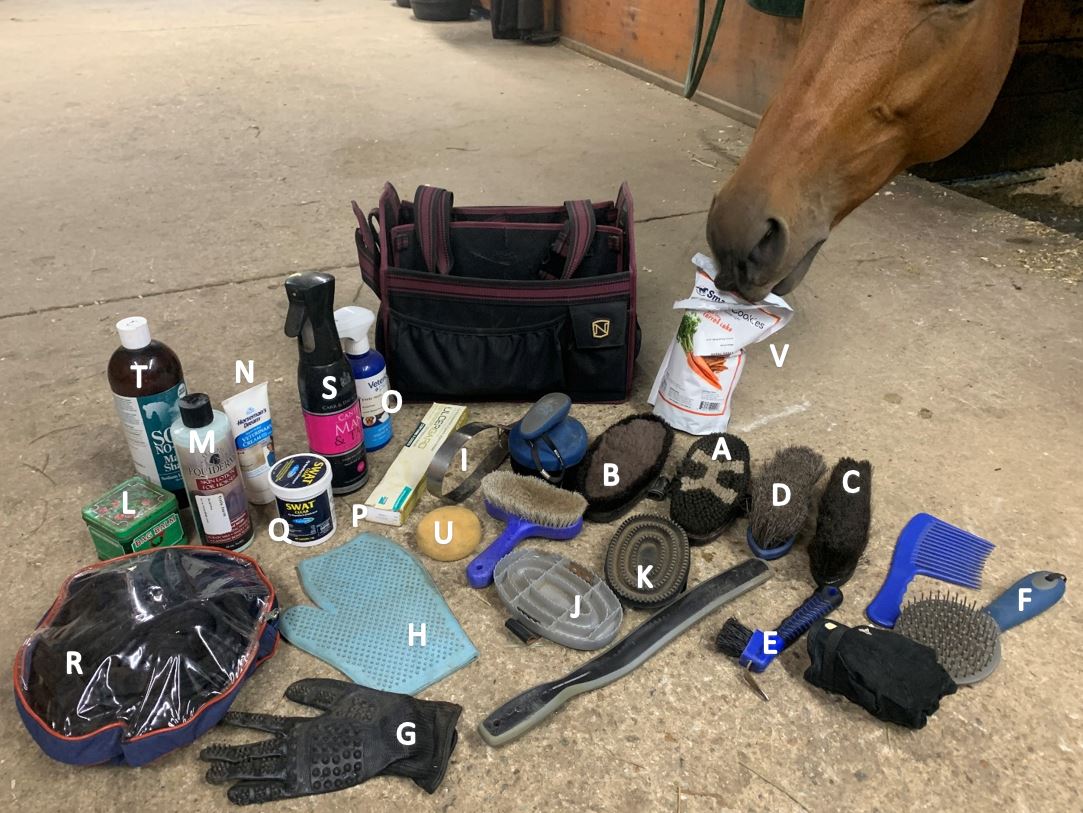 Brushes:
The biggest change I made to my grooming kit was my selection of brushes. With Keeper, soft to medium brushes are preferable. While on my brush search, I absolutely fell in love with the Haas brand. The quality of these brushes is simply outstanding, and I've found the quality makes a huge difference in the end result. The bristles are less damaging to the hair and bring out the natural oils in the coat, so you end up with a shiny coat and healthy skin. 100% worth the investment!
A. Haas Amazone Medium Brush – this is a true medium brush and generally what I use first when grooming to knock off most of the dirt.
B. Haas Diva Exclusive Soft Brush – this brush is an absolute dream. The inner circle of this brush is made of lambskin which is incredibly soft. That is surrounded by a border of horse hair. The perfect finishing brush and the tool you want to use for that last-minute swipe before you head into the show ring. Check-out my video on the product class page for an in-depth review in which I rub the brush against my face (it's really that soft!).
C. Haas Diamond Noir Soft Brush – this is a great all-around soft brush and generally what I use for a second pass after the Haas Amazone Medium Brush to remove fine dust and really bring out a shine.
D. Tail Tamer's Natural Bristle Soft Brush – this is another great finishing brush and because it is so soft, I use this to brush Keeper's face.
E. Hoof Pick Brush w/Grip – You can't beat the price of this hoof pick! I love the rubber handle for grip, and it is very durable.
F. Oster Mane & Tail Brush – This is a classic. Very comfortable to use and easily removes tangles while reducing breakage. Keeper has a lot of forelock, mane, and tail so this gets a lot of use!
Curry Combs and Shedding:
My curry comb and shedding tools are largely staples, but I added a few new tools like the HandsOn Gloves for Grooming and the Hass Der Cute Curry Comb.
G. HandsOn® Gloves for Grooming – I love the HandsOn Gloves as it allows you to really control the pressure and area of currying and match the shape of the horse. Because of that you can curry more sensitive areas like the face with a light and gentle touch. You'll notice that I only have one glove pictured-I'm right handed and find it hard to curry with my left hand, so I gave the left hand glove to a friend who loves it for grooming her dog.
H. Rubber Grooming Mitt – This is one of my favorite products for a light everyday curry, particularly on sensitive areas like the belly, legs, and face as it is soft and pliable. A great option for a sensitive horse.
I. Shedding Blade – No grooming kit is complete without a classic shedding blade!
J. Haas Der Gute Curry Comb – You can watch my full review of this curry comb on the product class page, but I love this curry for the winter in particular. It is able to take mud, dirt, urine, etc. easily out of a winter coat, but I also find that it with a light touch it works great in all seasons.
K. Rubber Curry Comb – This is another grooming kit staple at a great price.
First Aid:
Keeper is a very curious 4-year old OTTB (we often compare him to a larger Labrador) which means he is curious and gets up to all sorts of "adventures" in turnout. Additionally, he tends to be more prone to "skin funk" (not the scientific term) such as cannon crud. Because of this I keep products in my grooming tote to treat his little nicks, scrapes, and skin issues.
L. Bag Balm – This is a nostalgic product for me as my mom always keeps a jar in the house, but I also love it at the barn to help with everyday little scrapes and cuts to keep the skin hydrated as it is healing.
M. Equiderma Skin Lotion – I ordered this on the recommendation of a barn friend and can't say enough good things! I use this on Keeper's cannon crud and other skin problems, and it has cleared them right up. It is easy to apply, doesn't sting or burn, and works quickly.
N. Horseman's Dream Veterinary Cream – I love having this cream in my kit as a first treatment for minor cuts or scrapes. The cream is nice and thick, so it stays in place but also rubs in well. I generally use this after cleaning the wound with the Vetricyn Plus Wound & Skin Care Spray.
O. Vetricyn Plus Wound & Skin Care Spray – This makes cleaning out minor wounds a breeze with the convenient spray bottle.
P. UlcerGard – I keep this on hand in my grooming tote for times of increased stress such as show days.
Other:
This is a grouping of all the other odds and ends that I like to keep on hand in my grooming tote.
Q. SWAT® Clear Fly Repellent Ointment – This goes into storage during the winter, but has a place in my tote, spring through fall. It's great to keep the bugs away on sensitive areas like the face, ears, and belly.
R. Shires Lunge Line – With COVID-19 safety measures at the barn we are trying to cut back the use of shared items, so I keep my own lunge line handy in my tote. This lunge is nice and soft but also durable with a good trigger swivel snap. I love that it came in a nice zip storage bag so I can keep it tidy and it doesn't take up much space.
S. Carr & Day & Martin Canter Silk Mane & Tail Conditioner – This is an absolute favorite product for keeping the mane and tail soft, manageable and tangle free. Check out my video on the product class page for all the many reasons I love this product!
T. Sore No-More® Massage Shampoo – This is a great after workout shampoo as it helps soothe muscles but also does a fantastic job of cleaning the coat. It is all-natural and has a very pleasing scent.
U. Hydra Sponge Tack Sponges – I love these for cleaning tack, but also keep one in my grooming tote to clean nostrils and eyes.
V. SmartCookies – As you can see from the photo, Keeper absolutely loves these treats. I appreciate that they are healthy, and the size is perfect for doing our "carrot" stretches. He is a big fan of all the flavors!
I hope this helps you find some new products to try in your grooming routine. I'm always looking for recommendations so let me know what is essential in your grooming kit and I'll give it a try!
-SmartPaker Emily