Our Path Forward
Posted on: July 18, 2020 by SmartPak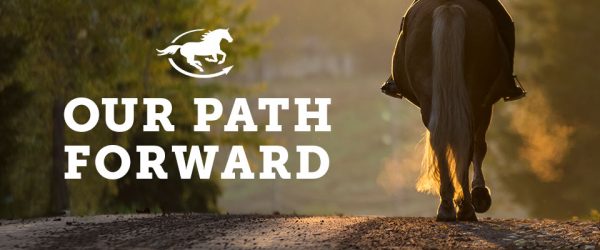 Since 1999, our mission has been to use our smarts to power healthy horses and happy riders.
SmartPak started with a horse named Westley, his health needs, and an owner who wanted to do everything she could to care for him. Simply put, the horse has always been, and always will be, at the center of everything we do. Our DNA. Our purpose. Horses continue to inspire us today, and we believe that by sharing in their care, we're changing the world, four hooves at a time.
Over the years, we've learned that keeping the horse at the center of everything we do takes relentless dedication. And nothing has brought this into greater focus than the events of the past few months. COVID-19 has created unprecedented challenges to horse and rider health and wellness. And the enduring racial injustice and inequality in our society have also cast a light on the equestrian community, and how far we need to go as a sport, and as a leisure pursuit.
At SmartPak, we are advocates for equestrian pursuits of all kinds. For many years, we've worked with and supported professional equestrians, enthusiastic amateurs, and organizations that work with under-resourced, under-represented, and less-abled riders. However, being true to our beliefs demand that we not only strive for greater inclusivity and diversity in our community but that we recognize and honor the history and contributions of BIPOC equestrians to our sport. We believe that the equestrian community can only benefit from greater visibility, representation, and participation of riders of color and other minority groups, and we intend to champion this cause.
You have shown great trust by choosing us to be a partner in the care for your horse, and now we ask for your support and collaboration as we continue this journey. As we have said previously; our team is listening, learning, making changes, and planning for how we can (and must) move together on our path forward.
Our Path Forward
The following summary summarizes our path forward in terms of three broad, linked themes:
Culture– our stewardship of our SmartPak culture; the sum of our beliefs, values, and behaviors – and how we harness culture to make a difference.
Society– our contribution to the equestrian community, wider society, and the environment.
Growth – our ability to contribute to society and the environment is dependent on sustainable growth, underpinned by a thriving culture.
Culture
SmartPak's culture is the sum of our beliefs, values, and behaviors. It's ultimately how we behave – as a company; between ourselves; and toward our customers, suppliers, and other stakeholders. The following summarizes our initial actions – those both taken and planned for – in our path forward.
SmartPak is an equal opportunity employer and follows affirmative action laws and regulations, including filing reporting annually.
To promote transparency and foster diversity and inclusion within our staff, going forward we will:

Starting in 2021, disclose annually our global workforce demographics as part of our parent company, Covetrus, to benchmark how we are improving diversity over time.
Establish a diversity-focused staffing plan to create a workforce that reflects our society, at all levels of the company. Immediately we will:

Dedicate resources to a Diversity & Inclusion program that will recruit and retain a diverse workforce.
Grow our partnerships with educational and other organizations serving the BIPOC (Black, Indigenous and People of Color) population and other underserved groups to expand and diversify our recruiting pool.
Expand the use of non-traditional recruitment platforms to access a diverse pool of candidates for vacant positions.
Remove names from all job applications to ensure such bias is removed from the recruiting process.

Provide employee education to foster diversity for employees at all levels. In combination with this education, we already enforce a policy of zero tolerance for racism, discrimination, intimidation, and retaliation.
Society
SmartPak was founded with a passion and purpose greater than us. The horse has always been at the center of everything we do, but to succeed we must play our part in the equestrian community, and wider society. This means being a champion for positive change – for greater inclusiveness and diversity in our community – nationwide. And, with our horses, come their habitats – both domestic and wild. A commitment to a horse is also a commitment to the environment, and we take our own responsibility seriously. The following summarizes our initial actions – those both taken and planned for – in our path forward.
SmartPak has long been committed to serving charitable organizations and horses in need through partnerships with organizations.

Groups include the Professional Association of Therapeutic Horsemanship International (PATH), horse rescues and youth-focused organizations such as Ebony Horsewomen.
Among other things, we have donated over 8,000 pounds of supplements to help support these horses who give so much.
We contribute 30% of retail sales of our limited-edition line of breeches and saddle pads to breast cancer research.

We support local equestrian events and shows nationwide; encouraging opportunities for grass-roots participation across our sport.
In January of 2020, we launched a Green Team that is responsible for leading continued progress in our commitment to sustainability.
SmartPaks are a greener choice, providing a more sustainable option to supplements supplied in buckets:

SmartPaks are made from #1 RPET plastic, which consists of recycled plastics, so they use less virgin plastic than buckets. Annually we use 750,000 pounds of plastic to make our SmartPaks. Of that 750,000, 80% is from post-consumer content which means 600,000 lbs annually is from recycled material.
SmartPaks have kept 8,000,000 buckets out of production and 3.2 million pounds of new plastic out of production. This equates to over 37,380,317 water bottles worth of plastic kept out of the environment.
After use, SmartPaks can be recycled in most town recycling programs

SmartPak offers a selection of products that utilize green materials or production techniques such as bamboo, recycled materials, and chemical-free tanning processes.

Our future plans include a line of SmartPak private label products that are eco-friendly and utilize sustainable raw materials.

In addition to our own commitments, we also expect that our suppliers, vendors, and their supply chains to conduct business responsibly, with integrity and honesty, and adhere to our values and principles enshrined in our Global Supplier Code of Conduct, which includes:

Encourage a diverse workforce and provide a workplace free from discrimination, harassment, or any other form of abuse.
Treat employees fairly, including with respect to wages, working hours, and benefits.
Prohibit all forms of forced or compulsory labor.
Prohibit the use of child labor.
Provide safe and healthy working conditions.
Carry out operations with care for the environment and comply with all applicable environmental laws and regulations.
Products do not contain conflict minerals.
Growth
Growth underpins our ability to contribute to both society and the environment, and lead the industry on the things that we believe in. Sustainable growth stems from a thriving culture, both in SmartPak and our wider equestrian community. The following summarizes our initial actions – those both taken and planned for – in our path forward.
Launch a Rider's Council, which will bring together a diverse group of equestrians from outside of the company to create a forum for ideas, experiences, and knowledge to help us take action and drive growth in our path forward.
We are working with riders of color to understand how we can best effect change and amplify their voices, and representation in our sport.
We have committed to better-representing riders of color within our marketing activities.
We are working with our partners and national equestrian associations to understand their respective actions to support diversity and inclusion and find opportunities to work together to support riders of color.
We are working to expand our support of organizations that are committed to providing opportunities for riders of color and underserved communities.
As a partner in the care of your horse, we are committed to providing reliable and accurate information regarding diseases and conditions, horse management, horse care tips, supplement ingredient definitions, and much more. We will feature diversity in the professionals we work with to create this content from veterinarians, farriers, and professional riders and trainers.
Partner With Us
Our ambition is to journey together on our path forward. Our above ideas aren't exhaustive – they're simply the starting point. It's a work in progress. We'd love to hear your suggestions and thoughts. Please fill out our feedback form here.

In the words of our CEO, Fraser Cameron:
"Our commitment to healthy horses and happy riders is steadfast and, as always, we are proud to be a part of this incredible community. We thank you for sharing your voices with us – we hear you – and we look forward to continuing the conversation and moving forward together."