Newman's Winter Project: Sidesaddle!
Posted on: December 21, 2017 by Dr. Lydia Gray
I remember it like yesterday. I was sitting on the bleachers of the demonstration arena at the World Equestrian Games in Lexington, KY on September 29, 2010, when into the arena came a chestnut half-Arabian park-type horse. The mare was being ridden sidesaddle by her owner, Raegan Knotts, who wore a Wedgewood Blue habit custom-made for her and styled after the riding habit worn by the Empress Elisabeth of Austria. They were so elegant, sophisticated, and stylish that it was at that moment I fell in love with sidesaddle and decided I had to try it!
A few months later, at the AAEP Annual Convention, I bumped into a representative of the company that made her sidesaddle, Swain, and he connected me with Raegan herself who sent HER saddle to me to try! Now, both Raegan and her lovely mare are petite — while I'm 5'8" and ride a 17-hand Trakehner gelding – so the fit wasn't great for either of us. But the one ride I had was enough to convince me that, once Newman and I had accomplished all we could in the disciplines of dressage and driving, we would tackle sidesaddle next.
Once the 2017 show season was over, I scheduled an appointment with the president of the local sidesaddle organization in my area, Chicagoland Aside, a regional club of the American Sidesaddle Association. Diana and I had met previously, with the last time being a Yoga for Equestrians workshop at the Fox Valley Saddle Association where I noticed she and I were about the same size, and our two horses were also about the same size. Hmm . . .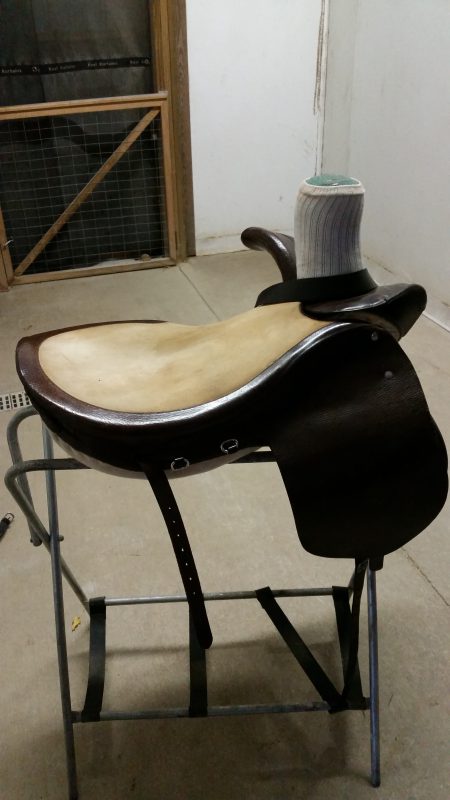 She came to my barn one Sunday in October and first helped me make a tracing of Newman's back as sidesaddles have to fit even better than astride saddles. Then she brought out her saddle and told me all about it, including who made it (Champion & Wilton of London), in what year (probably 1903), how it fits differently from an astride saddle (for example the right point is short and the left point is long), and what some of the additional parts of the saddle are, such as the upper or upright pommel, the leaping pommel or leaping horn, the safe, balance strap, and much more. We talked about the breakaway left stirrup which was a feature of her particular brand of saddle; we talked about how fitting and flocking a sidesaddle (which traditionally aren't worn with saddle pads) is very different than an astride saddle so you really have to find a saddle fitter that knows what they're doing; and we talked about how important accurate measurements of the rider are since the entire right leg – from seat bone to knee – must fit on top of the saddle from cantle to cutback.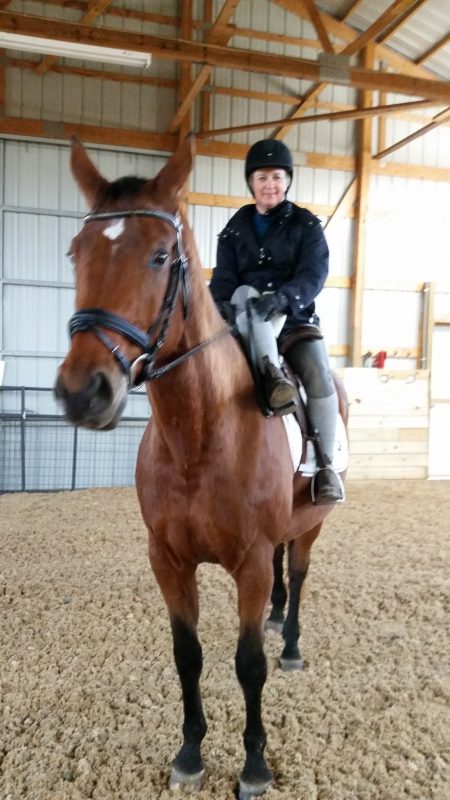 Diana determined that her saddle was a pretty good fit for both Newman and me so it was time to hop on! As you can imagine, even though I had experimented once or twice with sidesaddles in the past, I had lots of questions:
1. How do you get on?
2. How do you get your legs into position?
3. What is the proper right foot placement?
4. What is the proper left foot placement?
5. Where do I put the balance of my weight – right, left, middle?
6. Do I sit square to the horse and saddle or face slightly left?
7. Should I be sitting vertical, leaning slightly forward, or leaning slightly backward?
8. How/where do you hold the reins/your hands?
9. How do I give cues?
10. How do you get off?
All these before we had even stepped away from the mounting block! The biggest reason I chose now to try sidesaddle? Because I have the perfect horse for it. I sat up, took an inhale, gently squeezed my left leg (and added a cluck for good measure). Newman moved off with the slowest, tiniest baby steps ever, going only a horse length or two before stopping. I knew it was because to him, I felt wobbly perched up there (you sit much higher in a sidesaddle as well as more ON the horse than AROUND the horse). So I tightened my core, sat up taller, and urged him on again. A couple more hesitant starts and stops but by the second lap of the indoor arena we were both getting more comfortable and used to the odd feelings and he actually marched out with a more active, swinging free walk than astride! And he sought out my hands and stretched into a light, elastic contact! Next he offered to bend in the corners, both left and right, and he made perfectly round 20 meter circles! Who was this horse and why was he so happy to be ridden sidesaddle?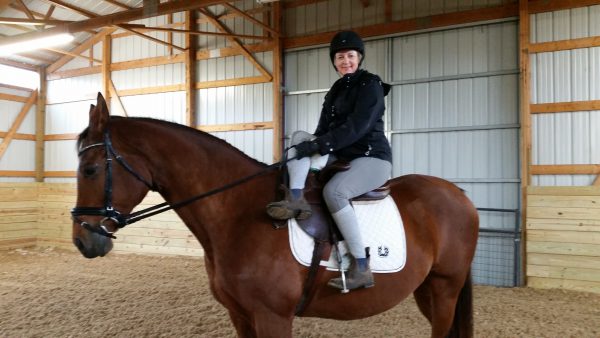 Diana explained that it's not unusual for horses to go better in a sidesaddle because of the freedom they feel, both from the saddle's placement and the rider's position. She commented that the rider's weight is carried further back when riding aside and that some horses prefer that. She also instructed me to sit square and vertical, and to imagine I was using my right leg and hip just like when riding astride as the horse would feel your weight shifts and seat bones and, being trained to this, react accordingly. I chose not to carry a whip on this first ride but will from now on, using it on the right side similar to the way I use the driving whip, to move the shoulder, ribcage, or hips over; to create bend; to engage the right hind; and to ask for lateral work such as leg yield, shoulder-in, half pass, etc.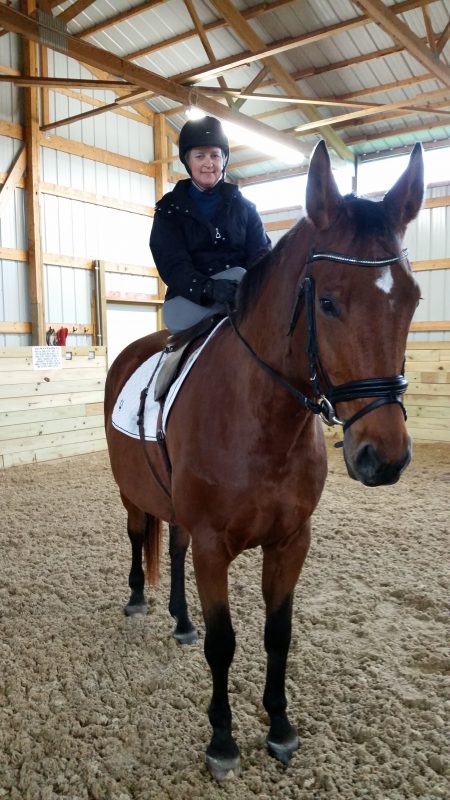 After only 15 to 20 minutes of riding my body was already complaining and Diana said it was best to start slow and let your muscles get accustomed to the new positioning and movement. Our plan was to try and find my own saddle that fit Newman and me using the back tracings of him and the tape measurements of me. In the meantime, she would continue to come out with her saddle once to twice a week and work with us. My goal was to debut Newman in the sidesaddle at Training Level at a recognized show come spring!
But you know what happens to the best-laid plans of mice and men. They often go awry. I recently tore my rotator cuff which required shoulder surgery to correct it and now I'm in a sling for six weeks (no riding for three months!) So now my "winter project" is to heal and Newman's "winter project" is to eat. If all goes well, Saturday, January 20 is my official back-in-the-saddle day, with my first sidesaddle ride coming after that, as the mounting and dismounting right now for me is a little bit precarious and I don't want to fall on my newly repaired shoulder.