My So-Called Equestrian Mom Life 
Posted on: November 27, 2020 by Cora Shillinglaw
I remember when I first found out I was pregnant. I was flooded with feelings of excitement, love, and anticipation. These feelings were short-lived and quickly pushed aside by the one important question that I have asked myself every day since; how am I going to make this life change work with my horse?
Up until this point in my life, my horse Braveheart has been my baby. I rescued him when he was just 10 months old and this year will be our 17th year together. He has always come first– ask my husband, it's one thing we agree on. Braveheart has been by my side through all of life's ups and downs.
Now it was my responsibility to figure out how he would fit in this new chapter of life.
I told myself, for the most part, everything would stay the same. After all, I have 9 months to come up with a plan and that is plenty of time. Now it would be a whole lot easier if I lived in a part of the country where land is abundant, and I had the option to bring him home. But living on the South East Coast of Massachusetts, that' is just not a reality. Braveheart has always been boarded and most likely always will.
I was lucky enough to get the green light from my doctors to continue riding through my pregnancy and I did exactly that. I spent my time at the barn savoring every moment with Braveheart in and out of the saddle trying hard not to mourn the fact that show season this year and most likely for many years will not come. I would take Braveheart for long hacks through the fields that surround our barn and think up different scenarios of what my riding schedule would be like after the baby arrives. I would tell myself that 5:00 a.m. rides were totally doable before work and on the weekends; my family wouldn't even miss me! It truly is laughable thinking back now on how unrealistic my thoughts and expectations were. My non-horsey friends that already had families did all they could to not laugh in my face when I shared my brilliant ideas with them; some of them did.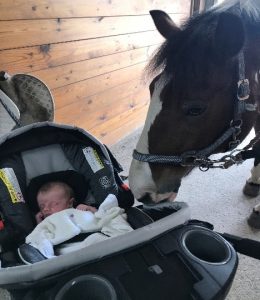 As my due date quickly approached, I had succumbed to the fact that in order to be the best horse mom and human mom I needed to find a half lease option for Braveheart. My main priority was finding the perfect person to love on him and give him all the treats on the days of my absence. I was lucky enough to find one long term leasee and one short term leasee to get me through the first few months of adjusting to life as a mom. I felt I had summoned a true win-win situation for my horse and the people leasing him. He's a true packer and he safely took both out throughout the summer competing at the Beginner Novice level of eventing. I was able to live vicariously through them and live scoring.
Then it happened, the moment I had been planning the last nine months for finally arrived. MyThis little boy came into my life and utterly stole my heart. I couldn't even fathom the surge of love that completely and thoroughly overwhelmed me. My days and nights were engulfed with this little bundle of love and for the first time since I was a little girl, I didn't even think about horses.
It took a few weeks of adjusting to motherhood, but I was finally ready to introduce the two loves of my life (husband not included). I had been dreaming of this moment since before my son was born; I hope he develops my same love and passion for horses in general but especially for Braveheart.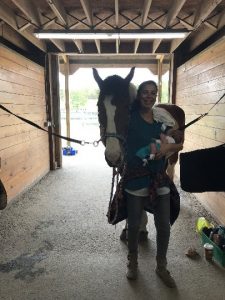 The remainder of my maternity leave was spent figuring out this mom thing and making at least one weekly visit to spend some quality time with my boys together. My son would sleep in the baby carrier attached to my chest and I would quietly embrace these peaceful moments grazing or grooming Braveheart. I set a deadline for myself; when it was time to return to work, it would be time to return to the saddle. Three months flew by and I found myself in the deepest internal debate I have yet to experience.
Let me tell you about this little thing call mom guilt. It follows me everywhere; to work, to the store and now to the barn. Basically, anytime that I am away from my son I get this debilitating wave of guilt washing over me like I am making a wrong choice or putting other needs before his. It's a real doozy! I found myself crying in my car on the way to the barn feeling so completely torn. Of course, as soon as I saw that cute pony face begging for peppermints the guilty feeling started to slowly fade. With each step of my barn routine, I would begin to feel more like myself that by the time I climbed that mounting block and swung my leg over I almost felt like this is where I belonged. It's been almost 2 years now and I must admit that not much has changed except I no longer cry in the car. When I'm home I fantasize about being at the barn and when I am at the barn, I long to be at home.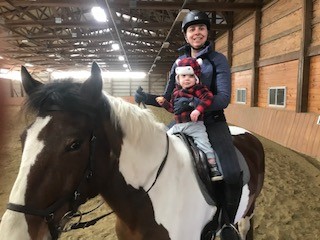 The reality is I consistently ride 2 days a week, 3 days if I am lucky. My life before being a mom consisted of riding 5 to 6 days a week, every other weekend away at sanctioned horse trials and spending every last cent on anything horse-related. If you ask me if I would change anything or if I have any regrets my answer will swiftly be absolutely not. This is my new so-called equestrian mom life and I love every second of it. My equestrian goals now pertain to counting down the next few years until I can be a horseshow mom; bring on lead-line 2023! Now that my son is older, we get to spend weekend days, granted not as often as I would like, at the barn for a few precious hours where I teach him how to brush the horsey and feed him his favorite peppermint treat. Life is always evolving, and I know it won't be like this forever. Maybe someday I will get back in that show ring but for now, I count my blessings for every moment I get to share with my horse and my son both together and separate.