My Perfect Pony Proposal
Posted on: May 04, 2020 by Al Koury
Short Story: I'm engaged (ah!!) and my fiancé planned the most perfect pony proposal! Scroll down for images and the full story.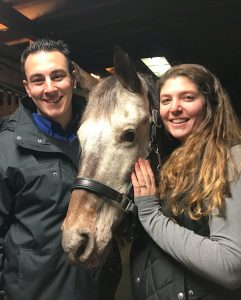 Long Story:
My best friend, and fellow SmartPaker, Erin, texted me two nights before my five-year anniversary with my boyfriend, Mike, and says "I just got this awesome nail polish you should try it!" What horse girl can keep nail polish on for more than a day? Not this one, but she claims it's amazing, so I guess I'll try it. So that night I painted my nails and didn't think anything of it, but the next day at work I asked other SmartPakerswhat they thought about Erin's nail polish story and they told me to be very suspicious. They were convinced I was getting engaged on my anniversary.
Anniversary day comes and Mike and I have plans to go to a local BBQ restaurant after work. Who gets engaged at a BBQ restaurant? Maybe me? No, he should know to do it at the barn. It's not happening. Dinner comes and goes, it was low-key, delicious and the most perfect five-year celebration for us, but it was just dinner, not an engagement.
The next morning, I went into work knowing that all my coworkers were (im)patiently waiting to hear if I was engaged or not. I waved my naked hand around and said, "I told you guys not to get excited!" Life continued on as usual, and I was okay with that.
I had plans to go to the barn and ride after work and then hang out with SmartPaker Erin because Mike was stuck working all night. It was mid-afternoon when we all noticed that the weather outside was getting wild. It was super windy, and the trees were blowing around like crazy. I texted Erin and told her I was going to skip the barn because I was nervous there would be trees down on the roads and my horse Freckles most definitely didn't need to get ridden in this weather. She replied "what are you talking about, I bet the roads are fine! I'll meet you at the barn." I asked her if she looked outside recently and said there's no way I'm driving to the barn.
Little did I know there was so much more going on behind the scenes as I texted Erin. She had already taken a few hours off of work to pick up Mike. As he gets in her car, she says, "We have a problem, Al doesn't want to go to the barn," and Mike replies "We have another problem, the barn owner said there's no power at the barn." They went out to the barn anyway knowing that they needed to trick me into coming and somehow get Freckles groomed and cleaned up in the dark.
Meanwhile, I'm still at work wrapping up my day when I get a text from my barn owner, Tammy, saying Freckles has a nasty cut and might need stitches so that I should get to the barn ASAP. I panicked, changed into my winter barn gear, and nearly flew to the barn. I don't even remember what the road conditions were like because all the thoughts were racing through my head, OMG I hope Freckles is okay, OMG this is going to cost a lot, of course, it's after hours on a Friday, OMG should I just call the vet now!? Why didn't Tammy say where the cut was?! As I pulled into the barn's parking area, I came to terms with it and decided no matter what the cut looked like I would call the vet out just to be safe.
Back in the barn, Erin had groomed Freckles and got him all ready in his new engraved halter while Mike held is cell phone flashlight up for her to see. The best barn owners ever, Tammy and John, got a generator going to power the barn. Magically 15 minutes later the power came back on just in time for my arrival.
I get to the barn and see Erin's car in the driveway, wow she made good time. I jump out of my car and see through the windows that Freckles is already on the cross ties, I figured Erin and Tammy pulled him out to clean the cut, man it must be really bad. Morepanic but it's fine. I run into the barn and Tammy points at his face and says, "right here.." wait a minute, this fancy green soft padded leather halter is not what he usually wears? Where's his double stitch halter with his nameplate? What does this nameplate say?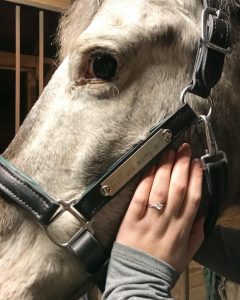 I had to read it twice before I comprehended it.
"Will you marry me?"
My heart exploded, omg it's happening. It's happening. This is what I always dreamed of.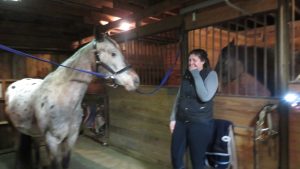 Seconds later Mike came out from Freckles' stall and got down on one knee. My heart was pounding, I was somewhere between overjoyed and overwhelmed. Mike said a bunch of really nice words and then asked "Al, will you marry me?". At this point I'm = I'm crying, I'm laughing, I'm a mess, and I'm nodding my head Yes! We hug and kiss, blah blah, and then I suddenly freeze.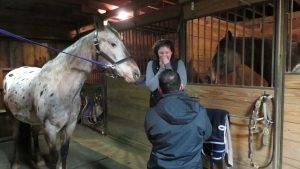 "WAIT, IS FRECKLES OKAY!?". Mike and Erin sheepishly explain that they were desperate to get me to the barn, and Tammy apologized for having to go to the extreme. "THAT WAS SO MEAN!" but man am I relieved he's okay.
At the end of the day, despite the weather causing some extreme stress and panic, Mike planned the most thoughtful proposal ever. He had it planned all along to be the day after our anniversary so that I wouldn't see it coming. He knew it had to be at the barn with my horse who means the world to me. Freckles was the most perfect boy, and he and I are so excited to welcome Mike into our family forever.
Ps. Mike even picked out the ring on his own with little-to-no guidance from myall-over-the-place Pinterest board that has every cut and shape of ring you could ever imagine. He did GOOD!
And we'll all live happily ever after. The end 💕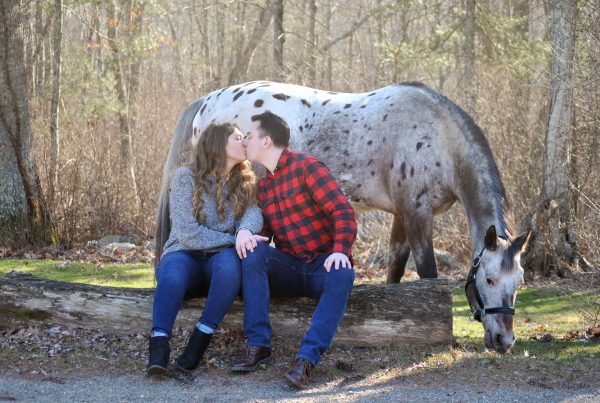 PPS. My coworkers were thrilled to be right!